Presentation
History
Patients typically have no previous history of milker's nodule. Patients with milker's nodules have had recent contact with infected cows, calves, or viral fomites. (Milker's nodules are contracted from cows; orf nodules are contracted from sheep or goats.) [8] The incubation period for milker's nodules may be as brief as 4 days or as long as several weeks.
Lesions of milker's nodules are often solitary, and they may be pruritic or painful. Some authorities divide the clinical course of milker's nodules into six stages, each lasting roughly 1 week, as follows:
Erythematous maculopapular

Target (a papulovesicular lesion with a red center, white ring, and red periphery)

Acute weeping nodule (characterized by loss of epidermis over the center)
Physical Examination
Lesions of milker's nodules are usually found on the fingers, the hands, and the forearms and are nearly identical to those seen in orf. [9] Usually, only a few or even a single lesion is present. Occasionally, many lesions are distributed in a larger area, such as a burn site. [10, 11] See the image below.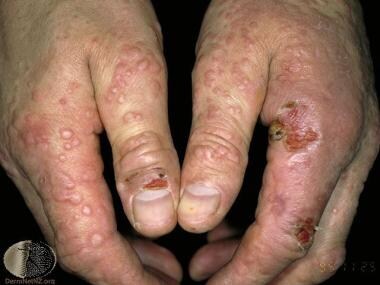 Milker's nodules. Courtesy of Professor Raimo Suhonen and DermNet New Zealand (http://www.dermnetnz.org/assets/Uploads/viral/s/milkers3.jpg).
Classic milker's nodules lesions are 0.5-1.5 cm in diameter, firm, movable, dome-shaped papules or nodules. Milker's nodules may be red or purplish red in color, or they may have a targetlike appearance. Central ulceration or crust may occur. Lesions typically have a grayish coating in the target stage and a verrucous surface in the papillomatous stage.
Milker's nodules often present with a vascular appearance resembling pyogenic granuloma. Milker's nodules are on average smaller than orf lesions, but they may not be distinguishable on a clinical basis. Variant lesions may include vesicles, scaly patches, and erosions. (The patient's history guides the differential diagnosis in these cases.) Local lymphadenopathy may be present.
A focused physical examination should be performed. The following findings have been described in patients with milker's nodules:
Complications
Various reports caution against the possibility of bacterial superinfection in milker's nodules, although the authors' literature search did not find any reported cases.
Reports exist of generalized exanthem, erythema multiforme, or bullous erythema multiforme following infection with milker's nodule. [12] One case reported spontaneous resolution of exanthem at 1 week.
What would you like to print?