Presentation
History
Monkeypox can cause a syndrome clinically similar to smallpox but overall is less infectious and less deadly.
Transmission can occur from contact with ill animals or animal reservoirs from Western Africa (eg, prairie dogs, rabbits, rats, mice, squirrels, dormice, monkeys, porcupines, gazelles). Additionally, preparing or ingesting infected animals can transmit monkeypox infection. Finally, direct cutaneous (skin-to-skin) or respiratory contact with an animal or person who is infected can transmit the infection.
The incubation period averages 12 days, ranging from 4-20 days.
In the prodrome or preeruptive stage (lasts 1-10 d), fever is commonly the first symptom (usually 38.5-40.5°C). The febrile illness is often accompanied by chills, drenching sweats, severe headache, backache, myalgia, malaise, anorexia, prostration, pharyngitis, shortness of breath, and cough (with or without sputum). Lymphadenopathy appears within 2-3 days after the fever. In the 2003 outbreak, 47% of patients had nodes measuring several centimeters in diameter in the cervical and submental areas.
In the exanthem (eruptive) stage, most persons develop a rash within 1-10 days after the onset of fever. The rash often starts on the face and then spreads to the rest of the body. It persists for 2-4 weeks until all lesions have shed the crusts. Encephalitis with immunoglobulin M found in the cerebrospinal fluid has been reported. [24]
Physical Examination
The most reliable clinical sign differentiating monkeypox from smallpox and chickenpox is enlarged lymph nodes, especially the submental, submandibular, cervical, and inguinal nodes. [25] Note the image below.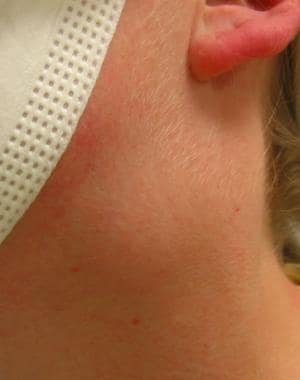 Lymphadenopathy in monkeypox. Large nodes in the mandibular, cervical, or inguinal region are commonly seen in monkeypox. The presence of significant lymphadenopathy helps differentiate monkeypox from smallpox and chickenpox.
With regard to enanthema, nonspecific lesions and inflammation of the pharyngeal, conjunctival, and genital mucosae have been observed.
In the exanthema stage, within a particular body region, lesions evolve synchronously over 14-21 days, similar to the development of lesions with smallpox. However, unlike smallpox, skin lesions may appear in crops. In contrast to smallpox, the lesions do not have a strong centrifugal distribution. Lesions progress from macules to papules to vesicles and pustules; umbilication, crusting, and desquamation follow. Most lesions are 3-15 mm in diameter.
Note the image below.
Umbilicated papule on the lower part of the leg. This smaller lesion still shows the typical umbilicated morphology.
The face, the trunk, the extremities, and the scalp are involved. Lesions appear in covered and uncovered areas. Lesions may be seen on the palms and the soles. Necrosis, petechiae, and ulceration may be features. Pain is unusual, and, if it occurs, it is often associated with secondary bacterial infection. Pruritus may occur.
In patients who have been previously vaccinated against smallpox, a milder form of disease occurs. In children, the lesions may appear as nonspecific, erythematous papules that are 1-5 mm in diameter and suggestive of arthropod bite reactions. Subtle umbilication may be seen.
In the African outbreaks, 20% of unvaccinated patients developed a confluent, erythematous eruption on the face and the upper part of the trunk, which some authors have termed the septicemic rash of monkeypox. [15]
Hemorrhagic and flat forms, which can be seen with smallpox, have not been reported in patients with monkeypox. Deep pock scars can result as the lesions resolve.
Complications
Complications include pitted scars, deforming scars, secondary bacterial infection, bronchopneumonia, respiratory distress, keratitis, corneal ulceration, blindness, septicemia, and encephalitis.
What would you like to print?