Treatment
Medical Care
Initial resuscitation efforts should include assessment and stabilization of airway patency, breathing, and circulation. A thorough trauma evaluation is mandatory, including inspection for skull fractures and appreciation of the force and location of impact. Immobilization of the spine should be followed by emergent transfer of the patient to the nearest level I trauma center supported with neurosurgical consultation.
Triage and initial management of a patient with epidural hematoma may be tailored to the degree of neurological impairment at presentation. Alert patients may be evaluated with a CT scan following a brief neurologic examination.

A patient with a small epidural hematoma may be treated conservatively, though close observation is advised, as delayed, yet sudden, neurological deterioration may occur.

Trauma patients may require diagnostic peritoneal lavage and radiographs of the chest, pelvis, and cervical spine.

While neurosurgical consultation is requested, administer intravenous fluids to maintain euvolemia and to provide adequate cerebral perfusion pressure.

Patients with elevated intracranial pressure may be treated with osmotic diuretics and hyperventilation, with elevation of the head of the bed at an angle of 30 degrees. Patients who are intubated may be hyperventilated with intermittent mandatory ventilation at a rate of 16-20 breaths per minute and tidal volume of 10-12 mL/kg. A carbon dioxide partial pressure of 28-32 mm Hg is ideal, as severe hypocapnia (< 25 mm Hg) may induce cerebral vasoconstriction and ischemia.

Coagulopathy or persistent bleeding may require administration of vitamin K, protamine sulfate, fresh frozen plasma, platelet transfusions, or clotting factor concentrates.
Surgical Care
Although several recent reports have described successful conservative management of epidural hematoma, [9] surgical evacuation constitutes definitive treatment of this condition (see the image below). Craniotomy or laminectomy is followed by evacuation of the hematoma, coagulation of bleeding sites, and inspection of the dura. The dura is then tented to the bone and, occasionally, epidural drains are employed for as long as 24 hours.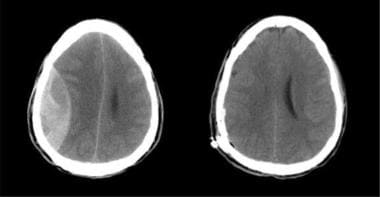 CT scanning performed before and after surgical evacuation of an intracranial epidural hematoma.
Minimally invasive surgical procedures, including the use of burr holes and negative pressure drainage, may be used in selected cases.
Novel therapeutic approaches include the following:
Endovascular embolization to minimize bleeding during the acute stage [10]

Thrombolytic evacuation using closed suction drain

Minimally invasive evacuation
Consultations
Consultations with any of the following may prove useful:
Neurosurgeon (for potential emergent evacuation of the hematoma)

Rehabilitation specialist
Diet
The hypermetabolic and catabolic phenomena associated with severe head injury necessitate caloric supplementation. Initiate enteral feedings as soon as possible.
Activity
Patients who are treated conservatively should undergo close observation and should avoid strenuous activity. Inpatients should remain on bedrest during the initial phase; this can be followed by a progressive increase in activity.
What would you like to print?