Overview
Overview
The phrases "electroencephalogram (EEG) variant waves" or "normal EEG variants" refer to waves that are rare or unusual but not generally abnormal. They may be unusual in shape or in distribution. These variant waveforms include waveforms and patterns that are rare or unusual but are known to be generally benign. They can include complex wave mixtures that can appear unusual and can confuse the casual reader (for example, wave harmonics) as well as artifacts or electrical disturbances from structures that are not in or part of the brain and do not affect the brain or its function but appear in the EEG tracing. [1, 2]
Realizing that the EEG is fundamentally a recording of the electrical activity of a highly complex system is important. Moreover, this electrical activity is being recorded at the scalp and, although accurate, it is not the same as the recording of activity directly from the surface of brain or at the single cell level. Therefore, from person to person, a variation is expected of waveforms and occasional atypical waveforms that still fall within what would be considered normal. [3, 4, 5]
Odd-Looking Waveforms
The following waveforms are generally benign:
Artifacts
These waveforms are produced by an electrical alteration of the recorded brain wave. It is important to realize that because the EEG is very sensitive to the recording of microvoltages, it is common to see the electrical effect of factors that occur outside of the skull. Although these disturbances do not represent brain abnormalities, their recognition is important because they can distort the recording of brain waves. [9]
Forehead, jaw, and eyelid muscle movements can cause artifacts by moving the electrodes. Movements in the surroundings produce disturbances by altering the ambient electrical fields. Moreover, the tongue and eyes have their own dipole electric charge. Therefore, their movement can get recorded by the electrodes. This, in turn, can affect the recorded brain wave.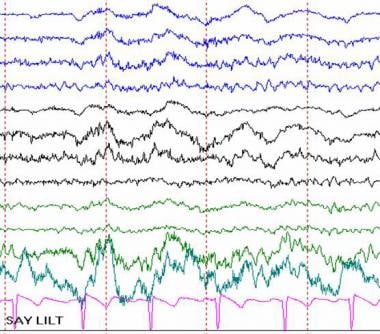 Artifact produced by tongue movement. The person was asked to say LILT, which caused the waves to slightly undulate.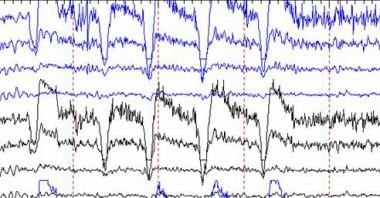 EEG artifact of eye blinking.
ECG may contaminate the recording.
Sweating produces electrical disturbances by shorting electrode pairs.
Other sources of artifacts include ambient electrical waves from respirators, intravenous pump machines, televisions, and other electrical equipment.
Many are recognized by their characteristic appearance on the tracing, but others are identified by direct inspection and reported by the technologist or identified on the video tracing in video-EEG recording.

Artifacts show great variation because of their protean origin.

They may be single waves or recurrent waves (eg, intravenous infusion running), while others are prolonged disturbances (eg, sweating).

The specifics of each are not reviewed here because of their variability.

The following can be regarded as clinically insignificant:

Chewing produces spurious spike and wave runs in the frontal and temporal regions from the temporalis muscles (see image below).

Example of EEG chewing artifact.

Sweating produces very slow waves, because the salt solution shorts out pairs of adjacent electrodes.

Eye movements occur with blinking and result from the electrical charge of the eye itself (see image below). They are frontal. Nystagmus also produces artifactual waves.

EEG artifact of eye blinking.

ECG and pulse motion produce unusual waveforms. ECG produces small spikes that are recurrent and are especially evident in the monopolar montages. Pulse artifacts occur with recurrent motion of electrodes sitting over a bounding pulse, which alters the contact with the skin. This causes a rhythmic disturbance that is synchronous with the heart but rounded rather than sharp in form.

Tremor and movement of the head or body may cause electrodes to move.

Electrode pops or movements can produce sudden, recurrent, or continuous electrical waves.

Electrical fields result from electrical devices and televisions.

ICU special waveforms may result from respirator-induced movements, intravenous drips and drip pumps, electrical fields, or cautery (eg, Bovie) in the operating room or emergency department.
Harmonics
EEG is a complex summation of many frequencies.
Different frequencies sometimes add to or cancel each other, creating odd waveforms or fluctuations of waveforms.

Pseudospikes or pseudoslow waves may be seen with intermixing of waves.

Many fascinating patterns have been generated by mixing artificially created computer-generated frequencies. These waveforms have the significance of the basic waveforms that underlie the patterns.
Resources
For related information on EEGs, see the following Medscape Reference articles:
What would you like to print?