Overview
Overview
Background
Triphasic waves (TWs) are a distinctive but nonspecific electroencephalographic (EEG) pattern originally described in a stuporous patient in 1950 by Foley as "blunted spike and wave." In 1955, Bickford and Butt coined the term "triphasic wave." Since their findings were limited to patients with hepatic failure, triphasic wave encephalopathy (TWE) became synonymous with hepatic encephalopathy. Since then, TWE has been associated with a wide range of toxic, metabolic, and structural abnormalities. [1, 2]
TWs are high-amplitude (>70 µV), positive sharp transients that are preceded and followed by negative waves of relatively lower amplitude. They are diffuse and bilaterally synchronous with bifrontal predominance. They often repeat periodically at a rate of 1-2 Hz. [3]
See the image below.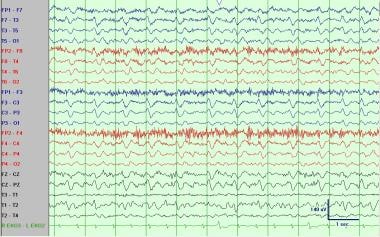 An 89-year-old man with end-stage liver disease. Note the frontally predominant, sharply contoured waveforms with a triphasic morphology, characterized by 3 phases: negative (wave 1), positive (wave 2), and negative (wave 3). Also note the periodicity with 1-second intervals.
Pathophysiology
Regardless of the underlying etiology, TWs are associated with an impaired consciousness that may range from mild confusion to deep coma. The background may be slower in hepatic failure than in other conditions. Patients with metabolic abnormalities as a cause for TWE are more likely to be in coma than those with another etiology of TWE.
Early theories suggested that moving cortical positivity due to cortical irritation produced TWE. The cause now is believed to be a dysfunction of the thalamocortical relay neurons due to structural or metabolic disruption. Abnormalities in glutamate metabolism may be one of the mechanisms of TWE. Metabolic or structural abnormalities at the thalamocortical level, particularly dysfunction in the thalamocortical relay neurons, are hypothesized to be responsible for the EEG and clinical findings associated with TWE.
Epidemiology
A population-based evaluation of TWE has not been completed, but of 5000 patients at the University of Pennsylvania who underwent an EEG, TWs were identified as the dominant abnormality in 42. Of 15,326 EEGs of inpatients at a large psychiatric institute, 83 demonstrated TWs. TWs occur in approximately 25% of patients with hepatic encephalopathy and in more than 10% of patients with septic encephalopathy. The criteria used to define TWs can vary, and this affects its reported frequency.
Morbidity/mortality
The morbidity and mortality associated with TWE depends on the underlying etiology. Patients with TWE from anoxic injuries or lithium toxicity have a particularly poor prognosis. Residual neurologic deficits among survivors are common.
Demographics
TWE has been reported in those aged 1 month to 85 years; however, most patients are older than 60 years. TWE is rarely seen in patients younger than 30 years.
No differences in gender prevalence have been reported. The dominance of females among studied populations probably results from their longer life span.
Clinical Presentation
History
See the list below:
TWE can present in numerous ways, depending on the underlying etiology.

Patients with known hepatic dysfunction may present with either an abrupt or slow decline in cognitive function.

Renal failure generally is associated with a more abrupt decompensation.

Patients who are comatose with postanoxic injuries may demonstrate TWs in the first few days following the insult.

TWs also have been seen in patients with alpha coma.
Physical
See the list below:
Postanoxic TWE frequently is observed with accompanying myoclonus.

Regardless of the underlying pathology, patients with predominant TWs have some compromise in cognitive function. The severity of compromise may range from mild confusion to coma.
Causes
The 3 most common causes of TWE are hepatic encephalopathy [4] , renal failure, and anoxic injury. Other causes of TWs include the following:
Metabolic abnormalities such as hypernatremia, hyponatremia, hypercalcemia, and hypoglycemia

Structural lesions to the brainstem or thalamus such as ischemic stroke and neoplasm

Antibiotics such as cefepime

Maple syrup urine disease
Differential Diagnosis
Often, TWs are interpreted as generalized periodic patterns, slow spike-wave complexes, or rhythmic sharp waves. This is significant because such patterns are usually associated with nonconvulsive status epilepticus (NCSE). However, some studies have also suggested an association with nonepileptic encephalopathies (ie, anoxic, toxic, metabolic). One study reported the incidence of NCSE in patients with anoxic brain injury to be as high as 8%. [5]
This raises the possibility of overinterpretation of some EEG patterns as NCSE. This notion of variable interpretation of generalized periodic epileptiform discharges was further examined in one study that compared general neurologist and electroencephalographer interpretations of an EEG sample depicting a generalized periodic pattern. Indeed, variability exists in the interpretation of generalized periodic epileptiform discharges in that more than 50% of general neurologists did not consider the possibility of NCSE. [6] This is important because NCSE is treatable.
A limited number of studies have attempted to differentiate between patterns of nonepileptic encephalopathy from those of NCSE by considering the morphology of the waveforms and their response to external stimulation. [7] In addition, the clinical response to benzodiazepines should also be part of diagnostic evaluation. [8]
Workup
Lab studies
See the list below:
Electrolytes, including ionized calcium

Applicable drug levels - Lithium, anticonvulsants
Imaging studies
See the list below:
Obtain a head CT scan or MRI.

Functional imaging may help to elucidate the underlying mechanism of TWE in the future.
Other tests
See the list below:
Repeat EEG to exclude an underlying seizure disorder, which shows TWs as a postictal finding.
Procedure
See the list below:
Perform lumbar puncture if an underlying infection or malignancy is suspected. It also may help in the diagnosis of CJD.
Treatment & Management
Medical care
Medical care should address the underlying cause of TWE. If in fact a metabolic, toxic, or drug-induced etiology is unequivocal, then treatment should specifically address this problem. If NCSE is suspected, then an evaluation of the patient clinical response after the administration of intravenous benzodiazepines should be considered.
Consultation
Consult a neurologist and neurophysiologist for EEG.
Follow-up
Follow-up care
Clinical assessment should be performed to exclude underlying seizures. EEG need not be repeated if there is notable clinical response.
Transfers
In severe cases, transfer to ICU may be required for airway management.
Prognosis
See the list below:
The prognosis depends on the underlying etiology, but several consecutive series of patients have reported high mortality rates (30-100%).

Mortality rates may be as high as that observed in burst-suppression patterns.

Whether EEG reactivity or background rhythm can help predict the outcome of TWE remains disputed.

Only patients with a single, reversible problem causing TWE tend to return to normal function.

No reports exist in the literature of patients with TWE who survived anoxic injury.
Patient education
For excellent patient education resources, see eMedicineHealth's patient education article Electroencephalography (EEG).
What would you like to print?