Presentation
History
History for Raeder paratrigeminal syndrome suggests trigeminal nerve involvement with pain, sensory or motor deficits, and/or ipsilateral oculosympathetic paresis. It resembles Horner syndrome and manifests as oculosympathetic paresis with ptosis and miosis. (See the image below.)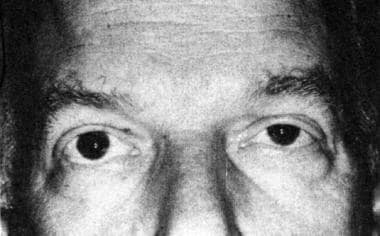 Evident in this patient are the mild ptosis of the left upper eyelid, the slight elevation of the left lower eyelid, and the miosis of the left eye. Reprinted with permission (Copyright American Society of Contemporary Ophthalmology. Annals of Ophthalmology 1978; 10(9); 1181-1187.)
Unlike Horner syndrome, facial sweating and ipsilateral trigeminal sensory irritation are preserved, leading to production of facial pain. [10] Other parasellar cranial nerves also may be involved and an enophthalmos also may be apparent. [17]
The pain associated with Raeder syndrome is deep and boring and is localized in or around the eye. Intermittent, lancinating pain also may occur. Typically self-limited, the pain usually remits in 2-3 months. [17]
The pain occasionally follows a recurrent pattern. It can be associated with conjunctival tearing, erythema, enophthalmos, and decreased intraocular pressure. The pain is less well defined than the pain of trigeminal neuralgia.
Physical Examination
Because painful Horner syndrome can occur with other diseases, such as cluster headache and carotid dissection or aneurysm, a diagnosis of Raeder paratrigeminal syndrome should be made on clinical and radiologic grounds. [9]
In the paratrigeminal syndrome described by Raeder, unilateral oculosympathetic paresis and evidence of trigeminal nerve involvement are the 2 hallmark features on clinical examination. [18]
Because some third-order sympathetic fibers are spared in Raeder paratrigeminal syndrome, sweating is preserved in this disorder, in contrast to Horner syndrome.
What would you like to print?