Workup
Approach Considerations
No laboratory, electrophysiologic, or radiologic testing is routinely indicated for the diagnosis of trigeminal neuralgia (TN), as patients with characteristic history and normal neurologic examination may be treated without further workup.
The diagnosis of facial pain is almost entirely based on the patient's history. In most cases of facial pain, no specific laboratory tests are needed. A blood count and liver function tests are required if therapy with carbamazepine is contemplated. Oxcarbazepine can cause hyponatremia, so the serum sodium should be tested after institution of therapy.
Although rarely indicated, appropriate blood work for rheumatic diseases, such as scleroderma (trigeminal neuropathy is reported in up to 5% of patients with this collagen vascular disease) and systemic lupus erythematosus (SLE), should be undertaken in patients with atypical features of facial pain and a systemic presentation of collagen vascular disease. Appropriate blood work includes a sedimentation rate (ESR), antinuclear antibody titer (ANA), double-stranded DNA, anti-Sm antibody, lupus erythematosus cell preparation, and complete blood cell (CBC) count to look for hematologic abnormalities (eg, hemolytic anemia, leukopenia, thrombocytopenia). Particularly in the case of scleroderma, creatinine kinase and aldolase levels may be elevated with muscle involvement. Antibody titers to SCL-86 and SCL-70 may also be present.
In cases with suspected metastatic carcinomatosis, cerebrospinal fluid analysis may confirm the diagnosis. When surgical procedures are contemplated, appropriate and routine preoperative laboratory tests are in order.
In patients older than 60 years, the clinician may first choose to assess the response to a therapeutic trial of medication before considering imaging. A clear relief of pain with carbamazepine or another anticonvulsant confirms the diagnosis of idiopathic trigeminal neuralgia.
Imaging studies are indicated, because distinguishing between classic and symptomatic forms of trigeminal neuralgia is not always clear. Approximately 15% of patients with trigeminal neuralgia (any form) have abnormalities on neuroimaging (computed tomography [CT] scanning and/or magnetic resonance imaging [MRI]). The most common findings are cerebello-pontine angle tumors and multiple sclerosis.
Magnetic Resonance Imaging
Brain magnetic resonance imaging (MRI) with and without contrast helps to distinguish secondary causes of trigeminal neuralgia (TN) from the idiopathic form. This study is imaging modality of choice and indicated in patients presenting with trigeminal neuralgia when younger than 60 years, principally to exclude tumor. For example, MRI can reveal multiple sclerosis plaques and pontine gliomas. [22] Perform an MRI if atypical features are present. See the image below.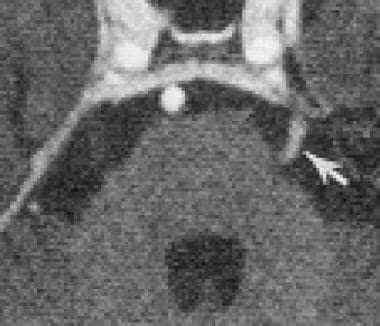 Magnetic resonance image (MRI) with high resolution on the pons demonstrating the trigeminal nerve root. In this case, the patient with trigeminal neuralgia has undergone gamma-knife therapy, and the left-sided treated nerve (arrow) is enhanced by gadolinium.
Some physicians recommend elective MRI for all patients to exclude an uncommon mass lesion or aberrant vessel compressing the nerve roots. However, in a published practice parameter, the American Academy of Neurology stated that because of inconsistency of studies, there was insufficient evidence to support or refute the usefulness of MRI or a specific MRI technique to identify vascular anomalies. [23] The recommendation was that, for patients with trigeminal neuralgia, routine imaging may be considered to identify symptomatic trigeminal neuralgia, and this was graded as a level C or possibly effective action. [23]
Magnetic Resonance Angiography
Magnetic resonance angiography (MRA) can be useful in locating a vascular compression; however, the sensitivity remains low.
Newer special techniques such as high-resolution, 3-dimensional (3-D) MRA (eg, posteroinferior cerebellar artery compresses the trigeminal root) and 3-D spoiled gradient-recalled imaging have been under study, but thus far no consensus to recommend them has been reached. [24] Overall, however, magnetic resonance studies on neurovascular conflicts have shown great variability in outcomes and techniques, with sensitivities as low as 52% and specificity as low as 29%. Therefore, this type of imaging still cannot be recommended as reliable.
CT Scanning and CT Angiography
Computed tomography (CT) scanning provides poor resolution in the posterior fossa. CT angiography is likewise a consideration, but a lack of large, randomized studies precludes a formal recommendation to routinely perform this test.
Clinical Neurophysiology Testing
Clinical neurophysiology testing with a blink reflex study may be helpful to demonstrate a lesion of the trigeminus in which a bilateral delay occurs in response to the stimulation on the pathologic side. [25] The blink reflex can clearly help distinguish between the symptomatic form of trigeminal neuralgia and the idiopathic form of trigeminal neuralgia. The sensitivity of this test across studies has been reported as 59-100%, and the specificity has been noted as 93-100%.
Histologic Features
Although not a diagnostic test, histology reveals focal demyelination as the ultimate lesion in both secondary and idiopathic cases of trigeminal neuralgia. In some instances (eg, tumor) of secondary cases of trigeminal neuralgia, the underlying lesion can be assessed by histology. The most frequent anatomic location is the root entry zone (REZ).
What would you like to print?