Overview
Overview
Vertebroplasty is a minimally invasive, image-guided therapy used to relieve pain from a vertebral body fracture. It has been used for osteoporotic or malignant fractures. Initially, the major indication was treatment of spinal hemangiomas, as described in 1987 by Galibert et al. [1] With experience, other indications have emerged. Vertebroplasty can increase patient mobility, decrease narcotic needs, and prevent further vertebral collapse.
Percutaneous vertebroplasty (PVP) usually involves percutaneous injection of a cement, polymethylmethacrylate (PMMA), into the vertebral bodies. Occasionally, PMMA has been placed manually into vertebral lesions during open surgical operations.
For excellent patient education resources, see eMedicineHealth's patient education article Vertebral Compression Fracture.
Relevant Anatomy
The thoracic spine is typically made up of 12 vertebrae. These vertebrae have a body, pedicles, laminae, spinous processes, and facet joints (see the image below). Additionally, they have prominent lateral processes that form the articulation with the paired 12 ribs on either side. The 12 vertebrae, 24 ribs, and sternum together form the chest cavity, allowing negative-pressure respiration and providing protection of the chest wall. The thoracic spine is highly immobile.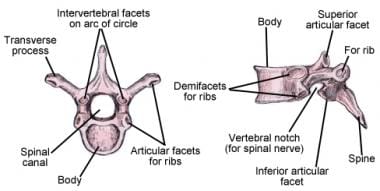 Illustration of thoracic vertebrae showing vertebral body, pedicles, facets, transverse process, rib joints, spinous process, and lamina.
The lumbar spine is the next mobile segment of the spine, typically consisting of 5 large vertebrae with classic features, including body, pedicles, lamina, spinous processes, facet joints, and lateral processes (see the image below). The lumbar spine is mobile with all articulations, contributing to flexion-extension, bending, and rotation. The lumbar spine allows truncal mobility.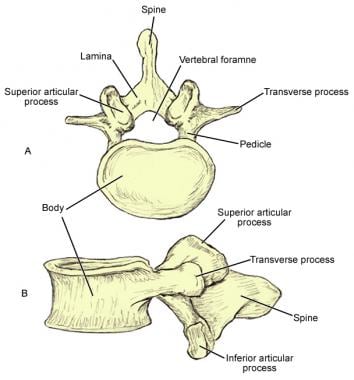 Lumbar vertebrae are characterized by massive bodies and robust spinous and transverse processes. Their articular facets are oriented somewhat parasagittally, which is thought to contribute the large range of anteroposterior bending possible between lumbar vertebrae. Lumbar vertebrae also contain small mammillary and accessory processes on their bodies. These bony protuberances are sites of attachment of deep lumbosacral muscles.
For more information about the relevant anatomy, see Osteology (Bone Anatomy) and Lumbar Spine Anatomy.
Indications
Percutaneous vertebroplasty is indicated for painful osteoporotic or neoplastic vertebral compression fractures refractory to medical therapy.
Osteoporotic vertebral fracture
Osteoporosis is complicated by vertebral fracture that occurs spontaneously or is caused by minor trauma (see Osteoporosis and Spinal Cord Injury for more details). In the United States, the incidence of compression fractures is more than 500,000 patients per year, which is higher than the incidence of hip fractures. Lifetime risk of osteoporotic vertebral fracture is 16% in women and 5% in men. [2, 3]
These vertebral fractures are often highly painful and are treated with immobilization, analgesic drugs, and specific treatment of osteoporosis. Immobilization increases demineralization. Initial symptoms tend to disappear in 4-6 weeks. In spite of long-term medical treatment, some patients have severe, persistent, incapacitating pain. Later consequences of vertebral fracture are reduced height, kyphosis, and chronic back pain.
Multiple retrospective and prospective studies have favorably compared vertebroplasty to medical management. The VERTOS study prospectively compared osteoporotic compression fracture treatment of 18 patients with vertebroplasty to 16 patients with optimal medical management. [4] This study found significant short-term improvement in pain relief and function in the vertebroplasty group. [4] These results were confirmed with the Vertos II larger prospective randomized trial (101 patients were treated with vertebroplasty and 101 were treated with conservative management). [5]
However, 2 widely discussed recent studies comparing vertebroplasty to sham procedures demonstrated no significant improvement with vertebroplasty. [6, 7] This mixed evidence has sparked considerable debate as to the appropriate role of this procedure.
Spinal tumors
In painful vertebral metastasis (ie, previously untreated), radiotherapy is useful in 70% of patients to alleviate spinal pain, but this effect is delayed and may require 2-6 weeks. Vertebroplasty is a palliative treatment that typically provides more immediate analgesia. [8]
Vertebral hemangioma
Vertebroplasty has been used successfully in severe focal spinal pain with radiologically unaggressive vertebral (body) hemangioma.
Contraindications
Absolute contraindications [9]
Active osteomyelitis of the target vertebra

Uncorrectable coagulopathy

Allergy to vertebroplasty cement or opacifying agent
Relative contraindications [9]
Significant central canal narrowing from retropulsion of bony fragment or epidural tumor

Ongoing systemic infection

Myelopathy or radiculopathy from fracture level
Technique
Equipment
Multiple vertebroplasty kits are available. A Stryker precision delivery system costs approximately $600-700; a physician can customize it for $200. Materials include the following:
See the list below:
Needle, 6 in (DBMNJ1106-11G, MD Technologies)

PMMA cement (Howmedica Simplex)

Barium (opacifying agent) - Sterile barium sulfate, 6-g packets (Bryant Corporation)
Preprocedure patient evaluation
Confirm appropriate history and perform a brief physical examination to confirm the appropriateness of the procedure (of note, localizing tenderness on palpation is not associated with superior vertebroplasty response [10] ).
Review the patient's record, including plain films and MRI, to identify the vertebra to be injected. Exclude significant central canal narrowing or signs of infection on MRI. Double check vertebral counting, particularly with thoracic lesions.
Obtain informed consent.
Setup and positioning
Procedure time varies from 30-120 minutes.
Prophylactic antibiotics should be considered.

Place the patient in the prone position.

Align posterior ribs to obtain a good lateral view.

On the anteroposterior (AP) view, find the obliquity that projects the pedicle over the upper outer third of the vertebral body. Mark this point.
Radiation exposure
A study was performed evaluating patient and operator radiation exposure during 11 vertebroplasty cases. Patient effective doses were estimated at 34mGy with average fluoroscopy times of 28 minutes (in comparison, a typical CT abdomen and pelvis effective dose is 8-14 mGy). Operator exposures were highest to the hands and chest, although there was a decrease in occupational dose by 76% with the use of mobile shielding. It was estimated that an operator could perform 150 procedures annually before exceeding annual dose constraints. [11]
Needle placement
Use lidocaine for local anesthesia. Use a spinal needle to anesthetize the periosteum.
Confirm proper needle path with AP and lateral fluoroscopic views.
For large pedicles (ie, lumbar, lower thoracic), use an 11-gauge needle; use a 13-gauge needle for smaller pedicles (ie, midthoracic).
While maintaining good back tension with a large clamp, use a sterile hammer to gently tap the needle. Direct the needle into the vertebral body, using AP and lateral views for verification.
See the list below:
For a unipedicular approach, advance needle into the anterior third of the central vertebral body.

For a bipedicular approach, advance needles into the midportion of the hemivertebrae.

A parapedicular approach may be considered as well.
Polymethylmethacrylate mixing and injection procedure
Mix polymethylmethacrylate (PMMA) and barium sulfate (opacifying agent) as per the manufacturer's instructions. Slowly inject this mixture until the vertebral body is well filled, making certain to stop before PMMA leaks posteriorly into the epidural area or significantly fills a vein.
Although many practitioners attempt to fill the vertebral body as completely as possible, note that pain relief is not associated with cement volume. [12]
Postprocedure care
Keep patients on bed rest for 1-2 hours.
Administer analgesics for postoperative pain and muscle relaxants for significant muscle spasms, as needed.
Ensure that the patient's primary care physician is medically managing osteoporosis; if he or she is not, management must be instituted. Without systemic osteoporosis therapy, 20% of patients with a fracture develop a second fracture. [13] Treatment for osteoporosis includes DEXA scans, lifestyle modifications (smoking cessation, alcohol moderation, exercise), dietary supplementation (calcium, vitamin D), and medical management (antireabsorbatives). [14] See Osteoporosis article for more details.
Complications
Chiras et al reported incidents and complications in 274 patients. [15] These complications were more common with malignant spinal tumor (10%) and vertebral hemangioma (2-5%) than with osteoporotic lesions (1-3%).
Major complications occur in < 1% of patients treated for osteoporosis-related compression fractures; minor complications occur in < 2% of these patients. In patients with neoplastic involvement, major complications occur in < 5% and minor complications occur in approximately 10%.
Complications include the following:
Neurologic defect (from central canal or neural foraminal narrowing)

Fracture of vertebra, rib, or sternum (from positioning on table or placement of needle)
If a patient experiences new radicular pain, a CT scan may show migration of polymethylmethacrylate (PMMA) into the epidural venous plexus. New vertebral region pain may be evaluated with MRI to exclude adjacent fracture. Chest pain may be evaluated with a rib series or CT pulmonary angiogram to exclude rib fracture or pulmonary embolus. Severe back pain can indicate a fractured pedicle or transverse process, which is observed easily on CT scan. Paralysis has been reported but is very uncommon. Precautions should be taken while injecting above L1, with attention to the posterior vertebral body wall; do not allow PMMA to flow into the epidural venous plexus.
Reports are mixed as to whether vertebroplasty predisposes patients to develop additional vertebral fractures. [16]
Conclusion
Percutaneous vertebroplasty is a minimally invasive procedure with promising results for the treatment of vertebral fracture. It provides significant pain relief with the potential for improving functional outcome.
What would you like to print?