Workup
Approach Considerations
The diagnosis of cauda equina syndrome generally is possible on the basis of medical history and physical examination findings. Radiologic and laboratory studies are used to confirm the diagnosis and for localizing the site of the pathology and the underlying cause.
Myelography, [79] computed tomography, [80] and MRI are each used in specific cases with good degrees of accuracy. Each test can be used to determine the level of pathology and aid in the determination of the cause of the syndrome. Bone scan may detect malignant tumor or metastases and inflammatory conditions affecting the vertebrae.
Due to its ability to depict the soft tissues, MRI generally has been the favored imaging study for assisting the physician in the diagnosis of cauda equina syndrome. [81, 82, 83] Urgent MRI is recommended for all patients who have new-onset urinary symptoms with associated back pain or sciatica.
Nevertheless, the superiority of MRI over CT is only suggested by case reports. Early consultation with the appropriate subspecialty is encouraged to guide imaging studies. [24]
Depending on the findings from the history and physical examination, laboratory studies can include basic blood tests, chemistries, fasting blood sugar, sedimentation rate, and syphilis and Lyme serologies. CSF examination should also be included if signs of meningitis are present. [84]
Alteration in bladder function may be assessed empirically by obtaining urine via catheterization. A significant volume with little or no urge to void, or as a post-void residual, may indicate bladder dysfunction. Bedside ultrasonography may be also used to estimate or measure post-void residual bladder volume.
Urodynamic studies are useful to evaluate the degree and cause of sphincter dysfunction, as well as to monitor recovery of bladder function following decompression surgery. Intraoperative monitoring of somatosensory and motor evoked potentials allows for evaluation of radiculopathy and neuropathy.
Blood Studies
The following studies may help to define possible causes and any associated pathology, especially other causes of lesions in the lower spinal cord or cauda equina:
CBC count, blood glucose, electrolytes, blood urea nitrogen (BUN), and creatinine - As part of the workup to rule out associated anemia, infection, and renal dysfunction, especially in associated retroperitoneal mass

Erythrocyte sedimentation rate (ESR) – Elevation may point to an inflammatory pathology

Syphilis serology to rule out meningovascular syphilis
Radiography
Plain radiography is unlikely to be helpful in cauda equina syndrome but may be performed in cases of traumatic injury or in search of destructive changes, disk-space narrowing, or spondylolysis. For example, plain radiographs of the lumbosacral spine may depict early changes in vertebral erosions secondary to tumors and spina bifida.
Chest radiography is indicated to rule out a pulmonary source of pathology that could affect the lumbosacral spine (eg, malignant tumor, tuberculosis). Follow-up chest CT may be required.
Magnetic Resonance Imaging
MRI with gadolinium contrast of the lumbosacral area is the diagnostic test of choice to define pathology in the areas of the conus medullaris and cauda equina (see the images below). It provides a more complete radiographic assessment of the spine than other tests; plain x-rays and CT scan may be normal. [85, 82] . Gadolinium contrast MRI also may be able to rule out abdominal aneurysm, which could be the source of emboli causing conus medullaris infarction. See the following images for representative MRIs.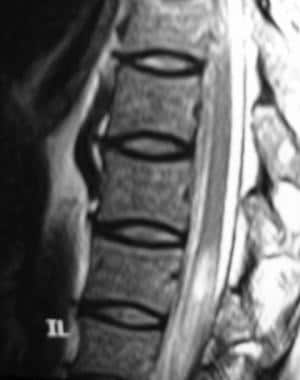 Conus/epiconus infarction in the setting of sickle cell crisis. Image courtesy of Matthew J. Baker, MD.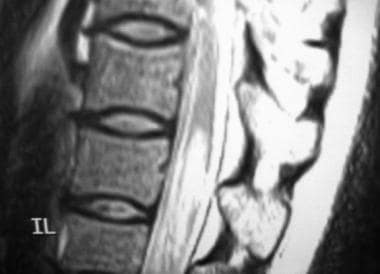 Conus/epiconus infarction in the setting of sickle cell crisis in the same patient shown in the above image. Image courtesy of Matthew J. Baker, MD.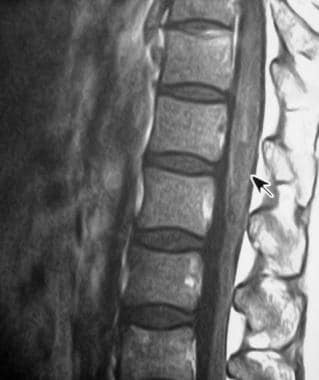 Conus/epiconus infarction in the setting of sickle cell crisis in the same patient shown in the images above. Image courtesy of Matthew J. Baker, MD.
Schwannomas are visible using myelography, but MRI is the criterion standard. Schwannomas are isointense on T1 images, hyperintense on T2 images, and enhanced with gadolinium contrast. With infectious conditions, MRI can display the abnormal appearance of the nerve roots being forced to one side of the dural sac.
Other Tests and Procedures
Needle electromyography (EMG) [86] may show evidence of acute denervation, especially in cauda equina lesions and multilevel lumbar spinal stenosis. EMG studies also could help in predicting prognosis and monitoring recovery. Performing needle EMG of the bilateral external anal sphincter muscles is recommended.
Nerve conduction studies, [12] especially of the pudendal nerve, may rule out more distal peripheral nerve lesions.
Somatosensory evoked potentials (SSEPs) [12] could be done as part of the workup to rule out multiple sclerosis, which could present initially as a lower spinal cord syndrome.
Duplex ultrasound of peripheral vessels may rule out compromised vasculature as a possible cause of associated claudication.
Lumbar puncture should be performed to examine the CSF to rule out inflammatory disease of the meninges or spinal cord.
What would you like to print?