Workup
Laboratory Studies
After a detailed history and physical examination, further diagnostic testing is required to establish a diagnosis. In general, laboratory testing is unhelpful. However, imaging tests are invaluable in the diagnosis of this disease.
Imaging Studies
In most cases of new onset neurologic symptoms, a CT scan of the brain is initially obtained. Although MRI is more specific than CT in NPH, a normal CT scan can exclude the diagnosis. CT and MRI findings in NPH include the following:
Ventricular enlargement out of proportion to sulcal atrophy, as shown in the image below

Prominent periventricular hyperintensity consistent with transependymal flow of CSF, also shown below

T2-weighted MRI showing dilatation of ventricles out of proportion to sulcal atrophy in a patient with normal pressure hydrocephalus. The arrow points to transependymal flow.

Prominent flow void in the aqueduct and third ventricle, the so-called jet sign, (presents as a dark aqueduct and third ventricle on a T2-weighted image where remainder of CSF is bright)

Thinning and elevation of corpus callosum on sagittal images

Rounding of frontal horns, shown below

CT head scan of a patient with normal pressure hydrocephalus showing dilated ventricles. The arrow points to a rounded frontal horn.

A narrow CSF space at the high convexity/midline areas relative to Sylvian fissure size was recently shown to correlate with a diagnosis of probable or definite iNPH. [11]
To establish a diagnosis of NPH (and exclude hydrocephalus ex vacuo), an MRI or CT must show an Evan's index of at least 0.3. [12] In addition, one or more of the following must also be present:
Temporal horn enlargement

Periventricular signal changes

Aqueductal/fourth ventricular flow void
Prominent medial temporal cortical atrophy favors a diagnosis of hydrocephalus ex vacuo and is related to Alzheimer disease or vascular dementia. Patients may occasionally be referred for treatment of NPH based on an imaging diagnosis of hydrocephalus. However, with hydrocephalus ex vacuo, transependymal flow is uncommon. In contrast, sulcal atrophy and significant white matter ischemic disease are commonly seen. See the images below.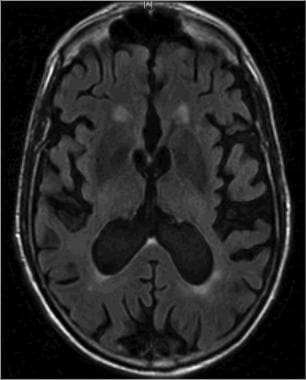 This image shows ventriculomegaly, which is typical in hydrocephalus ex vacuo.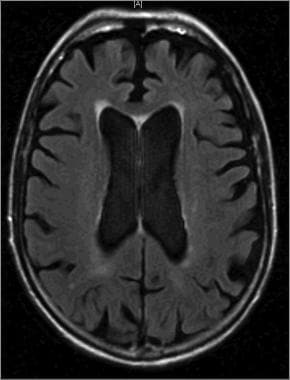 This image shows cortical atrophy, which is the defining feature of hydrocephalus ex vacuo.
Additionally, the presence of abnormalities such as an Arnold Chiari malformation raise the possibility of a congenital hydrocephalus.
Procedures
All patients with suspected NPH should undergo diagnostic CSF removal (either large volume lumbar puncture and/or external lumbar drainage [ELD]), which has both diagnostic and prognostic value (see Surgical Care). When the CSF opening pressure is greatly elevated, other causes of hydrocephalus should be considered, although CSF pressures may be transiently elevated in NPH. Improvement in symptoms with large volume drainage is supportive of the diagnosis of NPH.
ELD has a greater impact on brain volume expansion compared with lumbar puncture. In one study 20 patients with NPH based on clinical and radiological criteria were divided into 2 equal groups of 10 that underwent lumbar puncture or ELD. The median volume of CSF removed was 35 mL in patients who underwent lumbar puncture and 406 mL in patients who underwent ELD. Brain volume change was significantly larger in patients who underwent ELD than in patients who underwent lumbar puncture (p = 0.022) and correlated with the volume of CSF removal (r = 0.628, p = 0.004). Brain volume expansion was most pronounced adjacent to the lateral ventricles but was also detectable in the temporal and frontal regions. The median ventricular volume decreased after CSF removal. Ventricular volume reduction was more pronounced in patients who underwent ELD than in patients who underwent LP. [13]
What would you like to print?