Workup
Imaging Studies
The initial evaluation of patients suspected of having a spinal cord syrinx includes a comprehensive history and physical examination.
Information obtained from examinations guides the imaging studies. Essential tests include plain radiographic series with dynamic views and high-resolution CT scan to assess the bony spinal canal.
The most sensitive imaging test for soft tissue is an MRI scan. Gadolinium-enhanced images are also helpful in differentiating between tumor, scar, and disk material, especially in postoperative or posttraumatic cases.
Magnetic resonance imaging
Physicians primarily use magnetic resonance imaging (MRI) to diagnose syringomyelia.
Imaging of the entire rostrocaudal extension of the cyst or cysts is important. Gadolinium-enhanced images are indicated if a tumor is suspected. Gadolinium-enhanced images are helpful in differentiating between scar or disk material associated with a syrinx, especially in postoperative or posttraumatic cases.
MRI examination should include sagittal and transverse views in T1 and T2 images (see image below). Proton density scans also can be helpful.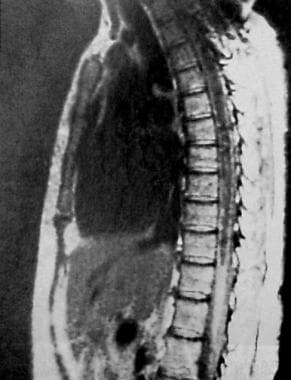 Sagittal T1-weighted image showing a thoracic syrinx.
Magnetic resonance angiography can be especially helpful in cases of syringomyelia associated with vascular lesions.
Cine phase-contrast MRI is used to analyze CSF flow dynamics near the spinal cord cyst.
Myelography
Myelography is performed in special situations when MRI cannot be used. Widening of the cord and complete subarachnoid block may be observed.
Myelogram combined with immediate and delayed high-resolution CT scan also can be performed. Delayed CT scans are obtained 4-24 hours after the initial testing and can demonstrate cyst filling.
Other Tests
In neurophysiological assessment by somatosensory evoked potentials (SSEPs), low-amplitude or delayed responses are present in myelopathy.
Neurophysiological assessment by motor evoked response may be more sensitive than SSEPs in the evaluation of spinal cord dysfunction.
Histologic Findings
The syringomyelic cavity, or syrinx, forms most commonly in the lower cervical region, particularly at the base of the posterior horn and extending into the central gray matter and anterior commissure of the cord.
Histopathologic findings include (1) cavitation of spinal cord gray matter, (2) syrinx continuous with or adjacent to the central canal, and (3) an inner layer of gliotic tissue.
In association with the syrinx, other pathological conditions such as tumors, vascular anomalies, or infective processes also may be evident.
What would you like to print?