Workup
Laboratory Studies
Lab studies of blood chemistry and related body fluids are not helpful as a rule, though cerebrospinal fluid (CSF) examination is often important for differential diagnosis. The protein content of CSF may be elevated. Because of the risk of increased intracranial pressure due to obstructive hydrocephalus, caution in clinical and imaging assessment prior to lumbar puncture is stressed.
Imaging Studies
MRI
MRI of the head is the diagnostic test of choice for brainstem gliomas. MRI can differentiate vascular malformations and other processes that can be misdiagnosed as a brainstem glioma on CT scan. [15]
The typical MRI appearance of a brainstem glioma is an expansile, infiltrative process with low-to-normal signal intensity on T1-weighted images and heterogeneous high-signal intensity on T2-weighted images. Contrast enhancement may be seen in only up to 40% of adult patients.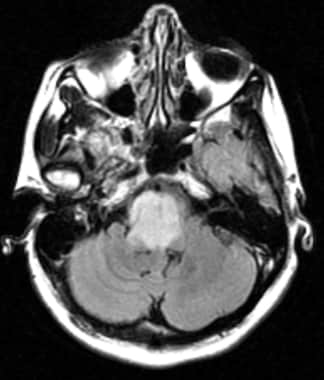 Axial T2 FLAIR image showing a pontine-centered lesion consistent with a brainstem glioma.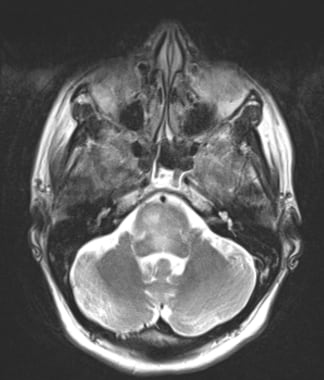 Axial T2 image showing a pontine mass consistent with brainstem glioma.
MR spectroscopy can be useful to distinguish between tumor and non-neoplastic lesions in the brain. An elevation of the choline/NAA ratio suggests neoplasm.
The occurrence of contrast enhancement in a tectal lesion should raise suspicion of a metastatic lesion, especially in an adult, with or without a known history of cancer.
CT scan
Although CT imaging is an appropriate choice when MRI is not available, the appearance of brainstem gliomas is variable on CT scan, and the sensitivity of and characterization of tumors by CT are poorer.
CT identifies calcifications, cystic changes, and displacement of the ventricular system; however, lower brainstem lesions are often not apparent on CT scan.
PET-CT is rarely used, but may be helpful in differentiating aggresive lesions from indolent ones.
Other Tests
Arteriography occasionally is useful in differentiating vascular lesions, including tumors, from gliomas.
Procedures
While not required for diagnosis, biopsy should be considered in all patients where obtaining tissue is safe and feasible. This allows for histologic classification, and more importantly, molecular testing, which may aid in prognosis. Further, this may have therapeutic implications as our understanding of the pathophysiology is evolving and may allow for enrollment into clinical trials.
What would you like to print?