Overview
Background
Glioblastoma multiforme (GBM) is the most common and most aggressive of the primary brain tumors. The current World Health Organization (WHO) classification of primary brain tumors lists GBM as a grade IV astrocytoma. [1] Astrocytoma is one of 3 distinct types of gliomas in the brain, although mixed cell types occur as well. GBMs are highly malignant, infiltrate the brain extensively, and at times may become enormous before turning symptomatic. See the image below.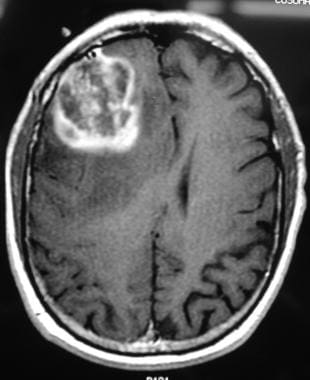 T1-weighted axial gadolinium-enhanced MRI demonstrates an enhancing tumor of the right frontal lobe. Image courtesy of George Jallo, MD.
Pathophysiology
GBM is an anaplastic, highly cellular tumor with poorly differentiated, round, or pleomorphic cells, occasional multinucleated cells, nuclear atypia, and anaplasia. Under the modified WHO classification, GBM differs from anaplastic astrocytomas (AA) by the presence of necrosis under the microscope. Variants of the tumor include gliosarcoma, multifocal GBM, or gliomatosis cerebri (in which the entire brain may be infiltrated with tumor cells). These variants, however, do not alter the prognosis of the tumor. Multifocal metastasis of GBM, including far distant spinal drop metastasis in patients treated with antiangiogenic chemotherapy [2] , is extremely rare but is increasing. Two reasons for the metastasis are an antiangiogenic therapy – induced activation of glioma invasion [3] and the fact that patients are living longer. [4]
Epidemiology
Frequency
Among primary brain tumors, malignant astrocytomas are the most common in all age groups. (However, among all brain tumors, metastases are the most common.) GBMs are the most common primary brain tumors in adults, accounting for 12-15% of intracranial tumors and 50-60% of primary brain tumors. Several authors have reported a true increase in the incidence of brain tumors, especially among the elderly, and many have attributed the observed changes to developments in diagnostic imaging or changes in the classification system. [5]
International incidence of GBM is similar to that of the United States.
Mortality/Morbidity
Morbidity is from the tumor location, progression, and pressure effects. The overall prognosis for GBM has changed little in the past 2 decades, despite major improvements in neuroimaging, neurosurgery, radiation treatment techniques, adjuvant chemotherapy, and supportive care. Few patients with GBM survive longer than 3 years and only a handful survive 5 years. Previously reported long-term survivors of GBM may be patients diagnosed with GBM who actually harbor low-grade glioma, pleomorphic xanthoastrocytoma, ganglioglioma, or other lesions. Occasional patients with a single necrotic, demyelinating plaque of multiple sclerosis also may be misdiagnosed with GBM, especially if only CT scans are obtained.
Race-, sex-, and age-related demographics
High-grade astrocytomas (HGAs) are slightly more common in whites than in blacks, Latinos, and Asians.
GBM is slightly more common in men than in women; the male-to-female ratio is 3:2.
While GBM occurs in all age groups, its incidence is increasing in elderly patients. A true increase in incidence of primary brain tumors exists, which cannot be explained by the aging population, better imaging techniques, or earlier detection at surgery.
What would you like to print?