Overview
Overview
Priapism is defined as erection that lasts longer than 6 hours. Such a prolonged erection causes physiological changes by 6 hours, cellular damage by 24 hours, and fibrosis by 36 hours, resulting in permanent erectile dysfunction.
Low-flow (ischemic) priapism is the more common form of priapism. [1] Causes of low-flow priapism fall into the following categories:
Hematologic (eg, sickle cell, leukemia) [2]

Pharmacologic – Adverse effects (eg, psychiatric medications) [3]

Pharmacologic – Therapeutic (eg, oral erectile medications, intracavernous injections) [4]

Others (eg, surgical, traumatic, neurogenic, infectious)
Management of ischemic priapism should achieve resolution as promptly as possible. Initial treatment is therapeutic aspiration with or without irrigation of the corpora. If this fails, intracavernous injection of sympathomimetic drugs is the next step. [5, 6]
High-flow priapism is rare and is usually a result of blunt trauma to the corpora cavernosus resulting in arteriovenous fistula. The treatment for high-flow priapism is surgical and is not discussed in this article. [7]
Relevant anatomy
The erectile tissue within the corpora contains arteries, nerves, muscle fibers, and venous sinuses lined with flat endothelial cells, and it fills the space of the corpora cavernosa. The cut surface of the corpora cavernosa looks like a sponge. There is a thin layer of areolar tissue that separates this tissue from the tunica albuginea. Blood flow to the corpora cavernosa is via the paired deep arteries of the penis (cavernosal arteries), which run near the center of each corpora cavernosa. See the image below.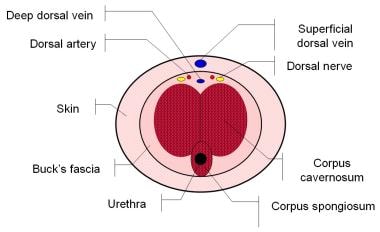 Penile anatomy.
For more information about the relevant anatomy, see Penis Anatomy.
Indications and Contraindications
Indications
Indications include the following:
Low-flow priapism that has not responded to conservative therapy
Contraindications
Contraindications include the following:
Uncontrolled bleeding disorder
Anesthesia
Please see Dorsal Penile Nerve Block for a detailed explanation of different techniques used to perform a penile block.
The author recommends administration of a systemic analgesic before beginning the procedure.
In certain patients (eg, children, uncooperative), procedural sedation and analgesia should be considered. For more information, see Procedural Sedation.
Equipment
Equipment includes the following:
Cardiac monitor with blood pressure monitoring capability

Gauze squares, 4 X 4 inch

Sterile drapes (recommended)

Local anesthetic without epinephrine

Needle for aspiration, 18 gauge (ga)

Needle for injection, 27 gauge

Normal saline, 1000 mL, in a sterile basin

Phenylephrine 1% solution (10 mg/mL), 1 mL

Butterfly needles or straight needles for penile aspiration, 19- or 21-gauge, 4

Syringes for penile aspiration, 20 mL, 2

Sterile basin for collection of drained blood
Positioning
After obtaining informed consent, including specific advisement regarding the potential for permanent erectile dysfunction as a result of the prolonged erection, place the patient in the supine position with his legs spread apart.
The patient should be connected to a cardiac monitor with frequent blood pressure measurements (recommended at every 5-10 min) once phenylephrine is administered.
A long-acting parenteral analgesic (eg, morphine or hydromorphone [Dilaudid]) may be administered. Procedural sedation and analgesia can also be considered.
The penis, scrotum, and lower abdomen should be cleaned and prepared with the antiseptic solution and allowed to dry. Apply sterile drapes to area.
Using the help of an assistant, while maintaining sterile technique, prepare a diluted concentration of 1 mg/10 mL (100μg/ml) phenylephrine solution by aspirating 0.1 mL of the standard 1% (10 mg/mL) solution into a 10-mL syringe and then adding normal saline to a total volume of 10 mL.
Perform a penile block as detailed in Dorsal Penile Nerve Block.
Technique
Insert a 19-ga butterfly needle into the lateral mid shaft of the penis at the 3-o'clock or 9-o'clock position, directing the needle straight toward the center of the corpora (see image below). The end of the tubing should be placed in a sterile basin, as blood is likely to spontaneously drain from the corpora.
In patients with recurrent priapism or known fibrosis, drainage of the corpora might require the use of a straight needle and active aspiration of blood with a 20-mL syringe (see image below).
In cases of prolonged (>24h) priapism, recurrent cases, or cases that are the result of penile injection with pharmaceutical agents, active irrigation of the old blood (and, if applicable, pharmaceutical agents) might be required. A 21-ga butterfly needle should be inserted into the proximal penis on the same side of the penis as the aspiration needle. This proximal needle should be used to inject normal saline into the proximal penis with outflow through the distal needle. [8] See image below.
Once blood has been drained and the penis has softened, inject 1-2 mL of the 100 μg/mL phenylephrine solution into the mid shaft of each corpora using the same needle that was used for blood aspiration (see image below). The injection may be repeated to a maximal dose of 1 mg (1000 μg).
To prevent the formation of a hematoma, compress the puncture site for 30-60 seconds after removing a needle from the corpora cavernosa.
Failure to maintain detumescence requires immediate urology evaluation. All other patients require discontinuation of the causal agent and follow-up with a urologist 24 hours after the procedure.
Pearls
To prevent the formation of a hematoma, compress the puncture site for 30-60 seconds after removing the needle from the corpora cavernosa.
Do not attempt penile aspiration over an area of cellulitis.
If aspiration and injection fails, instillation of a vasoconstrictive agent, such as phenylephrine, should be used until complete detumescence is achieved. [9] A study by Martin et al reported that patients receiving intracavernous irrigation with phenylephrine were more likely to achieve successful detumescence than those treated with oral or subcutaneous terbutaline. [10] According to guidelines from the American Urological Association, blood pressure and heart rate should be monitored in patients who receive intracavernosal injections of phenylephrine to treat acute ischemic priapism. [11]
Complications
Complications include the following:
Recurrent priapism is common and warrants return to the emergency department or urologist's office.

Fibrosis and scarring of the corpora are common complications of priapism and are likely to lead to erectile dysfunction.

Manual compression of the penile puncture sites minimizes the chances of hematoma formation.

Knowledge of the penile anatomy and careful needle insertion into the corpora cavernosa should prevent urethral injury.

Sterile surgical technique should minimize the risk of infection. Prophylactic antibiotics are not recommended following uncomplicated penile aspiration or injection.
What would you like to print?