Workup
Approach Considerations
The diagnostic evaluation of craniopharyngioma includes high-definition brain imaging. Brain MRI with and without contrast is the gold standard. The use of computed tomography (CT) scan is optional and can show the common calcifications that can be seen in these tumors. However, it is important to note that a CT is not specific enough as a standalone diagnostic test. The use of vascular imaging, such as MR angiography (MRA) or CTA, is decided on a case-by-case basis typically for surgical planning or when a possible vascular malformation is speculated. Complete endocrine evaluation with appropriate laboratories, neuro-ophthalmologic evaluation with formal visual field documentation, and neuropsychological assessment are crucial in these patients.
MIB-1 labeling index
The MIB-1 labeling index is a measure of the disease's proliferative activity. It is determined by using an immunohistochemical method with monoclonal antibody MIB-1 and may be useful for the planning of adjuvant therapy. One study reported that an MIB-1 labeling index of greater than 7% predicted regrowth/recurrence.
Endocrinologic Studies
Assessment of endocrine function requires baseline serum electrolytes, serum and urine osmolality, thyroid studies, morning and evening cortisol levels, growth hormone levels, and luteinizing and follicle-stimulating hormone levels, in pediatric as well as adult patients.
Extending the workup for various hypothalamic-releasing factors allows for differentiation between endocrine disorders of pituitary origin and those of hypothalamic origin. It also helps correlate various neurohormonal deficits with neuropsychological deficits.
In emergent cases, hormonal testing should be limited to diagnosing diabetes insipidus, hypoadrenalism, and hypothyroidism, as these hormones require the initiation of treatment prior to surgery.
Imaging Studies
Imaging studies can strongly suggest the diagnosis of craniopharyngioma. The radiologic hallmark of a craniopharyngioma is the appearance of a sellar/suprasellar calcified cyst. Note panels A-C in the image below.
About 80-87% of craniopharyngiomas are calcified and 70-75% are cystic. Calcifications are more common in children (90%) than in adults (50%).
CT scanning is the most sensitive method for demonstrating calcifications as high-density areas and has replaced the use of plain radiographs. In recent years the use of susceptibility weighted imaging (SWI) in MRI gained popularity, so imaging workup today may be limited to an MRI only, without the need for a CT scan. Note panel C in the image below.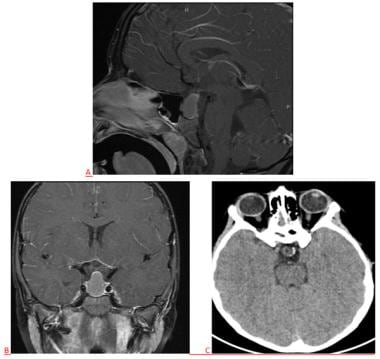 T1-weighted MRI with gadolinium in sagittal (A) and coronal (B) views demonstrates the cystic nature of a craniopharyngioma. The calcified component is evident on axial CT imaging (C).
Cyst content usually has the same density as cerebrospinal fluid (CSF). Contrast administration better delineates the enhancing cyst capsule.
MRI, with its multiplanar capability, is essential for defining the local anatomy and is the most important imaging modality used to plan the surgical approach. Note panels A-C in the image below. [24, 25]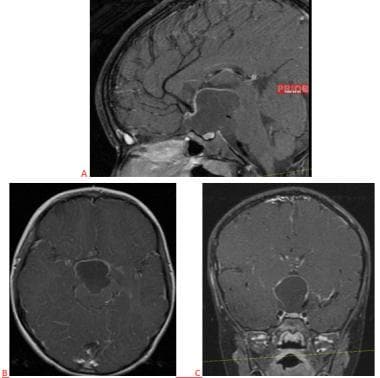 T1-weighted MRI with gadolinium reveals a large cystic craniopharyngioma in sagittal (A), axial (B), and coronal (C) views. There is associated elevation of the optic apparatus and displacement of the pituitary stalk.
MRA is used as needed on a case by case basis, either for eliminating the possibility of vascular lesion or for visualizing the major cerebral vessels and their relation to the tumor. It has largely replaced the 6 and 4-vessel angiogram.
Histologic Findings
The histologic spectrum of craniopharyngioma includes three main types: adamantinomas, papillary craniopharyngiomas, and mixed tumors.
Adamantinoma
Adamantinomas consist of reticular epithelial masses that resemble the enamel pulp of developing teeth. This is seen predominantly in children. Distinctive features include a palisading basal layer of small cells enclosing a loose, stellate reticular zone, as well as areas of compactly arranged squamous cells. Adamantinomas contain nodules of keratin ("wet" keratin), which are the hallmarks of this tumor subtype. (See the images below)
Papillary craniopharyngioma
The squamous papillary craniopharyngioma contains islands of squamous metaplasia embedded in a connective tissue stroma, with infrequent cystic degeneration and calcification. This subtype is rarely seen in children and does not form keratin nodules. (See the images below)
Brain parenchyma
The brain parenchyma that surrounds both variants of craniopharyngioma is typically gliotic and often has profuse numbers of eosinophilic Rosenthal fibers. These fibers contain densely compacted bundles of glial filaments and are typically seen in astrocytic cell processes of neuropil that has been subjected to chronic compression from slowly expanding mass lesions. (See the image below)
What would you like to print?