Treatment
Medical Care
Partly because of the unknown etiology of FMD, no curative therapy exists. Fortunately, FMD is often benign when asymptomatic, and medical treatment is not indicated. Patients presenting with hypertension should be evaluated by a nephrologist and possibly considered for vascular intervention.
When FMD manifests as a transient ischemic attack or as an ischemic stroke, then initial management depends on many factors. If the patient presents in the emergency department with symptoms of stroke within 4.5 hours of onset, then they may be considered for intravenous (IV) tissue plasminogen activator (tPA) treatment (see Acute Stroke Management). Intra-arterial mechanical embolectomy may be considered to extend the acute treatment window to 24 hours. If TPA treatment is employed, then anticoagulants and antiplatelet agents are generally avoided for at least the ensuing 24 hours.
The diagnosis of FMD should be considered in any young individual presenting with a stroke or subarachnoid hemorrhage. Fortunately, cerebral angiography is the investigation of choice to detect not only FMD but also arterial dissection, vasculitis, and aneurysms, which are other major etiologies of stroke in this population. Thus, cerebral angiography should be performed if another cause for the stroke is not clear. The treatment options are influenced by the findings on angiography.
If only FMD is identified on angiography, medical treatment usually incorporates antiplatelet agents, similar to the treatment of atherosclerotic disease. Often, daily aspirin is considered first-line therapy, and another antiplatelet agent is substituted or added if another ischemic event occurs (such as clopidogrel or combination acetylsalicylic acid and extended-release dipyridamole).
If arterial dissection with FMD is identified with cerebral angiography, then initial treatment primarily addresses the dissection (see Dissection Syndromes). Although evidence from randomized trials is lacking, anticoagulation is often used after cerebral hemorrhage has been ruled out. Anticoagulation is with heparin initially, then Coumadin is administered on an outpatient basis for 3-6 months. Some neurologists advocate reassessment of the arteries for dissection before discontinuation of anticoagulation and initiation of an antiplatelet agent for life. Often, if the dissection could be observed with MRA or CTA, these modalities are used in follow-up because of its less invasive nature.
If the presentation is that of subarachnoid hemorrhage, then acute treatment is primarily focused on preventing rebleeding, and preventing arterial vasospasm and further ischemic cerebral injury. Aneurysms may be closed by endovascular coiling or surgical clipping. Nimodipine, a calcium channel blocker, is generally used to reduce vasospasm-mediated brain injury. See Cerebral Aneurysms for a more in-depth discussion of aneurysm management.
After the aneurysms have been dealt with, either surgically or through an endovascular approach, then unless further history is consistent with thromboembolic phenomena, management may be conservative. Antiplatelets are unnecessary if the FMD lesions themselves are asymptomatic and not causing emboli.
Some authors have suggested that FMD could be caused by arterial wall injury fragility followed by hemodynamic stress. Hence, treating FMD by reducing hemodynamic stress (ie, aggressive blood pressure control) may be reasonable. [31]
Surgical Care
Surgical vascular reconstruction of renal FMD has met with good success. [13] However, because the end organ of cervicocranial FMD is the brain, more serious risks are involved. Thus, the role of surgery in carotid and vertebrobasilar FMD is not well understood.
Although medical management of stroke prophylaxis in FMD is quite similar to the management of atherosclerotic disease, the lesions in FMD are not amenable to endarterectomy. Thus, surgical management is used as a last resort in cases where stenosis is critical and global cerebral hypoperfusion is an issue or for ischemic events refractory to medical management. No trials exist comparing medical and surgical management of cerebrovascular FMD. However, many authors have published series of operative graduated dilatation of FMD stenosis and report good results. [32, 33, 34] (See images below.)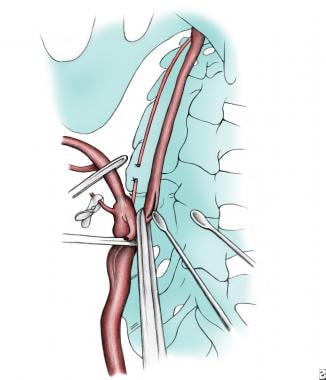 Illustration of the operative approach of graduated dilatation of the internal carotid artery (ICA). The common carotid and external carotid arteries are cross-clamped, and the superior thyroid artery is clipped while the ICA is isolated, opened, and dilated with progressively larger dilators. This technique has been shown to be successful in the management of medically refractive FMD stenoses.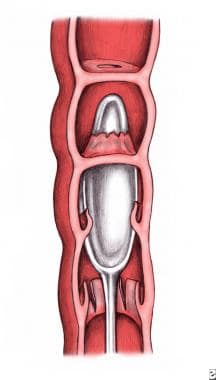 Illustration depicts the intraluminal appearance of graduated dilatation of the stenoses of FMD. The dilator is passed into the vessel and opens the bandlike narrowings.
A few cases with vascular graft placements and surgical bypass of FMD lesions have been reported.
Aneurysms that may coexist with FMD should be managed in a similar manner to non-FMD–associated ones.
Because of the emergence of endoluminal angioplasty and stenting for cerebrovascular disease, interventional radiologic management of FMD lesions may be suitable for some patients, especially those who are not good surgical candidates. Again, no studies have assessed this management option as compared to more established medical or surgical treatment, but it may be deemed an appropriate option in some instances. One case report describes a good outcome after 9 months of follow-up in a patient with bilateral carotid stents placed for bilateral medically-refractory symptomatic lesions. [35]
Consultations
A stroke presentation, whether acute or not, is usually managed by a neurologist. If associated aneurysms or subarachnoid hemorrhages are detected, then a neurosurgeon and interventional radiologist should be consulted. If a history of chest pain is noted, this may signify FMD in the coronary arteries, and a cardiologist should be consulted. If blood pressure is elevated, then the renovasculature should be assessed and a nephrologist consulted if necessary. Symptoms of an ischemic gut should be managed by a general surgeon, and limb claudication should be assessed by a vascular surgeon.
Diet
No specific dietary modifications are indicated in FMD. If a stroke has occurred, then a swallowing assessment may be required and the diet modified accordingly.
Activity
Activity restrictions should be individualized depending on the clinical details and possible neurologic deficits. Neck trauma, including chiropractic manipulation, should be avoided if craniocervical FMD is established because of the possibility of dissection. If cerebral aneurysms exist, strenuous activity that would increase blood pressure should be avoided.
What would you like to print?