Workup
Laboratory Studies
Obtain coagulation studies and a platelet count in all patients, particularly those taking anticoagulant medication.
Obtain other admission laboratory work (including a specimen for blood type and crossmatch) if surgery is a possibility.
Imaging Studies
Computed tomography
Acute CH should be visible as a hyperdensity in the posterior fossa.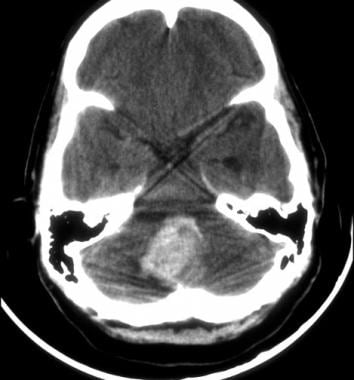 Large hemorrhage of cerebellar vermis.
Note the location of the hematoma (central versus lobar) and any sign of brainstem compression.
Note the absolute size of the clot in maximum diameter, and the volume of the hematoma.
Other signs of a posterior fossa mass include ablation of the fourth ventricle and/or compression of the ambient and quadrigeminal cisterns.
Note any obstructive hydrocephalus.
Vascular imaging such as CT angiography, MR angiography, or catheter angiography of the intracranial vessels should be obtained to rule out the presence of an arteriovenous malformation, fistula, or aneurysm
MRI may be important later in the clinical course to define vascular anatomy, extent of damage, and other pertinent intracranial abnormalities (eg, tumor, arteriovenous malformation).
What would you like to print?