Workup
Laboratory Studies
Routine CBC; fasting serum glucose; erythrocyte sedimentation rate; lipid panel for cholesterol, LDL-cholesterol, HDL-cholesterol, and triglycerides; serologic test for syphilis, and; electrolytes
Leukocytosis, including a left shift to polymorphonuclear WBCs, suggests an infectious myelitis or other infectious cause of spinal cord compromise.
Diabetes mellitus is present in approximately one half of patients with epidural abscess and is a vascular risk factor. Other risk factors including the metabolic syndrome with obesity and hypertension may also be relevant.
On rare occasions, hypokalemia or hyperkalemia presents with flaccid quadriparesis, which is in the differential diagnosis of myelopathy.
Tests for vascular risk factors, especially diabetes mellitus, hypercholesterolemia, coagulopathies, and systemic lupus erythematosus and other forms of arteritis and vasculitis. The diagnosis of giant cell arteritis may be suspected by an elevated ESR but requires temporal artery biopsy for confirmation.
The search for vascular risk factors extends from diabetes mellitus (ie, fasting serum glucose), hypertension, and hypercholesterolemia (ie, lipid panel for low-density lipoprotein, very low-density lipoprotein, and high-density lipoprotein) to anticardiolipin or antiphospholipid syndromes (ie, activated partial thromboplastin time, antiphospholipid antibody titer) and other coagulation disorders, such as protein C and protein S deficiencies and thrombocytosis or thrombocytopenia (eg, thrombotic thrombocytopenic purpura [platelet count]). [16, 17]
The less common causes usually are sought only if no obvious vascular risk factor is found in a young patient with a spinal cord infarct.
Infectious causes are those that can be defined by examination of blood or cerebrospinal fluid (CSF). The infectious causes range from syphilis (eg, serum rapid plasma reagin [RPR], Venereal Disease Research Laboratory [VDRL] test, or Wasserman, CSF VDRL or Hinton) to viruses that can be identified specifically by polymerase chain reaction (PCR), such as herpes simplex type 1 and 2, varicella-zoster, Epstein-Barr, human T-cell leukemia type 1 (HTLV-1), HIV, and hepatitis B.
Autoimmune assessment of blood and CSF extends from screening by erythrocyte sedimentation rate (ESR), antinuclear antibody (ANA), and complement level assay to immunoassay determination of nuclear antibodies.
Imaging Studies
A crucial examination is the imaging that can identify (or exclude) a mass or space-occupying lesion that is compressing or compromising the circulation of the spinal cord (extraaxial) or is within the cord tissue (intraaxial). The easiest and safest procedure for this is spinal MRI. [4, 5, 6, 7, 8, 9] Take care to avoid the pitfall of limiting the spinal region studied by failing to appreciate that high cervical regions have little local symptomatology or signs. Another diagnostic pitfall is failing to appreciate that a sensory level may be caudad to the lesion because of the topographic lamination with superficial location of the ascending sensory pathways (lateral spinothalamic tracts) from the lower spinal segments; this also may limit the spinal region studied.
Delineation of the spinal cord infarct has been the greatest advance in recent years. Numerous reports of central high-intensity lesion delineation appropriate to the cord lesion are available. [16, 17, 18, 19, 10] Diffusion weighted imaging (DWI) is particularly sensitive to the ischemic change and may become standard at least in the specialized treatment centers that are best for these patients. Case studies outline important differences in spinal cord infarct versus transverse myelitis seen on MRI. [20]
Myelography, especially with the greater sensitivity of the enhanced CT myelography, is satisfactory for definition of mass lesions and can be used if MRI is unavailable or for any reason unsatisfactory (eg, a very obese patient). Parenthetically, the latest of the open-frame MRI equipment appears to be satisfactory for spinal diagnosis.
A diagnostic pearl is to use cranial MRI. It is valuable in the patient with multiple sclerosis because the abnormalities found provide confirmatory evidence. This principle is also true for other multifocal CNS diseases such as systemic lupus erythematosus, infectious disorders, and sarcoid.
A diagnostic pitfall to remember is the "cerebral" paraparesis that can occur in such parasagittal disorders as parasagittal meningioma or epidural empyema/abscess. Bilateral anterior cerebral artery ischemia also can occur in the anomalous common stem of these arteries.
Spinal CT scan has little application to the diagnosis of spinal ischemia. It lacks the sensitivity, especially in the cervical region, to be adequate for reliable exclusion of several of the mass lesions in the differential diagnosis. Likewise, little value is found in plain radiography of the spine for the diagnoses considered here.
Spinal angiography (arteriography) is indicated occasionally, usually for diagnosis and treatment of a spinal arteriovenous malformation. The procedure is technically difficult and somewhat risky and usually is performed only at tertiary care medical facilities. Spinal MRI has achieved a level of sensitivity and reliability that it may suffice although for the definitive diagnosis of spinal AVM, spinal angiography is often indicated.
Other Tests
Electromyography (EMG) and nerve conduction velocity (NCV) determination will reveal deficits in H and F waves early after the onset of ischemia and subsequent loss of motor action potentials and changes of denervation. These occur because of the loss of anterior horn and other cells in the spinal cord.
For differentiating spinal cord infarction from polyneuropathy: EMG and NCV findings are usually (approximately 75%) abnormal in AIDP and can be of value in this differential consideration. Enhancement of the nerve roots after gadolinium administration appears to be specific and useful in making the diagnosis of AIDP.
Procedures
CT-guided biopsy or culture may be diagnostic in some of the diagnostic differential pathologies. It is not indicated for the diagnosis of most spinal ischemia.
Surgical biopsy sometimes is indicated for diagnosis of differential possibilities including neoplasm, meningeal tumor or sarcoidosis, granuloma, and focal indolent infections.
Temporal artery biopsy can confirm the diagnosis of giant cell arteritis that can underlay spinal cord infarction.
CSF examination is useful for determining any abnormality that is not fully specific but suggests inflammatory (including neurosarcoidosis) or neoplastic causation. This is typically increased cell counts and pleocytosis, increased CSF protein, and occasionally decreased CSF glucose.
An increase in CSF immunoglobulin G (IgG index) or an oligoclonal heterogeneity of immunoglobulins suggests multiple sclerosis, although oligoclonal banding can also be found in other inflammatory disorders including sarcoidosis, viral pathologies, and autoimmune diseases.
Specific diagnoses of the viral myelitides are now possible by PCR. This promises to revolutionize the specific diagnosis of the intraaxial myelopathies.
Confirming diagnosis of a focal spinal lesion of bacterial, mycobacterial, fungal, or parasitic origin by culture is rare, but still worth pursuing in the patient whose disorder is worrying.
Histologic Findings
Histologic findings are appropriate to the pathologies outlined in the preceding section. See the image below for a spinal cord transverse section.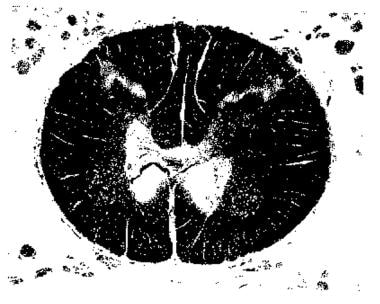 Transverse section of spinal cord at T12-L1 showing infarction of central cord. The patient became paraplegic following resection of a ruptured abdominal aortic aneurysm. During surgery, prolonged occlusion of the abdominal aorta and great anterior radicular artery was necessary.
What would you like to print?