Workup
Approach Considerations
In suspected herpes simplex encephalitis (HSE), the workup must be initiated rapidly and should not delay treatment. General laboratory studies are not helpful in diagnosis but may show evidence of infection or detect renal disease (in which case treatment must be adjusted). A high index of suspicion is required in all immunocompromised patients with febrile encephalopathy.
No pathognomonic clinical findings are associated with HSE. Focal neurologic deficits, cerebrospinal fluid (CSF) pleocytosis, and abnormalities on computed tomography (CT) scanning may be absent initially. The diagnosis can be confirmed only by means of polymerase chain reaction (PCR) or brain biopsy.
Diagnostic modalities for neonatal HSE are similar to those for HSE in older children and adults.
Go to Imaging in Herpes Encephalitis for complete information on this topic.
Magnetic Resonance Imaging
Magnetic resonance imaging (MRI) of the brain is the preferred imaging study. Proton-density and T2 images may be more helpful than T1 images. MRI can noninvasively establish many of the potential alternative diagnoses of HSE.
Abnormalities are found in 90% of patients with HSE; MRI may be normal early in the course of illness. Temporal lobe involvement (see the images below), sometimes hemorrhagic, and early involvement of white matter are typical. The inferomedial portion of the temporal lobe is most commonly affected on MRI, sometimes in association with abnormalities of the cingulate gyrus.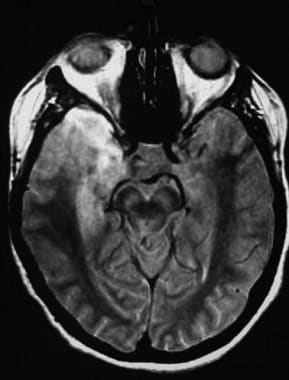 Axial proton density-weighted image in 62-year-old woman with confusion and herpes encephalitis shows T2 hyperintensity involving right temporal lobe.
Axial gadolinium-enhanced T1-weighted image reveals enhancement of right anterior temporal lobe and parahippocampal gyrus. At right anterior temporal tip is hypointense, crescentic region surrounded by enhancement consistent with small epidural abscess.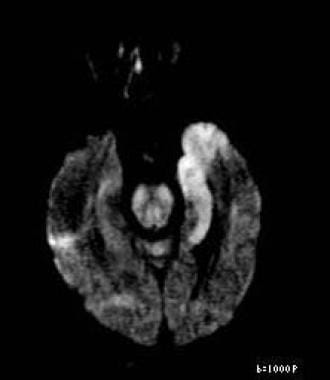 Axial diffusion-weighted image reveals restricted diffusion in left medial temporal lobe consistent with herpes encephalitis. This patient also had positive result on polymerase chain reaction assay for herpes simplex virus, which is both sensitive and specific. In addition, patient had periodic lateralized epileptiform discharges on electroencephalography, which supports diagnosis of herpes encephalitis.
Findings of localized temporal abnormalities are highly suggestive of HSE, but again, confirmation of the diagnosis depends on the identification of herpes simplex virus (HSV) by means of PCR or brain biopsy.
Computed Tomography
Approximately one third of patients with HSE have normal CT findings on presentation. Head CT may show changes in the temporal and/or frontal lobe, but CT is less sensitive than MRI.
Low-density lesions may be found in two thirds of cases, especially in the temporal lobes, but they may not appear until 3-4 days after onset. Edema and hemorrhages may be present. After 1 week, contrast enhancement may be detectable.
Electroencephalography
Electroencephalography (EEG), though lacking in specificity (32%), has 84% sensitivity to abnormal patterns in HSE. Focal abnormalities (eg, spike and slow- or periodic sharp-wave patterns over the involved temporal lobes) or diffuse slowing may be observed.
Periodic complexes and periodic lateralizing epileptiform discharges (PLEDs), in the proper clinical context, are strongly suggestive of HSE. However, Beneto et al reported 9 patients with confirmed HSE who had no PLED activity or had other EEG patterns. [34]
Analysis of Cerebrospinal Fluid
Once a space-occupying lesion has been excluded by imaging, lumbar puncture always should be performed in suspected HSE. In general, CSF yield is proportional to the volume analyzed; an adequate volume of CSF should be obtained (>10 mL).
Acutely, a typical "viral profile" is identified. Red blood cells (RBCs) and xanthochromia may be seen. Patients typically have mononuclear pleocytosis of 10-500 white blood cells (WBCs)/µL (average, 100 WBCs/µL). As a result of the hemorrhagic nature of the underlying pathologic process, the RBC count may be elevated (10-500/µL). Protein levels are elevated to the range of 60-700 mg/dL (average, 100 mg/dL). Glucose values may be normal or mildly decreased (30-40 mg/dL).
In about 5-10% of patients, especially children, initial CSF results may be normal. [35] However, on serial examinations, the cell counts and protein values increase.
Viral cultures of CSF are rarely positive and should not be relied on to confirm the diagnosis. However, HSV can be cultured from the CSF in about one third of affected neonates.
Polymerase Chain Reaction
CSF should be sent for HSV-1 and HSV-2 polymerase chain reaction (PCR) study. PCR analysis of CSF for the detection of HSV DNA has virtually replaced brain biopsy as the criterion standard for diagnosis. [7, 8] Schloss and colleagues report that whereas quantitative PCR is more rational than a nested PCR, the former has little prognostic use. [36]
PCR is highly sensitive (94-98%) and specific (98-100%). Results become positive within 24 hours of the onset of symptoms and remain positive for at least 5-7 days after the start of antiviral therapy.
Clinical severity and outcome appear to correlate with viral load as assessed by quantitative PCR techniques, [37] but not all investigators have confirmed this correlation. [38]
False-negative findings may occur early in the course of the disease when viral DNA levels are low (within 72 hours of the onset of symptoms) or when blood is present in the CSF, because hemoglobin may interfere with PCR. [39]
Pretest probability should be considered in interpretation of results. A negative result obtained less than 72 hours after the onset of symptoms in a patient with a high pretest probability (on the basis of fever, focal neurologic abnormalities, or CSF pleocytosis) should be repeated.
False-positive test results are rare and usually reflect accidental contamination of the specimen in the laboratory.
Brain Biopsy
Brain biopsy was once considered the only definitive means of diagnosing HSE. The results of brain biopsy can also establish alternative diagnoses, both treatable (eg, brain tumor) and nontreatable (eg, non-HSV viral encephalitis). Currently, with the advent of PCR technology, the role of brain biopsy is diminishing. Studies have demonstrated that PCR testing of CSF is as accurate as brain biopsy in confirming the diagnosis of HSE.
When the diagnosis of HSE cannot be established by other means (eg, when lumbar puncture is precluded or nondiagnostic), brain biopsy can yield a definitive diagnosis and may be considered. However, with the availability of nontoxic and effective antiviral medications, brain biopsy is rarely used today. The procedure carries a complication rate of about 3%.
Orbitofrontal or limbic encephalitis may be seen. One hallmark of the condition is significant hemorrhage in these locations. On pathology specimens, Cowdry A inclusions are seen.
Other Tests
Serologic analysis
Serologic evaluation of blood or CSF may be useful for retrospective diagnosis, but it has no role in the acute diagnosis and treatment of patients.
Strategies based on increases in antibody levels and on the ratio of antibody levels in serum and CSF have not proven to be clinically useful.
Tzanck preparations
HSV can sometimes be confirmed by Tzanck preparations taken from vesicular lesions in neonates with herpes simplex encephalitis.
Quantification of intrathecal antibodies
Intrathecal antibodies can be quantified, thus giving evidence for a central nervous system (CNS) antibody response.
What would you like to print?