Overview
Background
Intracranial epidural abscess was first described in 1760 by Sir Percival Pott. Pott also documented the associated scalp swelling, the so-called Pott puffy tumor. Cranial epidural abscess (CEA) is the third most common localized intracranial infection, after brain abscess and subdural empyema.
Pathophysiology
Cranial epidural abscess is defined as a suppurative infection of the epidural space, which is the space between the dura mater and the inner table of the skull (see the image below). With the advent of antibiotics, it most often occurs as a complication of neurosurgery. As many as 2% of craniotomies result in cranial epidural abscess. In approximately 10% of cases, epidural abscess is associated with subdural abscess. At autopsy, 81% of patients with cranial epidural abscess are found to have infections extending into the subdural space. Autopsy evidence of meningitis is present in 35% of patients with cranial epidural abscess, and evidence of brain abscess is present in 17%. The dura adheres tightly to the skull, resulting in sharp demarcation and slow progression of the empyema, often accompanied by osteomyelitis of the overlying bone. [1, 2]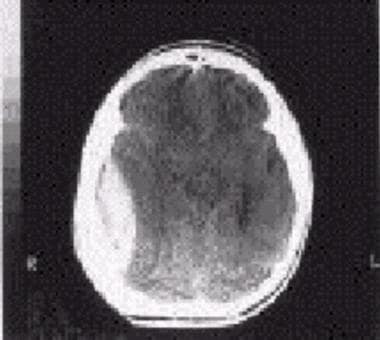 CT scan showing lenticular-shaped intracranial epidural abscess.
Intracranial epidural abscess can result from spread of infection to the epidural space from the paranasal sinuses, middle ear, orbit, or mastoids. Routes of spread include direct contamination from penetrating trauma or contamination at the time of surgery, direct spread from osteomyelitis, septic thrombus entering emissary veins, and hematogenous spread. Cranial epidural empyema may rarely occur as a result of metastatic hematogenous seeding. [3]
The usual causative organisms are streptococci associated with sinusitis and anaerobes and staphylococci when accompanied by trauma. Dural attachments, especially at sutures, and the sagittal sinus contain the infection. When this fails because of trauma, surgery, or previous surgery, further spread of the infection results in complications, including cranial osteomyelitis, dural sinus thrombosis, subdural empyema, purulent leptomeningitis, and brain abscess. Virulence of the organism and the resistance of the host influence the outcome of this condition significantly.
Once the organism enters the epidural space, hyperemia and fibrin deposition occur, followed by collection of purulent material and development of chronic granulation and fibrous tissue.
Epidemiology
Frequency
Overall incidence of intracranial epidural abscess is unknown. Epidural abscess is a relatively rare cause of focal intracranial infection; in fact, 90% of epidural abscesses occur in the spine. Because of early and adequate treatment of bacterial middle ear and sinus infections, occurrence of epidural abscess is uncommon. It accounts for only 2–5% of cases of cranial suppuration. Surgical site infections (SSIs) after neurosurgical procedures are decreasing gradually, and the recent rate of SSIs in clean neurosurgical operations with prophylactic antibiotics was between 1.0% and 6.2%. [4, 5] Consequently, epidural abscesses after craniotomy have been relatively uncommon recently.
Mortality/Morbidity
Mortality from intracranial epidural abscess was 100% in the preantibiotic period. With advanced imaging techniques, better antibiotics, and surgical techniques, the mortality rate has declined to 6–20%.
The outcome of this infection is often influenced by the virulence of the infecting organism, resistance of the host, presence of altered mental status on presentation, age of the patient, comorbid conditions, neurologic deterioration, and any delay in instituting appropriate treatment. Harris et al. reported 31 cases of localized central nervous system infection over a 7-year period in their community hospital. [6] Cranial subdural empyema (CSE) was the cause in 6 cases (20%) and cranial epidural abscess was the cause in 2 cases (6%). Although all patients with cranial subdural empyema and cranial epidural abscess survived, half had severe residual neurologic deficits. With the advent of new antibiotics, improved surgical techniques and aggressive surgical approach prognosis is much improved.
Germiller et al. report a consecutive sample of 25 children and adolescents treated for 35 intracranial complications associated with intracranial complications of sinusitis. [7] Epidural abscess was most common (13 complications), followed by subdural empyema (n = 9), meningitis (n = 6), encephalitis (n = 2), intracerebral abscess (n = 2), and dural sinus thrombophlebitis (n = 2). Only 1 death occurred from sepsis secondary to meningitis (mortality 4%) and only 2 patients had permanent neurologic sequelae. Overall, neurologic outcome was excellent because of aggressive medical and surgical management.
Sex
Cranial epidural abscess occurs with greater frequency in men.
Age
Intracranial epidural abscess can occur in people of any age, but it has been reported more commonly in people in the sixth decade of life. It is most common in older children and adults and is rare in children younger than 12 years. Woods et al report that epidural abscess is rare and occurs almost exclusively in older children and adults. [8]
What would you like to print?