Workup
Approach Considerations
Prompt recognition of the aformentioned signs and symptoms of an intracranial epidural abscess (IEA) in a high-risk population is essential, so as not to delay diagnosis and appropriate treatment.
After a performing a history and physical exam (focusing on a neurological and head and neck exam), and checking vital signs (including temperature) to determine stability, relevant laboratory studies should be ordered (see below).
Laboratory Studies
Findings from routine laboratory tests are not diagnostic for intracranial epidural abscess (IEA) but are essential in the preparation of the patient for operation. These tests may reveal polymorphonuclear (PMN) leukocytosis, and/or an elevated erythrocyte sedimentation rate (ESR), C-reactive protein (CRP), and procalcitonin. Note that certain inflammatory markers are normally elevated in the postoperative period.
In addition, the provider should send at least two sets of blood cultures, which may reveal the organism.
Hyponatremia has been reported in approximately 30% of cases.
Preoperative lab work (eg, coagulation studies, type and screen) should also be sent in case the patient requires surgery.
Imaging Studies
Neuroimaging is key to narrowing down the potential diagnosis and enabling prompt empirical therapy until a specific microbiological diagnosis is made.
An initial CT head scan without contrast is an appropriate, low-cost screening tool for a suspected intracranial lesion. Intracranial epidural abscesses (IEAs) generally appear as a lentiform area of low or intermediate density (see the image below). CT scanning can also show bony destruction and fragmentation in patients with underlying mastoiditis. When contrast is administered, the convex inner side of the low-density lesion often enhances due to inflamed dura.
Historically, plain radiography of the skull could demonstrate the responsible sinusitis, mastoiditis, or osteomyelitis. Before the advent of CT scanning, cerebral angiography was often required. Cerebral angiography would demonstrate an avascular mass displacing the dural sinuses away from the inner table of the skull.
In the setting of a positive CT head scan and/or clinically suggestive signs and symptoms, the provider should obtain an MRI of the brain with and without gadolinium contrast. As an MRI is free from bony artifacts, it can easily demonstrate fluid collections in and outside the brain, and as a result is the diagnostic procedure of choice for an IEA.
Epidural fluid of an IEA is generally crescentic or lentiform in shape, restricts diffusion (on DWI sequence), and has higher signal intensity than CSF on both T1- and T2-weighted MRI. IEAs may have gadolinium enhancement on T1 peripherally, including enhancement of the dura. A hypointense medial rim, representing the displaced dura is very characteristic of an IEA. An MRI may visualize small fluid collections missed on CT, associated cerebral edema, and may help narrow down the radiological differential diagnosis, such as differentiating IEA from acute or subacute epidural hematomas, tumors, and arachnoid cysts. Most significantly, MRI helps differentiate an IEA from a subdural empyema, which carries a poorer prognosis and requires immediate treatment. See images below: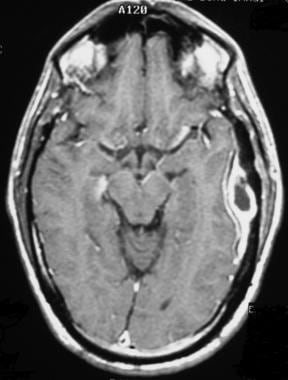 Intracranial epidural abscess. Enhanced MRI of the brain, axial section, revealing a left temporal epidural abscess with an abscess cavity and a thickened enhancing capsule. Adjacent thickened dura enhances as well. In addition, mass effect is evident.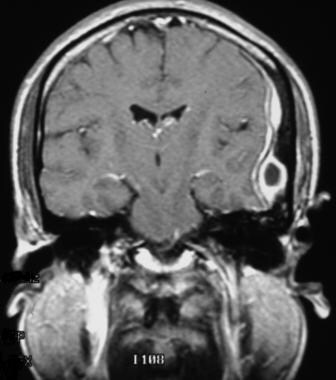 Intracranial epidural abscess. A coronal section of the MRI revealing a left temporal epidural abscess with an abscess cavity and a thickened enhancing capsule. Adjacent thickened dura enhances as well. In addition, mass effect is evident.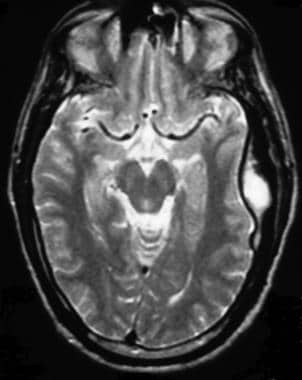 Intracranial epidural abscess. MRI of the brain, unenhanced. A T1-weighted image (axial view) showing a left temporal epidural abscess with an abscess cavity, surrounding capsule, and the thickened dura underneath. Mass effect is evident.
The vein of Labbé may rarely masquerade as the hypointense rim of an epidural abscess. [19] Recognition of the vein of Labbé on imaging is therefore essential for the appropriate management of otological and neurotological disease.
Other Tests
Lumbar puncture should generally be avoided, as it carries the risk of precipitating herniation in the setting of increased ICP due to larger intracranial epidural abscesses (IEAs) and/or associated cerebral edema. A lumbar puncture may be appropriate, however, to diagnose patients with primarily meningitic signs and only a small epidural abscess, without mass effect and without clinical symptoms of increased ICP. Risks and benefits should always be carefully weighed before a decision is made to proceed with a spinal tap.
Findings on CSF studies can often be unremarkable, and may show glucose and protein levels within normal limits. CSF pressure may be normal or increased. CSF may contain excess cells that are usually polymorphonuclear cells. The cell count is usually less than 200 cells, but it can be as high as 7000/mm3. Protein may be elevated as much as 100 mg/dL and the glucose level is often within the reference range unless associated meningitis is present, in which case it may be decreased.
What would you like to print?