Workup
Approach Considerations
Laboratory examination of the cerebrospinal fluid (CSF) usually confirms the presence of meningitis.
In the US, a neuroimaging study (either MRI or CT scanning) prior to lumbar puncture is mandatory in all patients in whom meningitis is suspected. However, this rule is relaxed in several other countries (see CT scanning and MRI).
CSF Examination
Typical CSF abnormalities in meningitis include the following:
Increased opening pressure (>180 mm water)

Pleocytosis of polymorphonuclear leukocytes (white blood cell [WBC] counts between 10 and 10,000 cells/µL, predominantly neutrophils)

Decreased glucose concentration (< 45 mg/dL)

Increased protein concentration (>45 mg/dL)
Gram stain and culture of CSF identify the etiologic organism, N meningitides. In bacterial meningitis, Gram stain is positive in 70-90% of untreated cases, and culture results are positive in as many as 80% of cases.
More specialized laboratory tests, which may include culture of CSF and blood specimens, are needed for identification of N meningitidis and the serogroup of meningococci, as well as for determining its susceptibility to antibiotics.
Polymerase Chain Reaction
The polymerase chain reaction (PCR) [12] may be used to complement standard laboratory procedures for the diagnosis of meningococcal meningitis. [13] The IS1106 PCR is a rapid and sensitive test for confirmation of the diagnosis; its sensitivity is not affected by prior antibiotic treatment. [14] PCR of the nspA gene was also reported to be a fast diagnostic test. [15]
CT Scanning and MRI
Head CT scan findings are usually normal but may reveal signs of intracranial hypertension, edema, and intracerebral hemorrhage. In several parts of the world, imaging is an important cause of delay of therapy. In the US, due to the large availability of brain imaging, the performance of a head CT scan is mandatory. In other countries, this rule is relaxed, and indications for performing CT scanning prior to lumbar puncture include altered level of consciousness, papilledema, focal neurological deficits, and/or focal or generalized seizure activity.
The image below depicts intracerebral hemorrhage foci and diffuse edema in a patient with meningitis.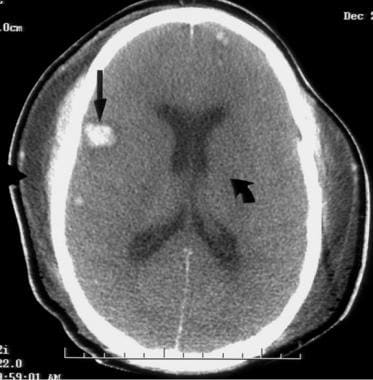 Head CT shows small intracerebral hemorrhage foci (vertical closed arrow). Basal ganglia can also not be visualized because of diffuse edema (oblique closed arrow). The black arrow head on the left shows soft tissue edema.
MRI with contrast is preferred to CT scanning, because MRI better demonstrates meningeal lesions, cerebral edema, and cerebral ischemia. T1 may show obliterated cisterns. Contrast enhances the cisterns, and extension of enhancing subarachnoid exudate deep into the sulci may be seen in severe cases.
Strokes can be seen with the development of vasculitis and cerebritis. CNS complications that can be visualized with MRI include hydrocephalus, aqueductal obstruction, ventriculitis (especially in neonates), choroid plexitis, subdural effusion, and empyema.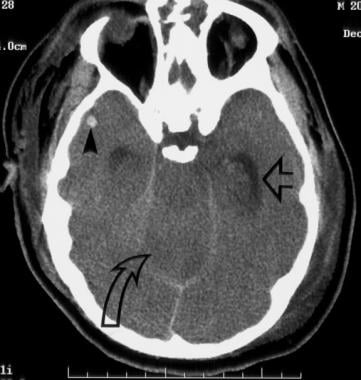 Head CT demonstrates enlargement of the temporal horns indicating increased intracranial pressure (horizontal open large arrow). The closed arrowhead shows small intracerebral hemorrhage foci on the right temporal lobe, and the curved arrow shows the effect of increased intracranial pressure on the cerebellum.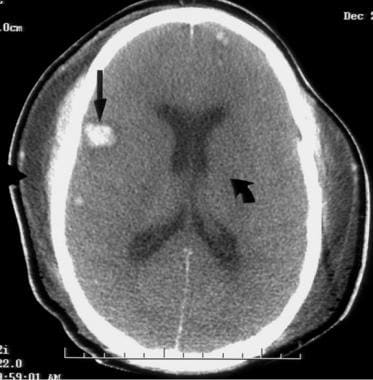 Head CT shows small intracerebral hemorrhage foci (vertical closed arrow). Basal ganglia can also not be visualized because of diffuse edema (oblique closed arrow). The black arrow head on the left shows soft tissue edema.
Histologic Findings
During the first few days, the subarachnoid and ventricular exudate contains large numbers of neutrophils and necrotic debris. Intracellular and extracellular bacteria can be demonstrated. The exudate extends along the perivascular spaces into the cortex and cerebral cortex. Purulent material usually is observed in the choroid plexus. With time, the number of mononuclear leukocytes increases, and they predominate by the end of the first week. Fibroblasts also proliferate.
Inflammatory cells infiltrate leptomeningeal and cortical arteries and veins and accumulate in the intima. Thrombosis of small vessels leads to infarction. This pattern is common in autopsied cases.
Other Tests
An electroencephalogram (EEG) study is sometimes useful to document irritable electrical patterns that may predispose the patient to seizures. Periodic complexes and periodic lateralizing epileptiform discharges (PLEDs) may be suggestive of encephalitis caused by herpes simplex virus.
What would you like to print?