Overview
Background
A spinal epidural abscess threatens the spinal cord or cauda equina by compression and also by vascular compromise (see images below). If untreated, an expanding suppurative infection in the spinal epidural space impinges on the spinal cord, producing sensory symptoms and signs, motor dysfunction, and, ultimately, paralysis and death. Intervention early in the course of the disease undoubtedly improves the outcome. Frequently, diagnosis is understandably delayed because the initial presentation may be only nonspecific back pain. One half of cases are estimated to be misdiagnosed or have a delayed diagnosis. [1] At times, radicular symptoms may lead to a chief complaint of chest pain or abdominal pain [2] , mimicking a myocardial infarction or an acute abdomen. [3]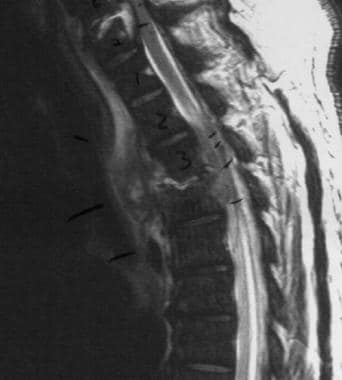 Cervical epidural abscess with spinal cord compression and spinal cord edema.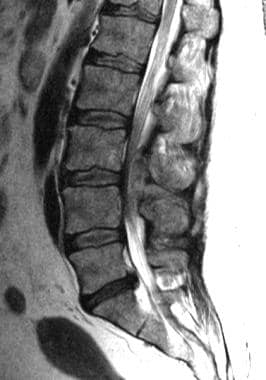 Spinal epidural abscess lumbar area.
Pathophysiology
The spinal epidural space is not a uniform space. Posteriorly, the epidural space contains fat, small arteries, and the venous plexus. Infections in this space may spread over several vertebral levels. Anteriorly, the epidural space is a potential space with the dura tightly adherent to the vertebral bodies and ligaments. Abscesses occur more frequently in the larger posterior epidural space. Most spinal epidural abscesses occur in the thoracic area, which is anatomically the longest of the spinal regions.
Some series suggest that dorsal spinal epidural abscesses are much more likely to present with weakness and severe neurologic deficit than ventral spinal epidural abscesses. [4]
Hematogenous spread with seeding of the epidural space is the suspected source of infection in most children and is thought to occur in many adults as well. Reported sources of infection are numerous and include bacterial endocarditis, infected indwelling catheters, urinary tract infection, peritoneal and retroperitoneal infections, and others.
Direct extension of infection from vertebral osteomyelitis occurs in adults and rarely in children.
Epidural catheters and injections may lead to direct inoculation of the epidural space. The source of infection is not identified in many patients. There was a recent outbreak of fungal infections including epidural abscesses associated with injection of methylprednisolone that was contaminated with environmental molds. [5]
The more clinically significant effects of the epidural abscess may be from involvement of the vascular supply to the spinal cord and subsequent infarction rather than direct compression. Staphylococcus aureus is the most commonly reported pathogen [6] , though many other bacteria have been implicated, including Staphylococcus and Pseudomonas species, Escherichia coli, Brucella, and Mycobacterium tuberculosis. Methicillin-resistant Staphylococcus aureus (MRSA) is increasingly reported particularly in patients with a history of MRSA abscesses, spinal surgery, or implanted devices. Immunosuppressed patients may have infections from unusual bacterial or fungal organisms. Fungal infections may also occur. Environmental mold Exserohilum rostratum was the unusual pathogen associated with the outbreak of contaminated methylprednisolone.
Epidemiology
Frequency
United States
The frequency in large tertiary care centers is estimated to be about 2.8 cases per 10,000 admissions. The incidence is suspected to be increasing in relation to intravenous (IV) drug abuse. [7]
International
Because these abscesses occur rarely, the frequency is unknown. It probably parallels the US experience of rarity, although limited diagnostic capabilities in medically underserved countries might increase its importance as a health risk.
Mortality/Morbidity
If untreated, spinal epidural abscess causes progressive paraplegia and death.
Sex
Older studies found an equal sex ratio; more recent data indicate a male predominance, likely reflecting the pattern of IV drug use.
Age
The average age is older than 50 years, but spinal epidural abscess can occur at any age.
What would you like to print?