DDx
Diagnostic Considerations
The differential diagnosis of adrenal masses includes many primary, metastatic, benign, and malignant entities, most of which are not discussed at length here. Problems to be considered include the following:
Adjacent structures masquerading as adrenal incidentaloma (AIs) (eg, kidneys, spleen, pancreas, lymph nodes)

Adrenal cortical hyperplasia

Adrenal cortical neoplasms
In addition, see the image below for further differential diagnoses of AIs.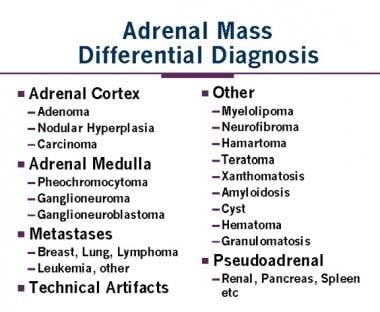 Differential diagnosis of adrenal mass
Differential Diagnoses
Lymphoma, Cutaneous T-Cell
What would you like to print?