Workup
Laboratory Studies
See the list below:
Pyomyositis

Leukocytosis

Elevated erythrocyte sedimentation rate (ESR)

Serum creatine kinase (CK) and aldolase usually normal

Blood culture results generally negative

Purulent material for Gram stain, anaerobic and aerobic cultures, antimicrobial sensitivity testing

Streptococcal myositis

Leukocytosis

Elevated muscle enzyme levels

Trichinosis

Eosinophilia is suggestive of the diagnosis.

Laboratory tests may also reveal leukocytosis, elevated immunoglobulin E, and increased muscle enzymes.

A rising antibody titer is highly suggestive of the disease.

Serology

Viral IgM and IgG titers

Toxoplasmal antibodies

Lyme antibody titer: If enzyme-linked immunosorbent assay (ELISA) screening test result is positive, confirm with a Western blot test.

Cysticercosis - Electrocardiogram

HTLV-1 infection - Serological tests to detect HTLV-1 antibodies in serum

Trypanosomiasis

Serological tests - ELISA (highly sensitive) or direct agglutination test

Electrocardiogram

Influenza myositis

Elevated CK, mostly consisting of the MM (muscle) isoenzyme, as high as 500 times normal

Urine myoglobin - May be positive

Liver enzymes (aspartate aminotransferase [AST] and lactate dehydrogenase [LDH]) - May be elevated

Electrocardiogram

Detection of virus with polymerase chain reaction (PCR) testing of nasopharyngeal specimens

Coxsackievirus myositis

Rising coxsackievirus IgG antibody titers

Isolation methods for group B coxsackievirus - Include inoculation of cell cultures

Cryptococcal myositis

Muscle biopsy may reveal intracytoplasmic organisms

Alcian blue or mucicarmine stains may identify polysaccharide capsule

Serology - Positive cryptococcal serum antigen

Fungal myositis - Fungal stain and culture
Imaging Studies
See the list below:
Pyomyositis

MRI is the imaging modality of choice for the diagnosis of pyomyositis. MRI is helpful in differentiating pyomyositis from osteomyelitis. It is especially useful in differentiating early muscle inflammation from abscess formation. MRI is also the best imaging modality for evaluation of pelvic infections. [9]

CT scanning may show hypertrophy of involved muscle groups and effacement of the fat planes. Contrast enhancement may indicate abscess formation. CT is also useful for distinguishing tumors and hematomas from abscess.

Ultrasound or MRI also may be used to localize involved muscle.

Gallium scan is useful for localization in the early stages of illness.

Streptococcal myositis - CT scan helpful in assessing extent of muscle involvement and necrosis

Tuberculous pyomyositis

MRI: Findings are consistent with an abscess (ie, low signal intensity on T1-weighted images and high signal intensity on T2-weighted images of affected muscles).

Following gadolinium infusion, peripheral rim enhancement is noted. This is indicated by subtle hyperintensity on T1-weighted images and hypointensity on T2-weighted images.

Cysticercosis with orbital involvement: Multiplanar imaging with MRI may be obtained to identify a cyst with a mural nodule. With gadolinium, a nodule shows intense enhancement.

Trichinosis

Imaging of soft tissue or muscles may demonstrate the calcified lesions with classic "puffed rice" or "spindle-shaped" radiographic appearance.

MRI, CT, and ultrasonography may show a clear cyst with a scolex.

MRI is superior at demonstrating the cysts in the soft tissues.

Calcifications are best visualized on CT scans.
Other Tests
Trichinosis: Skin test with trichinellar antigen is unreliable.
Procedures
See the list below:
HIV polymyositis: Electromyography (EMG) findings are similar to those of idiopathic polymyositis.

Short-duration motor unit potentials

Low-amplitude polyphasic motor unit potentials

Fibrillations

Trichinosis: EMG may reveal fibrillation potentials.

Lyme myositis: Changes of denervation may be seen in the involved muscles.

Pyomyositis: Needle aspiration is useful for the detection of purulent material and for microbiologic identification of the causative organism.
Histologic Findings
Trichinosis
Muscle biopsy is required to confirm diagnosis. Findings in the acute stage of larval invasion of the muscles include segmental necrosis and interstitial infiltrates composed mainly of eosinophils. The Trichinella species larvae sometimes can be seen in the muscle biopsy. However, encapsulated cysts (without larvae), granulomas, and focal calcification are more likely to be encountered.
Pyomyositis
Widespread necrosis of muscle fibers, perimysium, and blood vessels is noted. Pleomorphic inflammatory response consisting of both neutrophils and lymphocytes is noted.
Streptococcal myositis
Muscle necrosis and gram-positive bacteria in chains is noted.
Cysticercosis
The viable larvae produce little or no tissue reaction. However, rupture or death of a cysticercus (mature larva) evokes an acute inflammatory response with a pleomorphic exudate composed of neutrophils and eosinophils. Over time, fibrous tissue encapsulates the cysts. A chronic granulomatous response may surround the cysts.
Lyme myositis
Muscle biopsy shows atrophic fibers and an infiltrate consisting of lymphocytes, plasma cells, and macrophages. Borrelia burgdorferi can be detected in muscle fibers by the modified Dieterle silver stain method.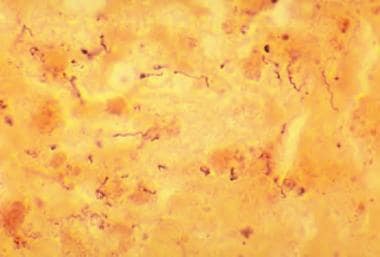 Histopathology: Borrelia burgdorferi spirochetes in Lyme disease, with Dieterle silver stain. Courtesy of Centers for Disease Control and Prevention and Dr Edwin P. Ewing, Jr.
Trypanosomiasis
Sections of infected tissues may reveal clusters of amastigotes in muscle cells surrounded by acute or chronic inflammation.
Influenza myositis
Muscle fiber necrosis without inflammatory change is observed. Influenza viral particles have been identified in muscle fibers under electron microscopy. Muscle fiber regeneration is seen in some, with an inflammatory response consisting of mononuclear and polymorphonuclear leukocytes.
Fungal myositis
Muscle biopsy is needed to confirm diagnosis. Budding yeast and pseudohyphae may be seen.
What would you like to print?