Workup
Approach Considerations
Neurocysticercosis is commonly diagnosed with the routine use of diagnostic methods such as computed tomography (CT) and magnetic resonance imaging (MRI) of the brain. Peripheral leukocytosis, eosinophilia, and elevated erythrocyte sedimentation rate may be found on routine blood work.
See also Neuroimaging in Neurocysticercosis.
Reports have shown a decrease in N -acetyl aspartate (NAA) and creatine levels and elevated lactate and metabolites such as alanine and succinate on magnetic resonance spectroscopy. For the purpose of localization, myelography and cerebral angiography, as well as cisternographies and ventriculographies, may be used.
CSF Analysis
Analysis of the cerebrospinal fluid (CSF) is indicated in every patient presenting with new-onset seizures or neurologic deficit in whom neuroimaging shows a solitary lesion but does not offer a definitive diagnosis.
This study is contraindicated in cases of large cysts causing severe edema and displacement of brain structures, as well as in lesions causing obstructive hydrocephalus.
When parasites are located in the brain parenchyma, results of CSF analysis may be normal. The results are usually abnormal (50-80%) when parasites are present in the basal cisterns or in the ventricles.
CSF findings include mononuclear pleocytosis, normal or low glucose levels, elevated protein levels, high immunoglobulin G (IgG) index, and in some cases, the presence of oligoclonal bands. Eosinophilia (5-500 cells/µL) in the CSF suggests neurocysticercosis; however, eosinophils also are elevated in neurosyphilis and tuberculosis of the central nervous system (CNS). [4]
Stool Examination
Taeniasis and neurocysticercosis coexist in 10-15% of patients with neurocysticercosis. One study reported that intestinal taeniasis is very common in patients with massive infestation with cysticerci but without cysticercotic encephalitis.
Tapeworm carriers may be identified by examining the stool of the relatives of a patient with cysticercosis encephalitis. Specific co-proantigen detection by enzyme-linked immunosorbent assay (ELISA) and polymerase chain reaction (PCR) may help improve the screening of carriers in endemic areas.
Immunologic Testing
Enzyme-linked immunosorbent assay (ELISA) is the most widely used test of cerebrospinal fluid (CSF); it has a sensitivity of 50% and a specificity of 65% for neurocysticercosis.
Enzyme-linked immunoelectrotransfer blot (EITB) assay in serum using lentil lectin glycoprotein antigens of T. solium cysts is also highly sensitive and specific, initially described as 98% and 100%, respectively for detection of antibodies in serum and cerebrospinal fluid.
In patients with more than two lesions, 90% sensitivity has been reported. This declines to 50-62% with a single lesion and for calcified lesions.
Using monoclonal antibodies to detect circulating parasitic antigens may be helpful in monitoring response to cysticidal therapy.
CT Scanning
Computed tomography (CT) scanning is the preferred imaging study for detection of parenchymal calcifications (see the image below).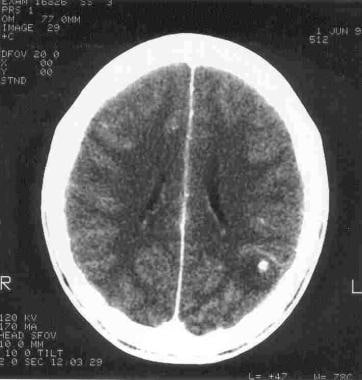 Computed tomographic (CT) scan of the brain in a patient who presented with an episode of generalized tonic-clonic seizure. Note the calcified lesion in the left parieto-occipital region. Subsequent evaluation confirmed the diagnosis of neurocysticercosis.
Depending on the stage of evolution of the infestation, the findings are variable, as follows:
Vesicular stage (viable larva): Hypodense, nonenhancing lesions are seen.

Colloidal stage (larval degeneration): Hypodense/isodense lesions with peripheral enhancement and perilesional edema are seen.

Nodular-granular stage: Nodular-enhancing lesions are observed.

Cysticercotic encephalitis: Diffuse edema, collapsed ventricles, and multiple enhancing parenchymal lesions are characteristic.

Active parenchymal stage: The scolex within a cyst may appear as a hyperdense dot.

Calcified stage: When the parasite dies, nodular parenchymal calcifications are seen.
MRI
Magnetic resonance imaging (MRI) is the imaging modality of choice for neurocysticercosis, especially for evaluation of intraventricular and cisternal/subarachnoidal cysts (see the following images). Noninvasive magnetic resonance cisternography (MRC) or fluid-attenuated inversion recovery (FLAIR) sequences before and after inhalation of 100% oxygen may provide better detection, especially of small racemose cisternal cysts.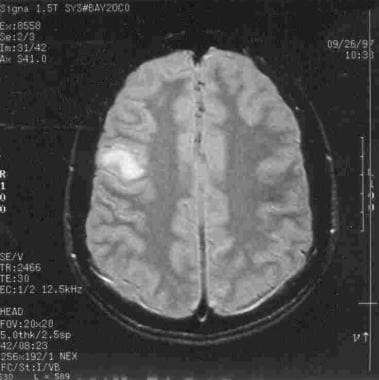 T2-weighted magnetic resonance image (MRI) of the brain showing the presence of increased signal as a result of edema in the right frontal region; subsequent studies found a cysticercus in that location.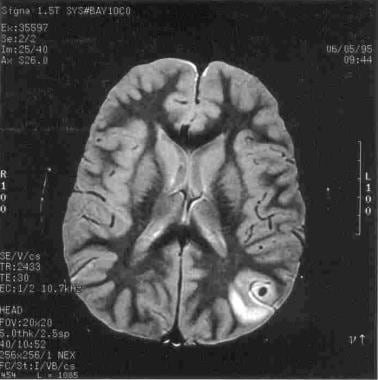 Magnetic resonance image (MRI) of the brain in a patient who presented with an episode of generalized tonic-clonic seizure. Note the cyst in the left parieto-occipital region with perilesional edema.
Magnetic resonance studies are also more helpful in the evaluation of cystic degeneration and pericystic inflammatory reaction. Findings on MRI include the following:
Vesicular stage: Cysts follow the cerebrospinal fluid (CSF) signal. T2 hyperintense scolex may be seen, no edema, and usually no enhancement.

Colloidal stage: Cysts are hyperintense to the CSF. There is surrounding edema, and the cyst wall enhances.

Nodular-granular stage: The cyst wall thickens and retracts, there is a decrease in edema, and nodular or ring enhancement is present.
Brain Biopsy
Only in extreme cases of neurocysticercosis is a brain biopsy necessary. A trial of anticysticercal drugs with follow-up imaging shortly thereafter (ie, 2 months) is recommended before considering biopsy.
Histologic Features
A cysticercus is a liquid-filled vesicle with a 3-layer wall and scolex, although the scolex may not be found. The parasite can adopt 3 different presentations in the nervous system—cystic, racemose, and mixed form.
The cystic form refers to the presence of cysts anywhere in the brain; the cysts are approximately 7 mm in diameter and may be single or multiple. Their most frequent locations are the leptomeninges and the cerebral cortex.
The racemose form refers to the presence of multiple cysts in the basal cisterns where the vesicles can have different sizes, and the cysts can be attached to the meninges [13] ; they do not have a scolex. Because of their location, the racemose form can produce hydrocephalus, which is caused by inflammation of meninges with subsequent fibrosis and obstruction. Sometimes they give the impression of an "infiltrative" aspect (Trelles "canceriform" presentation [17] ).
The mixed form refers to the presence of both of the cystic and racemose forms.
What would you like to print?