Workup
Laboratory Studies
Initial workup includes laboratory tests as for dementia. To rule out a toxic and/or metabolic encephalopathy, evaluate CBC count, serum chemistry panel, liver function test results, ammonium levels, and erythrocyte sedimentation rate. Perform blood cultures if any type of bacterial infection is suspected.
In addition, evaluate thyroid function, B-12 levels, and folate levels and perform tests for neurosyphilis. The rapid plasma reagent (RPR) test or Venereal Disease Research Laboratory (VDRL) test results may be negative in neurosyphilis; hence, if this diagnosis is suspected, perform a fluorescent treponemal antibody test. Perform HIV testing if any risk factors are present.
To rule out Hashimoto encephalopathy, serum levels of anti-thyroperoxidase antibodies (formally known as antimicrosomal antibody) should be determined. [78]
If a paraneoplastic syndrome is possible (ie, when a history of malignancy or imaging studies finding an occult neoplasm), then the presence of autoantibodies should be investigated. These are reviewed in Dropcho 2005. A partial list of possible paraneoplastic syndromes and their associated tumors and autoantibodies is shown in Table 2.
Table 2. Paraneoplastic Syndromes, Associated Tumors, and Autoantibodies (Open Table in a new window)
Clinical Syndrome

Neoplasm

Autoantibodies

Limbic encephalitis

Small cell lung carcinoma

Testicular/breast, thymoma

Anti-Hu, antiCV2,PCA-2, ANNA-3

Anti-Ma2 Anti-VGKC, anti-CV2

Cerebellar degeneration

Breast, ovary, lung, others

Anti-Yo, anti-Ma, anti-Ri

Anti-Hu, anti-CV2

Opsoclonus myoclonus

Breast, ovarian, small cell carcinoma of lung

Neuroblastoma

Anti-Ri, anti-Yo, Anti-Hu,

Anti-amphiphysin Anti-Hu
Imaging Studies
MRI is an important imaging test. MRI may show hyperintense signals in the cortical ribbon, basal ganglia, and the thalamus on diffusion-weighted images (DWI) and fluid-attenuated inversion recovery (FLAIR) images. See the image below. In a recent review, DWI and FLAIR imaging was found to be 91% sensitive, 95% specific, and 94% accurate for the diagnosis of sporadic CJD. [80]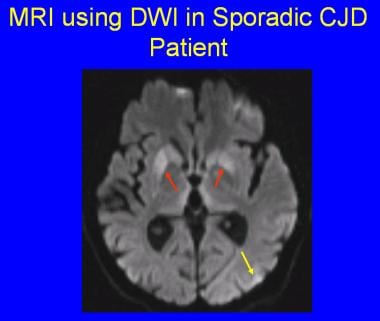 Shows characteristic signal changes of an MRI taken from a patient with sporadic CJD, using diffusion-weighted imaging (DWI). An abnormal signal is shown in both the basal ganglia (red arrows) and the cortical ribbon (yellow arrow).
Two characteristic radiological signs have been described. The "hockey stick" sign, which refers to increased signal in the putamen and head of the caudate nucleus resembling a hockey stick, and the "pulvinar" sign, which corresponds to a usually bilaterally increased signal in the pulvinar thalamic nuclei. The latter sign has been found especially in patients with vCJD.
In a few patients, positron emission tomography (PET) scan has been performed in which regional hypometabolism of glucose was noted that correlated with the neuropathologic lesions found at autopsy.
CJD presents with multifaceted clinical signs including ataxia, visual, pyramidal, myoclonus, limb apraxia, limb dystonia, sensory, parkinsonism, and corticobasal syndrome (CBS). In their effort to study the relationship between clinical pattern and cerebral glucose metabolism on [18F]fluoro-2-deoxy-D-glucose positron emission tomography (FDG-PET) in CJD, Renard et al. report hypometabolism in brain areas related to some specific signs (i.e., ataxia, visual signs, and CBS), in addition to lateralized frontal and parietal hypometabolism previously reported in CJD. [81]
In addition to MRI and PET imaging to finding changes characteristic of prion disease, it is often prudent to obtain imaging (contrast CT scans) of the chest, abdomen, and pelvis in patients to rule out the possibility of a malignancy that could be producing a paraneoplastic syndrome.
Other Tests
EEG
During the course of sporadic CJD, most patients develop a characteristic finding on EEG with periodic or pseudoperiodic paroxysms of sharp waves or spikes on a slow background.
These periodic complexes have a sensitivity and specificity of 67% and 87%, respectively, on a single EEG. However, if repeated recordings are obtained, more then 90% of patients show periodic EEG abnormalities.
In vCJD, EEG does not show the typical changes observed in sporadic CJD, and findings often are normal.
Procedures
Perform lumbar puncture (LP) in all suspected cases.
Check the opening pressure.

Evaluate the cerebrospinal fluid (CSF) for cell count, protein, glucose, bacterial cultures, viral cultures, VDRL, cryptococcal antigen, and acid-fast bacilli (AFB).

CSF is typically normal in sporadic CJD, although the CSF protein may be elevated slightly (but never >100 mg/dL).

Test CSF for the 14-3-3 protein. The sensitivity and specificity of this test exceed 90%. Information on obtaining this test is found at National Prion Disease Pathology Surveillance Center. This test is performed free of charge at the National Prion Disease Pathology Surveillance Center.

Perform a brain biopsy if the diagnosis is in doubt and a potentially treatable cause must be ruled out.
Disease-associated prion proteins include both PrPC and PrPSc. To detect low levels of this disease marker in biological material with high sensitivity, reagents that can precipitate the disease-associated prion protein are vital. Rees et al report that among the range of minerals available for this purpose, silicon dioxide is unaffected by the PrPSc strain or host species and the method can be used to precipitate bovine BSE. [82] This method can also reliably concentrate protease-resistant ovine PrPSc (PrPres) and has increased detection sensitivity by more than 1,500-fold.
Different isolates from the same host species with transmissible spongiform encephalopathies (TSEs) may show different eletrophoretic profiles, reflecting the existence of different prion strains. Experimental transmission of these atypical cases to various transgenic mouse lines has led to the recognition of a novel scrapie strain in sheep and goats, called Nor98, and of 2 variant strains of spongiform encephalopathy in cattle. [83]
In this study, streptomycin demonstrated its efficiency to detect PrPres both in the central nervous system and in the lymphoid tissue without practical difficulty and with rapid preparation. Because of its ability to act as a good agent for PrPSc examination in different tissues, recovery of PrPSc in biological fluids using streptomycin should open further perspectives of applications in CJD diagnostics. Streptomycin effects in vivo might thus also be questioned.
Histologic Findings
Staging
Clinical diagnosis is sometimes difficult (particularly in atypical sCJD cases such as MM2, MV2, VV1, or VV2 types) according to 6 phenotypes of sCJD divided by codon 129 polymorphisms of PrP (methionine/valine) and type of infectious PrP by Western blotting.
What would you like to print?