Workup
Laboratory Studies
The diagnosis of Cushing syndrome requires the demonstration of an inappropriately high level of cortisol in the serum or urine. The levels should be measured when cortisol, according to its physiologic circadian rhythm, is supposed to be suppressed, meaning at midnight or when a patient is given exogenous glucocorticoids.
This concept gives rise to the following tests, which have been recommended as screening tests for Cushing syndrome: [2, 3]
24-hour urine free cortisol

Low-dose dexamethasone suppression test (Liddle test)
An adrenocorticotropic hormone (ACTH) level obtained at the same time as the cortisol level can be helpful in identifying the etiology of Cushing syndrome.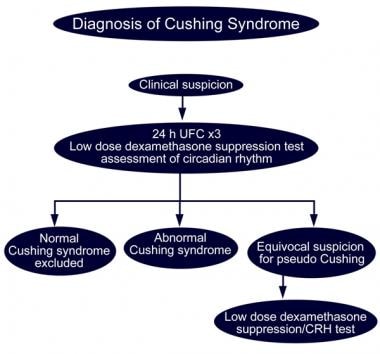 Diagnosis of Cushing syndrome.
Other Tests
A study by Álvarez-Hernández et al indicated that the clinical severity index of Cushing syndrome, developed by Sonino et al, while useful in endogenous Cushing syndrome, can also effectively be employed in patients with the iatrogenic form of the condition (specifically, in this report, those who had undergone at least 4 weeks of glucocorticoid treatment for rheumatologic disease). Once the definitions of subjective clinical variables had been standardized, the investigators found that the index adequately correlated with clinical manifestations associated with chronic glucocorticoid use. [33]
What would you like to print?