Workup
Laboratory Studies
The following tests should be performed after a patient is found to be hyperammonemic:
Arterial blood gas analysis: This study determines acid-base status; respiratory alkalosis strongly suggests a urea cycle defect; it is the result of hyperventilation due to stimulation of the central respiratory drive.

Serum amino acid tests

Glutamine and alanine levels are increased in all urea cycle defects except for arginase deficiency.

Citrulline level is decreased mildly in CPS/NAGS and OTC deficiencies but increased markedly in AS deficiency and moderately in AL deficiency.

Arginine level is increased markedly in arginase deficiency but decreased mildly in all the other enzyme deficiencies of the urea cycle.

Argininosuccinic acid level is increased markedly in AL deficiency.

Urinary orotic acid tests: The level is increased markedly in OTC deficiency and mildly in other enzyme deficiencies except for CPS/NAGS deficiency, in which it is decreased mildly.

Urinary ketone tests: Presence of ketosis indicates an organic acidemia.

Plasma and urinary organic acid tests: These levels screen for the presence of an organic acidemia that may be causing the hyperammonemia.

Enzyme assays: Assays performed on tissue specimens obtained by percutaneous liver biopsy can determine diagnosis in cases of CPS, NAGS, and OTC deficiency. Enzyme assays are also performed on red blood cells (for arginase deficiency), fibroblast from skin biopsy (ASS, ASL, and HHH), and intestinal mucosa (CPS, OTC). Enzyme analysis has largely been replaced by genetic analysis. It is still indicated in selected cases with negative genetic testing or if genetic testing is not available. [2]

DNA mutation analysis is the method of choice in confirming the diagnosis of UCD as it is clinically available for all genes of the urea cycle. [2]

Heterozygote identification in OTC-deficient pedigrees

Allopurinol loading test: This test establishes the carrier status of women at risk for OTC deficiency. After a loading dose of allopurinol, urinary orotidine excretion is measured; it is increased greatly in carriers.

DNA analysis: Several techniques are available to determine the presence of a mutation at the OTC locus.

Antenatal diagnosis: All urea cycle defects can be diagnosed antenatally by different techniques including, DNA analysis on chorionic villus or amniotic fluid cells, measurements of amniotic fluid metabolites or enzyme activities in the amniotic cells, chorionic villi, fetal liver, and fetal erythrocytes. [2]
Imaging Studies
Neuroimaging
CT or MRI of the brain may show cerebral edema in acute hyperammonemia (see image below). [24] The classic MR finding in patients with chronic liver disorders is hyperintense signal in the globus pallidum on T1-weighted images due to increased tissue concentration of manganese.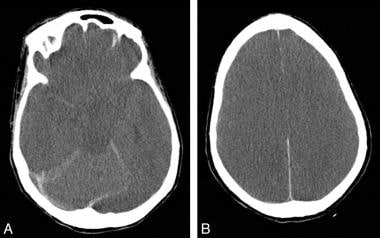 CT scan of cerebral edema caused by hyperammonemia. Republished with permission of American Society of Neuroradiology from U-King-Im JM, Yu E, Bartlett E, Soobrah R, Kucharczyk W. Acute hyperammonemic encephalopathy in adults: imaging findings. AJNR Am J Neuroradiol. 2011 Feb;32(2):413-8; permission conveyed through Copyright Clearance Center, Inc.
MR spectroscopy shows an elevated glutamine/glutamate peak coupled with decreased myoinositol and choline signals. [25, 26]
Multiple strokelike lesions have been reported as MRI findings in a patient with hyperornithinemia-hyperammonemia-homocitrullinuria. [27]
A newer imaging technique involving diffusion tensor imaging reveals damage to corticospinal tracts in patients with arginase deficiency. [28]
Histologic Findings
The most consistent neuropathologic change in encephalopathies with hyperammonemia is prominent Alzheimer type II astrogliosis.
What would you like to print?