Workup
Laboratory Studies
Uremia is only one of the possible causes of neuropathy in chronic renal failure. Other metabolic disorders, neurotoxins, or inflammatory disorders may occur in association with chronic renal failure. Other causes of neuropathies, including diabetes, vitamin deficiencies, thyroid dysfunction, inflammatory disorders, and toxins should be excluded by blood tests for hemoglobin A1C, B-12, folate, thyroid-stimulating hormone, erythrocyte sedimentation rate, antinuclear antigen, serum protein electrophoresis/immunofixation electrophoresis, and urine heavy metal screen.
Patients with uremic neuropathy have creatinine clearance less than 10 mL/min.
Cerebrospinal fluid protein often is elevated; cell count and glucose are normal.
Imaging Studies
Imaging is not useful in making the diagnosis of uremic neuropathy.
Other Tests
Nerve conduction study (NCS) is a sensitive test for diagnosis of neuropathy in patients with uremia. Both sensory and motor nerve conduction velocities are reduced. Prolonged distal latencies are due to involvement of distal nerve segments; reduced compound action potential amplitudes are due mainly to reduced densities of large myelinated motor and sensory fibers.
In compressive mononeuropathy, slow conduction velocity is found across the compression site. In patients with end-stage kidney disease, the frequency of carpal tunnel syndrome was found to be 15% with routine nerve conduction studies and 25% with median-versus-ulnar comparison studies. Among the median/ulnar comparison, lumbrical-interossei comparison was most sensitive. [29]
A Guillain-Barré type of neuropathy in chronic renal failure has moderate-to-severe conduction slowing; conduction block may occur. Prolonged F wave latencies of tibial and peroneal nerves and prolonged H reflexes are the profound and reproducible abnormalities in patients with chronic renal failure.
Bolton found that needle electromyography revealed minimal or absent fibrillation or positive sharp wave. Only more advanced cases of uremic neuropathy lead to predominantly distal muscle denervation. [30]
Autonomic nerve tests reveal dysautonomia by reduced R-R interval variation and delayed or absent sympathetic skin response. Esophageal manometry has been used to study subclinical manifestations of autonomic neuropathy in uremia. Abnormal motility in the lower two thirds of the esophageal body was reported in 11 of 16 patients. [31]
Histologic Findings
In uremic neuropathy, the pathologic features are striking axonal degeneration in the most distal nerve trunks with secondary segmental demyelination. See the images below.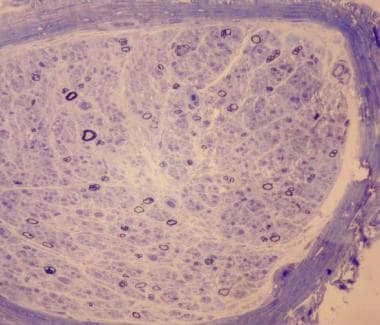 Semithin transverse section of biopsied sural nerve in uremic neuropathy. The nerve shows severe axonal loss of large and small fibers. Toluidine blue stain, 200X. Image courtesy of Ling Xu, Consultants In Neurology, Kansas City, MO 64108. Used with permission 2001.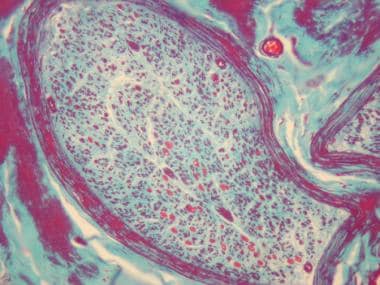 Modified trichrome-stained sural nerve in uremic neuropathy. The same nerve exhibited marked loss of myelinated fibers. 200X. Image courtesy of Ling Xu, Consultants In Neurology, Kansas City, MO 64108. Used with permission 2001.
Dyck et al found that the number of myelinated fibers was approximately one half of normal at the mid calf level and only one third of normal at ankle level in their patients. In transverse electron microscope sections, most of the myelinated fibers of the uremic nerve had a normal appearance except for irregularities of the myelin sheath, such as splitting of the myelin lamellae and separation of axolemma from compact myelin. [4]
Muscle biopsy revealed fiber type grouping from chronic denervation and reinnervation. See the image below.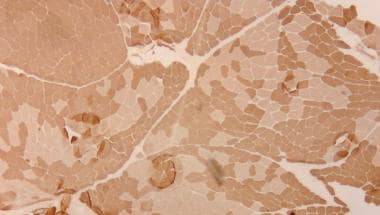 Muscle biopsy in uremic neuropathy with ATPase stain (pH 9.4). The normal muscle mosaic pattern was replaced by fiber type grouping, which suggested chronic denervation and reinnervation. 100X. Image courtesy of Ling Xu, Consultants In Neurology, Kansas City, MO 64108. Used with permission 2001.
Muscle was denervated severely in Guillain-Barré–type neuropathy. In advanced neuropathy, necrosis of myofibers, streaming of Z line, which anchors actin, and aggregation of glycogen also were found by electron microscope.
What would you like to print?