Workup
Imaging Studies
When careful examination of the cranial shape cannot establish the diagnosis, skull radiographs can be obtained.
Perform skull radiography with anterior-posterior, lateral, and Water views. Prematurely fused sutures are easily identified by the absence of sutures and associated ridging of the suture line. Sutures either are not visible or have evidence of sclerosis.
Cranial CT scan with 3-dimensional reconstruction is not required in most infants. It is sometimes performed when surgery is being considered, or when radiograph results are equivocal. [9]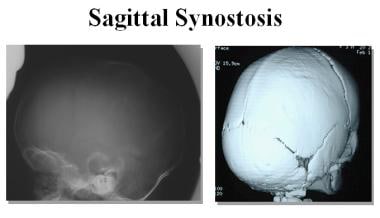 Sagittal synostosis and the associated scaphocephaly seen on skull radiograph and 3-dimensional craniofacial CT scan.
Nuclear medicine isotope studies are of limited value.
Other Tests
Endocrine evaluation: Order thyroid and parathyroid studies when associated features suggest these diagnoses.
What would you like to print?