Workup
Laboratory Studies
Laboratory studies for shaken baby syndrome are nonspecific and are not diagnostic.
Serum chemistry findings are usually normal, but they may reveal evidence of acidosis.

Obtain urine for organic acids to rule out a diagnosis of glutaric acidemia.
Imaging Studies
According to the 2015 guidelines on child physical abuse from the American Academy of Pediatrics, a skeletal survey for any child < 2 years with suspicious injuries can identify occult injuries that may exist in abused children and is very useful in the evaluation of suspected abuse. [19]
The key to diagnosing shaken baby syndrome is neuroimaging. The true nature of the problem is often discovered only after CT is performed and evidence of intracranial pathology is found. CT scanning of the brain is sufficient to diagnose subdural hemorrhage (see the first image below), cerebral edema (see the second image below), and/or subarachnoid hemorrhage. CT is usually the first neuroimaging study obtained in the ED.
As a follow-up study, MRI can be used to determine the extent of the neurologic injury (see the images below). MRI may be helpful for continued management and prognosis.
Retinal hemorrhages can be seen as early as 48 hours before any intracranial lesions can be detected on brain CT or MRI. As long as the fontanelle is still open, ultrasonography can be performed to identify an intracranial hemorrhage. However, a negative head sonogram does not rule out intracranial pathology.
Other Tests
An ophthalmologic evaluation is extremely important and helpful in diagnosis.
A dilated eye examination is preferred. However, in the ED, all patients (regardless of the presenting complaint) should receive retinal examination with a direct ophthalmoscope.
Papilledema indicates increased intracranial pressure, and retinal hemorrhage strongly suggests shaken baby syndrome (see the image below).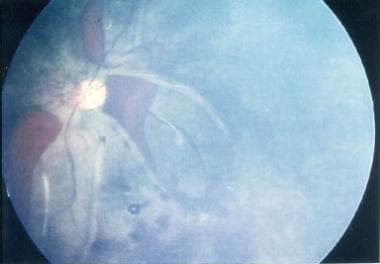 Funduscopic image shows intraretinal hemorrhages, subhyaloid hemorrhages, localized hemorrhagic choroid detachments, and thin retinal folds.
All patients in whom abuse is suspected must be given a long-bone skeletal survey to check for new or healing fractures, which help in the diagnosis.
What would you like to print?