Presentation
History
Xeroderma pigmentosum is a clinical diagnosis that is based on a history of sun hypersensitivity and skin neoplasms. Dermatologic symptoms precede neurologic manifestations, and diagnosis is typically straightforward. Before assuming that neurologic symptoms are indeed due to xeroderma pigmentosum, exclude any differential diagnoses.
Skin cancer is detected in approximately 50% of patients by age 14 years.

Patients with neurologic symptoms can be classified on the basis of age of neurologic symptom onset: juvenile (before age 20 years) and adult (after 20 y).

The former group can be divided further into juvenile early onset (symptom onset before age 4 y), juvenile intermediate onset (symptom onset between 4 and 12 y) and juvenile late onset (symptom onset between 13 and 20 y).

Neurologic involvement varies with each complementary group.

XP-D complementary group has the highest proportion of patients with a progressive neurodegeneration.

The presence of progressive neurologic involvement and the age of symptom onset correlate with the degree of defect of DNA repair.

Fibroblasts from neurologically affected patients are the most sensitive to UV light and levels of unscheduled DNA synthesis are among the lowest.

Earlier onset of neurologic symptoms correlates with more profound degree of DNA repair defect.

Patients with later onset of neurologic deterioration tend to have an intermediate DNA repair defect.

The average age of onset of dermatologic symptoms among neurologically affected patients is 6 months (in contrast to 2 years in patients without neurologic involvement).
Physical
Patients with xeroderma pigmentosum typically experience sunlight-induced skin abnormalities, such as widespread areas of hypopigmentation and freckles (ie, solar lentigines) with different intensities of pigmentation (see images below).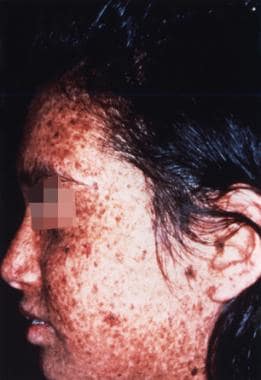 Sunlight-induced dermatologic abnormalities in a patient with xeroderma pigmentosum.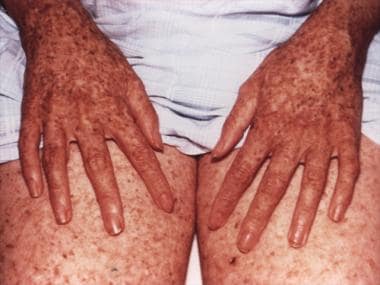 Typical skin manifestation of xeroderma pigmentosum with numerous areas of hypopigmentation and freckles (ie, solar lentigines) with different intensities of pigmentation.
See the list below:
XP-A

This group has the most profound defect with absent or minimal DNA repair activity.

Patients with XP-A present with delayed motor and language development. Neurologic involvement is obvious before the age of 7 years. It corresponds to the early juvenile type and resembles the clinical features originally reported by De Sanctis and Cacchione.

Mimaki analyzed 32 Japanese patients with XP-A and neurologic abnormalities and found that mental retardation (21 of 32), microcephaly (17 of 32), and short stature (13 of 32) were the most common neurologic manifestations. [8]

Each patient had a progressive neurologic disturbance and exhibited nystagmus, dysarthria, and ataxia at or before age 7 years.

Neuroimaging demonstrated atrophy of the cortex and brain stem in most patients, although the white matter was normal.

Epilepsy is common in this subgroup of xeroderma pigmentosum patients and may be seen in 15% of patients.

Long-term follow-up of Finnish patients with XP-A demonstrated that neurologic symptoms appear in early childhood and dermatologic and ocular skin abnormalities may be relatively subtle. [9]

A subset of patients with XP-A develop axonal polyneuropathy.

In subjects with a less severe DNA repair defect, symptom onset is more common in late juvenile age. These patients exhibited dementia (rather than mental retardation). Additional signs included choreoathetosis, ataxia, and oculomotor abnormalities.

XP-B

Few patients have been reported in this group. Patients with XP-B and neurologic abnormalities show signs of Cockayne syndrome [10] , a rare autosomal-recessive inherited disorder that is characterized by the following:

Short stature and failure to thrive (ie, cachectic dwarfism)

Signs of premature aging

Progressive retinal atrophy

Cataracts

Hearing loss

Skin hypersensitivity

Mental retardation

Ataxia

Sensory polyneuropathy

In contrast to xeroderma pigmentosum, skin cancer is rare in Cockayne syndrome.

XP-C

XP-C is the most common group in the United States, constituting almost one third of all patients with xeroderma pigmentosum.

Unscheduled DNA synthesis is between 15% and 30% of normal.

Patients with XP-C may have signs of significant cortical atrophy on neuroimaging studies without any neurologic or cognitive problems.

Neurologic symptoms are rare in XP-C, and few of these patients have been reported with features that are consistent with De Sanctis-Cacchione syndrome. [11]

Late-onset, progressive neurologic impairment (eg, hearing loss, polyneuropathy, subtle ataxia) was reported in one patient with XP-C.

This is an important observation, because it suggests that neurodegeneration is caused by defective DNA repair. This finding may provide insight into other neurodegenerative disorders.

XP-D

This is the second most common type of xeroderma pigmentosum in the United States, but it accounts for the majority of US patients with neurologic symptoms. Neurologic signs are present in approximately 50% of all patients with XP-D. Clinical presentation in this complementary group is heterogeneous, and various degrees of cutaneous and neurologic problems are reported.

The age of onset is typically between 7 and 12 years; however, the onset may occur earlier or even in adulthood.

Some patients manifest features of Cockayne syndrome (described with XP-B) or trichothiodystrophy, which is characterized by brittle and poorly growing hair.

Mental retardation (or dementia in patients with late-onset disease), progressive deafness, ataxia, choreoathetosis, and axonal polyneuropathy may be associated with either XP-D or trichothiodystrophy.

Brain magnetic resonance imaging (MRI) in patients with XP-D shows diffuse atrophy and basal ganglia calcification without demyelination. This differs from neurologically affected patients with trichothiodystrophy, who have prominent white matter abnormalities on T2-weighted MRI.

XP-F and XP-G

Neurologic abnormalities have been reported in some of these patients. For example, two patients with XP-F had relatively mild cutaneous problems and developed progressive dementia, ataxia, and choreoathetosis in the fourth decade of life.

Neuroimaging showed severe cortical atrophy without additional abnormalities.

Patients with mutations in the ERCC1/XP-F gene may also manifest cerebro-oculofacioskeletal syndrome with microcephaly and arthrogryposis. [12]

XP-G can be associated with a severe psychosomatic retardation, micro-ophthalmia, cataracts, and infantile spasm.

Finnish patients with XP-G suffered from sensorineural hearing loss, laryngeal dystonia, and peripheral polyneuropathy. [9]
Causes
What would you like to print?