Treatment
Medical Care
Cardiac management of high-output heart failure is essential. A pediatric cardiologist should be consulted to manage high-output failure, if present. Often patients need to be intubated.
Seizures should be managed with antiepileptic medications. Usually, neonate patients are given phenobarbital and phenytoin. Please see the articles Complex Partial Seizures and Neonatal Seizures.
Head circumference measurements should be obtained regularly and monitored carefully to detect hydrocephalus.
Assessment of the child's development is an important part of medical care.
Reversible diencephalic syndrome can be seen in some patients, mainly in adults. [6, 7]
Surgical Care
Endovascular embolization
Endovascular embolization is the first option for treatment. A systematic review of 34 studies, in which neonates accounted for 44% of the sample, infants accounted for 41%, and children and adults accounted for 12%, found that endovascular embolization for VGAM can result in an acceptable mortality rate, complications, and good clinical outcomes. The meta-analysis revealed that complete occlusion was performed in 57% of cases, with partial occlusion in 43%. The pooled proportion of patients showing a good outcome was 68%, while 31% showed a poor outcome. [8]
Embolic glue to occlude the arteriovenous fistula on the arterial side is N -butyl-cyanoacrylate. Detachable microcoils can also be used, although their application may take longer and they may have a higher risk of vessel rupture. [9, 6]
Other procedures
Neurosurgical procedures to relieve hydrocephalus are important. [10] A ventriculoperitoneal shunt may be required in some infants. [11, 12, 13, 14]
Vaso-occlusive therapy, including selective catheterization and therapeutic embolization of feeding arteries in the vein of Galen malformation, can be performed (see image below).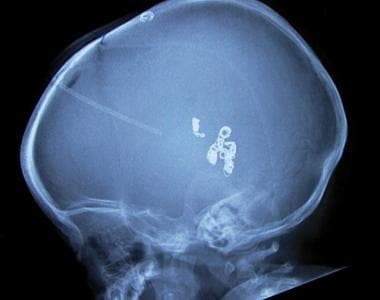 Skull radiograph showing coils that have been placed during an intravascular embolization of a vein of Galen malformation. Note the ventriculoperitoneal shunt catheter in the anterior head region to relieve hydrocephalus.
Only a small number of patients with arteriovenous aneurysm have been reported.
Death usually results from cardiac failure or cerebral decompression.
A few patients have been cured by surgical ligation of the arterial feeders from the posterior and middle cerebral arteries and plication of the aneurysm.
Some malformations thrombose spontaneously.
In some patients, malformation can be associated with subarachnoid bleeding. [15]
A study of 21 neonates demonstrated that poor outcomes included neurological manifestations at birth, focal cerebral parenchymal changes, calcification of cerebral tissue, tonsillar herniation, and two or more arterial feeders. [16] In infants with these features, consideration could be given to withholding aggressive intervention.
Optimal intervention is at age 4-5 months if clinical condition allows for deferral until that age.
The issue of progressive brain parenchymal loss was addressed in a recent study. [17] Review of an assembled database of vein of Galen aneurysmal malformations between 2000 and 2014 found 251 patients. Of these patients, 83 were diagnosed prenatally. This study demonstrated that middle cerebral artery pseudofeeders were associated with impaired cerebral blood flow and were particularly at risk for further brain "melting" at birth. This factor was considered a negative prognostic indicator, particularly if associated with hydrocephalus. In the latter instance patients had congestive heart failure more frequently. [17]
Consultations
Neurosurgical evaluation should be obtained urgently to assess the extent and location of the VGAM and to treat hydrocephalus.
A cardiologist should evaluate the patient for congestive heart failure.
A neonatologist should help coordinate care and decide whether intubation and ventilatory support are required.
The infant should be assessed in a facility where interventional neuroradiologist expertise is available; should embolization be an option, this specialist can help with specific care.
What would you like to print?