Workup
Imaging Studies
Cranial ultrasound
This will help to localize or identify the lesion. Doppler studies can help further to understand the hemodynamics of the lesion.
Cranial MRI and/or CT scan with and without contrast administration
These studies will help confirm the diagnosis and define the degree of involvement. Imaging studies in infants will also help determine whether the patient has accompanying hydrocephalus (see images below).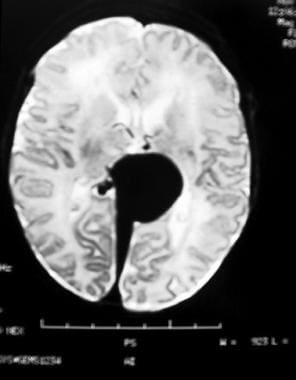 Cerebral MRI showing large flow void in the central region with enlarged straight sinus.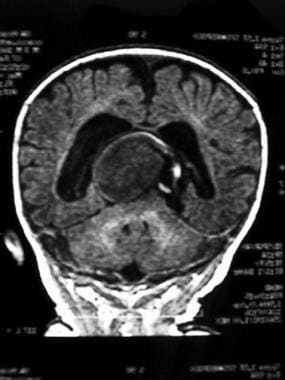 Coronal MRI of head showing large central vein of Galen malformation with moderate degree of hydrocephalus.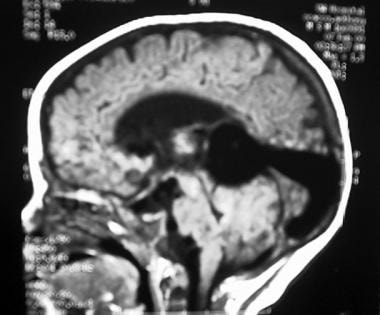 Cranial MRI showing flow void in the sagittal plain and drainage to the straight and transverse sinuses.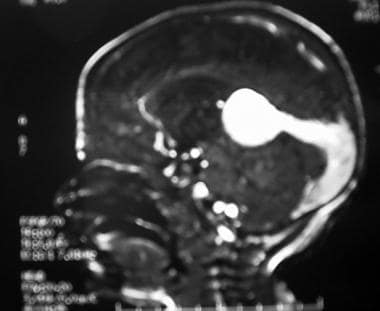 Sagittal cerebral MRI with gadolinium showing the relationship of a vein of Galen malformation to the corpus callosum.
MR angiography
This can help to delineate the vascular supply (see image below).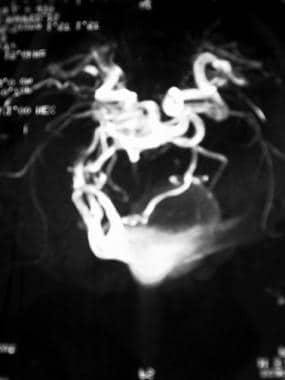 MRI venogram showing vein of Galen malformation with draining veins.
Cranial angiography
In patients being considered for surgery or for occlusive therapy, cranial angiography is required to define the extent of aneurysmal dilatation and details for arterial feeders (see image below).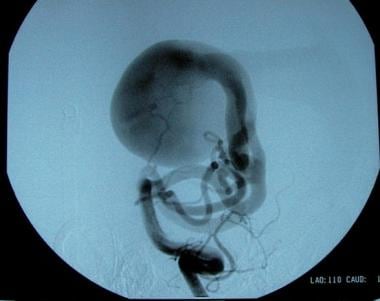 Venogram showing the draining vasculature for the vein of Galen malformation.
Cardiac ultrasound
This study may be indicated to assess left ventricular function.
Recently, 9 children aged from newborn to 18 years were examined and it was demonstrated that the arterialized blood flow in the vein of Galen or its tributaries when these showed abnormal signal hyperintensity from arteriovenous shunting using susceptibility-weighted imaging was found to accurately differentiate between high- and low-flow vessels identified by time-of-flight studies and helped in planning for intervention. [5]
Other Tests
An ECG may be used to look for evidence of congestive heart failure.
Histologic Findings
Lesion shows thin capillaries or veins connecting directly to the arteries.
What would you like to print?