Workup
Approach Considerations
Laboratory studies aim to rule out potential causes or triggers for seizures. These causes generally do not cause chronic epilepsy but may be triggers in patients with epilepsy. Routine workup for all patients should include electroencephalography (EEG) and magnetic resonance imaging (MRI) of the brain; most of the time, the results will be normal.
Workup after drug failure
A patient with seizures that are difficult to control should be reassessed for a possible alternative diagnoses or temporal lobe epilepsy. This is done with prolonged EEG-video monitoring to record patient events.
About 30% of patients thought to have focal impaired awareness seizures actually have psychogenic nonepileptic seizures. These events can be recorded and reviewed during monitoring. Recorded and confirmed cases of temporal lobe epilepsy via monitoring should be considered for possible surgery and undergo the remainder of the evaluation for surgery (eg, single-photon emission computed tomography [SPECT], positron emission tomography [PET]).
Lab Studies
Electrolyte levels, including sodium, potassium, magnesium, and calcium concentrations, should be assessed. If antiepileptic drugs are being used, drug concentrations should be obtained. Consider a urine drug screen.
Magnetic Resonance Imaging of Brain
The purpose of the initial brain MRI is to exclude an obvious structural lesion as the cause. [6, 7] The procedure should include contrast with gadolinium to allow assessment of possible neoplastic and vascular etiologies. More subtle etiologies, such as mesial temporal sclerosis (MTS) and cortical dysplasia, only become important if the seizures prove intractable and surgery is considered.
MRI with temporal cuts gives attention to hippocampal volumes in assessment for temporal lobe epilepsy. Hippocampal atrophy predominates as seizures are maintained throughout the life of a patient with temporal lobe epilepsy. Increased signal on fluid-attenuation inversion recovery (FLAIR) T2-weighted MRI can detect sclerosis of the mesial temporal lobe in 80-90% of cases. Subtle cortical changes due to cortical dysplasia are often overlooked.
Electroencephalography
EEG within 24 hours is more sensitive for diagnosing epileptiform abnormalities than later EEG is (51% sensitivity vs 34%), but it is often impractical. When epileptiform discharges are present, they help localize the seizure focus (see the images below).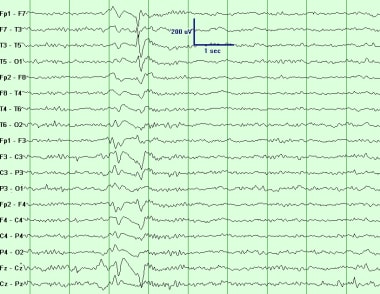 Left temporal sharp wave.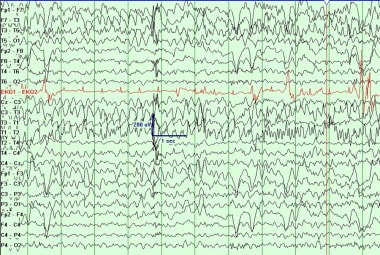 Left temporal lobe seizure.
A negative interictal EEG does not exclude a diagnosis of epilepsy. If the waking EEG is negative, a sleep-deprived EEG may demonstrate epileptiform abnormalities.
For more information, see EEG in Common Epilepsy Syndromes, EEG in Status Epilepticus, Epileptiform Normal Variants on EEG, Generalized Epilepsies on EEG, and Localization-Related Epilepsies on EEG.
Lumbar Puncture
Lumbar puncture may be indicated for a patient with new-onset seizure when an acute inflammatory or infectious process is being considered. However, it is not indicated in patients with chronic epilepsy.
What would you like to print?