Presentation
History
Only a subset of glucagonomas produce clinical symptoms. Glucagonoma initially manifests as a nonspecific clinical scenario characterized, in most cases, by weight loss, diabetes mellitus, diarrhea, and stomatitis. The cutaneous lesions in this phase of the disease can easily be confused with nonspecific dermatitis, which occurs more often in patients with diabetes mellitus. The so-called 4D syndrome of glucagonoma consists of diabetes, dermatitis, deep venous thrombosis (DVT), and depression.
There are reports of glucagonomas presenting as acute heart failure and dilated cardiomyopathy that reverse following therapeutic normalization of circulating glucagon levels. Less commonly recognized are the paraneoplastic phenomena associated with tumor secretion of proglucagon-derived glucagonlike peptide–1 (GLP-1) and GLP-2, which may present as hyperinsulinemic hypoglycemia and marked gastrointestinal dysfunction including refractory constipation, reduced motility, and structural abnormalities of the small intestine. [12]
Some patients suffer from mental symptoms besides depression, such as poor sleep and nervousness, or exhibit neurological symptoms, including migraine headaches, numbness or tingling, and dementia. [11]
Physical Examination
Necrolytic migratory erythema (NME) is a presenting feature in 70-80% of glucagonoma cases. Skin manifestations include (in order of appearance) maculopapular, ringed lesions and blisters that breach after a few days, as well as, possibly, pustular evolution due to bacterial superinfection. The lesions are often confluent, evolve in a period of 1-2 weeks, and are strongly pruritic and painful. They heal with hyperpigmentation. [13] See the image below.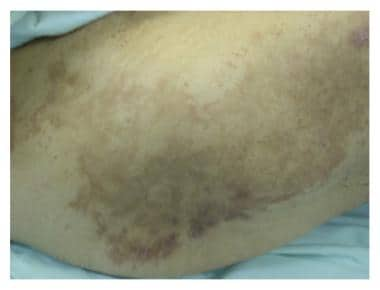 Necrolytic migratory erythema over the back with areas of healing and hyperpigmentation. Courtesy of Case Reports in Surgery (https://www.hindawi.com/journals/cris/2016/1484089/).
NME initially occurs in areas of the skin that are subject to friction and pressure, such as the feet and legs, the hands and forearms, and the buttocks, pubic area, groin area, and perineal area. Mucocutaneous lesions are frequently observed as atrophic glossitis, commissural cheilitis, stomatitis, balanoposthitis or vulvovaginitis, and nail and hair dystrophies.
Aside from NME, common manifestations of glucagonoma are diabetes or glucose intolerance (in 80-90% of cases) and a weight loss of 5-15 kg (in most patients).
Less common manifestations include the following:
Venous thromboses, in particular DVT (in approximately 40% of cases)

Intestinal motility alterations, with diarrhea and abdominal pains (in approximately 20% of cases)

Cachexia

Anemia

Scotomata and other optical disturbances

Psychical disturbances (eg, insomnia, depression, disorientation, lethargy, bradylalia)
What would you like to print?