Overview
Background
Toxic anterior segment syndrome (TASS) is an acute postoperative inflammatory reaction in which a noninfectious substance enters the anterior segment and induces toxic damage to the intraocular tissues. [1] Almost all cases occur after uneventful cataract surgery, and it has been reported after phakic intraocular lens implantation. [1, 2] Previously, this syndrome was defined by many names, such as sterile endophthalmitis or postoperative uveitis of unknown cause. Furthermore, a condition termed toxic endothelial cell destruction (TECD) syndrome has been described and is now believed to be a variant of TASS.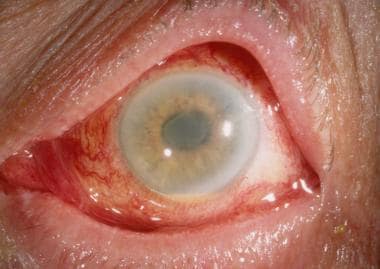 Diffuse limbus-to-limbus corneal edema and anterior segment inflammation noted in a patient with toxic anterior segment syndrome (TASS).
Pathophysiology
TASS results from the inadvertent entry of toxic substances into the anterior chamber. [1, 2] This causes a marked inflammatory reaction that varies in intensity depending on the type and duration of the toxin.
The histopathologic hallmark of TASS is toxic anterior segment damage. Cellular necrosis and/or apoptosis and extracellular damage occur, resulting in the severe acute inflammatory response. The corneal endothelium often is the most damaged structure because of its inability to regenerate and replace dead cells.
Toxic agents specifically induce the acute breakdown of endothelial junctions with loss of the barrier function. This causes the remaining viable endothelial cells to migrate and spread over the damaged areas in an effort to maintain the endothelial pumping system. If significant damage occurs, however, the remaining viable cells will not be able to sufficiently compensate the loss, with ensuing permanent corneal edema being the consequence.
Trabecular meshwork damage can develop, resulting in decreased drainage, scarring, and peripheral anterior synechiae formation with a subsequent rise in intraocular pressure.
Etiology
Possible etiologies of TASS include the following [1, 2] :
Intraocular solutions such as balanced salt solution (BSS)

Improper sterilization or cleaning of instruments

Intracameral antibiotics

Topical ophthalmic drops

Intracameral anesthetics such as lidocaine

Ophthalmic viscosurgical devices (viscoelastics), especially if left in eye at end of case

Intravitreal injections such as bevacizumab
Epidemiology
Frequency
United States
Data on the incidence of TASS are lacking. Clusters ranging from a few cases to up to 20 cases occur several times each year.
Furthermore, in 2005, audience response during the American Academy of Ophthalmology Annual Meeting revealed that 52% of attendees had seen 1 case of TASS, and 7% of attendees reported seeing more than 5 cases.
Mortality/Morbidity
TASS can induce permanent corneal endothelial damage, in addition to trabecular meshwork damage, [3] thus debilitating vision. Depending on the type and duration of the toxic insult, the visual outcome can range from 20/20 to no light perception. Patients may require further intraocular procedures, such as penetrating keratoplasty and/or glaucoma filtering procedure surgery, to regain visual function.
Race
No racial predilection has been found with TASS.
Sex
No known difference exists in the incidence of TASS between men and women.
Age
No known association of TASS exists with increasing age.
What would you like to print?