Presentation
History
Rarely, choroidal detachments form spontaneously. Recent intraocular surgery is the most common association. [3, 4, 5, 6, 7] Eye trauma and corneal ulcers are frequent, and panretinal photocoagulation can also cause choroidal detachments. [8] The use of IOP-lowering medications has also reportedly been associated with serous choroidal detachments. [9, 10, 11, 12, 13, 14]
Serous detachment is typically painless, with a variable degree of vision loss.
Postoperative hemorrhagic choroidal detachments are characterized by sudden excruciating throbbing pain with an immediate loss of vision; both symptoms are almost pathognomonic.
Detachment can occur during or shortly after a Valsalva maneuver, straining at stools, coughing, or sneezing. Anticoagulants and aspirin may facilitate bleeding.
Intraoperative hemorrhage is characterized by the development of positive pressure, visualization of an enlarging dark mass obscuring the fundus reflex, and tendency to extrude eye contents through open surgical wounds.
Ciliochoroidal edema/detachment without evidence of intraocular surgery or trauma should be investigated for a neoplastic, vascular, or inflammatory cause. [15, 16]
Visual acuity usually is reduced, possibly as low as to light perception only, depending on the degree of interference with the visual axis.
Inflammation in the anterior and posterior segment varies. [17]
Intraocular pressure can be normal, low, or elevated; as a rule, low IOP accompanies serous detachments, and normal to high IOP accompanies hemorrhages.
Physical
The anterior chamber (AC) can be of normal depth, or it can be shallow or flat.
When no other causes for hypotony are evident after trauma or surgery, use gonioscopy to check for a cyclodialysis cleft. [18]
The fundus examination shows choroidal detachment, shown below.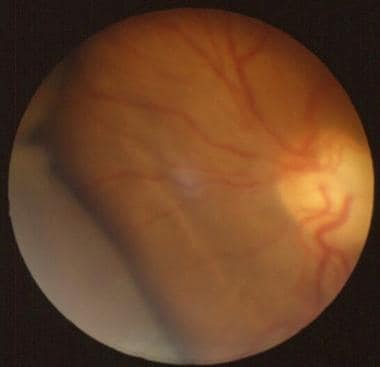 Serous choroidal detachment. Two lobes (ie, superotemporal, supranasal) of fluid accumulation are visible. The choroidal folds seen at the posterior pole are due to concomitant hypotony.
Stage the detachment. The extent of detachment can be limited to one or more sectors, with the lobe(s) limited by the fibrous attachments corresponding to the vortex veins. Annular detachments involve the circumference for 360°. A large degree of fluid accumulation can cause contact between lobes on the visual axis, with retina-to-retina contact centrally (kissing choroidals), while little fluid accumulation can cause a flat and anterior detachment, visible only with ultrasound biomicroscopy (UBM). Kissing choroidal detachments are shown in the image below.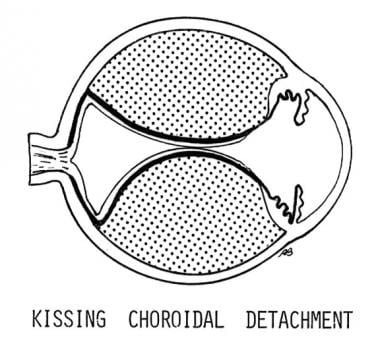 Kissing choroidal detachment. When the lobes of the detachment are sufficiently large, retina-to-retina contact occurs. If this is extended centrally, the clinical picture is described as kissing choroidals. The extension of the lobes of detachment/edema is important for the decision-making process regarding the clinical management.
Suprachoroidal hemorrhages can be accompanied by vitreous hemorrhage, retinal detachment, and retinal breaks. [1] This is shown in the image below.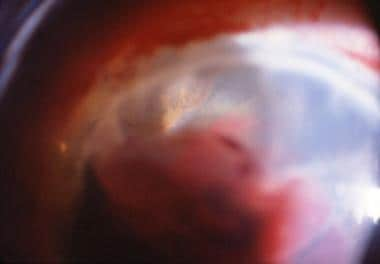 Postoperative suprachoroidal hemorrhage. In this buphthalmic aphakic eye, suprachoroidal hemorrhage resulted in vitreous hemorrhage, retinal detachment, and extrusion of retina and blood through the pupil into the anterior chamber.
Intraoperative hemorrhages can be complicated by loss of eye contents, resulting in vitreous, retina, or lens remnants incarcerated in the surgical incision or visible in the AC.
Retinal detachment on ophthalmoscopy
A nonrhegmatogenous retinal detachment can be superimposed to a choroidal detachment and characterized by shifting subretinal fluid.
Choroidal detachments are nontremulous.
Retinal vessels look normal.
Ora serrata may be visible without indentation.
B-scan ultrasonography
Retinal detachments are mobile and highly reflective.
Choroidal detachments are domed shaped and are serous or hemorrhagic. [19]
Chronic serous choroidal detachments
Solid intraocular tumors are identified by transillumination.
With serous detachments, transillumination reveals a bright reflex, which can be present in nonpigmented choroidal melanomas.
Causes
Serous detachments have no specific predisposing factors except nanophthalmos. [20]
Causes of serous detachments include globe hypotony, trauma, and inflammation.
Predisposing factors for choroidal hemorrhages are old age, diffuse arteriosclerosis, glaucoma, previous eye surgery, axial myopia, a choroidal hemorrhage in the fellow eye, sickle cell anemia, and very short axial length.
Postoperative hypotony is the most likely triggering factor.
Hemorrhage occurs when vessels rupture. Hemorrhage is more likely in patients with systemic hypertension, intraoperative tachycardia, or arteriosclerosis. Other predisposing factors include old age and previous eye surgery.
Sudden globe decompression during surgery, particularly if the eye is affected by glaucoma and surgery is initiated when the IOP is still elevated, also predisposes to choroidal detachment. [21]
The use of some medications has also reportedly been associated with serous choroidal detachments. [9, 10, 11, 12, 13, 14, 22]
What would you like to print?