Treatment
Medical Care
As soon as the diagnosis is confirmed, topical corticosteroids, cycloplegics, and mydriatics should be prescribed for patients. Oral steroids can be used, and are indicated when inflammation is a factor. [30] When the IOP is high, which can occur with hemorrhagic choroidal detachments, IOP-lowering drugs can be used. Osmotics and aqueous suppressants are recommended. Parasympathomimetics are contraindicated. Topical corticosteroids are used to both reduce inflammation and increase IOP, and systemic corticosteroids usually are reserved for refractory cases unresponsive to topical therapy. Small postoperative suprachoroidal effusions usually heal spontaneously without intervention, but if a wound leak is identified, appropriate procedural intervention should be taken.
Surgical Care
The time frame for surgical intervention is controversial, with many authors preferring to waiting 10 to 14 days to allow time for clot lysis, making drainage easier and more complete. If an improvement is suspected, waiting longer and closely monitoring the patient may be warranted. Immediate action is indicated when lens-cornea touch or IOL-cornea touch exists. This condition causes endothelial corneal damage and acceleration of lens opacities.
Anterior chamber reformation
If the AC remains flat after the cause has been identified and addressed, consider injection of viscoelastics into the AC. If lens-cornea touch or IOL-cornea touch exists, the AC reformation should be performed immediately, at the slit lamp if the patient can tolerate, while waiting to assess the need for suprachoroidal fluid drainage.
The AC reformation at the slit lamp is best performed through a paracentesis tract in the peripheral cornea; paracentesis tracts usually are made at the time of cataract or glaucoma surgery.
If not present, a paracentesis should be made with extreme care because the eye is likely to be soft and sore with a peripherally flat chamber; otherwise, inadvertent iris and lens damage may result.
The AC reformation procedure requires preparation with topical anesthesia, povidone-iodine preparation, and assistants to hold the lids and head of the patient.
Suprachoroidal Fluid Drainage
Posterior draining sclerotomy
The technique for suprachoroidal fluid drainage involves making a paracentesis in the peripheral cornea. A balanced salt solution (BSS) is injected to fill the AC. The paracentesis site made at the time of cataract or glaucoma surgery can be used.
Preoperatively, the sectors where the most fluid is accumulated should be identified by ophthalmoscopy or B-scan ultrasonography.
Beginning with the sector where the detachment is largest, posterior sclerostomy is performed at 4-5 mm from the limbus. Circumferential cuts are made, producing an incision of about 2 mm in length. This is shown in the illustration below.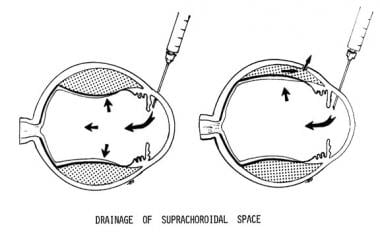 Drainage of suprachoroidal space. After the posterior sclerostomies are performed, gentle infusion in the anterior chamber through a paracentesis tract helps the globe to maintain a tone while the fluid exit from the suprachoroidal space is facilitated.
As soon as the suprachoroidal space is reached, the fluid drains. Serous detachments drain clear yellow fluid. Hemorrhagic detachments drain dark red fluid, often particulated with blood clots, shown in the image below. Gentle poking with a blunt instrument a few millimeters around the sclerostomy helps drainage when spontaneous flow slows down.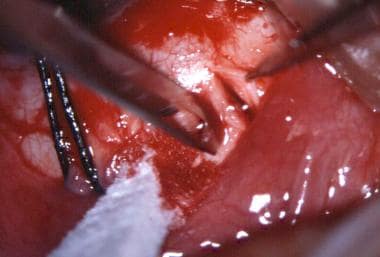 Drainage of suprachoroidal space. The hemorrhagic fluid is darker than fresh blood. Mechanical gaping of the radial incisions facilitates the egress of fluid.
After one quadrant is drained, the AC is filled again with BSS, and the second quadrant receives a posterior sclerostomy in the same fashion. This procedure can be repeated for all four quadrants.
At the end, especially in highly myopic eyes without a lens, SF6 gas can be left in the vitreous cavity to tamponade. No agreement exists regarding the closure of sclerostomies, which some surgeons elect to leave unsutured to allow for more drainage.
Increasing IOP during draining will enable a more complete extrusion of suprachoroidal blood and may be accomplished with limbal infusion, an anterior chamber maintainer, or a long pars plana infusion.
Pars plana vitrectomy has also proven to be an efficacious surgical method and especially indicated for associated retinal detachment. A combined approach with previously mentioned sclerotomy and silicone oil instillation, to provide an internal tamponade and reduce the risk of rebleeding, has been reported to provide good outcomes.
What would you like to print?