Workup
Imaging Studies
B-scan ultrasonography can aid in differentiating between serum and blood collected under or within the choroid (shown in the image below) and can help delineate against a retinal detachment. B-scan ultrasonography is also helpful to delimit and stage the extent of the detachment when media are not clear.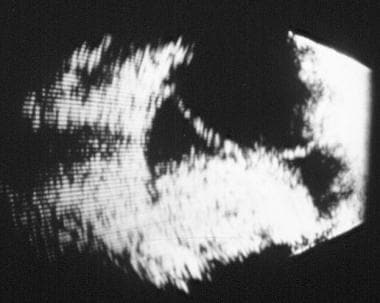 B-scan ultrasonography examination of choroidal detachment. Fluid appears to be serum on one side (upper) and blood on the other side (below). Retina-to-retina contact, or kissing choroidal detachment, is present.
Optical coherence tomography and wide field fundoscopy may also be used to discover and monitor choroidal detachment. [28, 29]
What would you like to print?