Treatment
Medical Care
Initially, patients are asymptomatic and no indication for prophylactic treatment is present. Angioid streaks are a generalized disorder of the Bruch membrane.
Angioid streaks are an uncommon entity to be studied and are treated as part of a controlled and randomized study. Treatment methods are based mainly on individual experience and extrapolation from the Macular Photocoagulation Study Group. Patients with angioid streaks are at higher risk of choroidal rupture and subretinal hemorrhage secondary to mild blunt trauma. [17] They are advised to wear protective goggles and sports glasses when playing sports and during work.
Treatment options include observation, laser photocoagulation, and surgical removal of CNVM under the fovea. The Food and Drug Administration (FDA) approved the use of photodynamic therapy (PDT) for CNVM secondary to age-related macular degeneration (ARMD).
Observation
Initially, symptomatic patients complained of a decrease in their central visual acuity, and some developed distortion and metamorphopsia that was more disturbing than the associated central scotomas. Usually, central scotomas tend to increase in size if left untreated before subsequent scarring of the macula occurs.
Early at the time of diagnosis, more than 50% of patients had vision of 20/40 or better; one half of them became legally blind at an average follow-up period of 3.5 years. Most eyes had vision 20/200 or worse after age 50 years.
In one study, 11 untreated eyes with subretinal neovascular membranes all had a final visual acuity of counting fingers. Clarkson and Altman reported 29 patients seen on 2 occasions over a period of at least 6 months. [18] Decreased vision of 2 lines or greater on the Snellen chart occurred in 13 of 29 patients. [18]
Prophylactic laser treatment in clinically asymptomatic eyes without active choroidal neovascularization is not recommended. In one study, prophylactic treatment was associated with an increased incidence of neovascularization at the site of treatment. However, patients who received laser photocoagulation noticed a decrease in the size of their central scotomas and early relief from visual distortion.
Laser photocoagulation
Photocoagulation, including light (xenon) and argon, has been used since the early 1970s, although angioid streaks themselves were treated to stop their progression toward the macula. Early treatment experiences with light and laser photocoagulation were disappointing and discouraging. Some investigators discouraged laser treatment of CNVM in angioid streaks.
Some success with argon laser for lesions that are located at least 100 µm from the center of the foveal avascular zone (FAZ) has been reported.
Laser therapy is believed to slow the progression of the CNV toward the fovea and stabilizes vision. Moreover, it improves the quality of vision (ie, size of central scotoma, decreases metamorphopsia). Successful treatment of CNV may not improve central vision in some patients since dehiscences in the Bruch membranes may involve and damage the foveal RPE.
Many investigators found that laser treatment, if administered early and adequately to CNV lesions, may have a favorable result on long-term visual outcome.
Many patients needed multiple treatments because of persistent leakage and recurrence that occurred during the first 3 months.
Patients need to be monitored closely with Amsler grids and FA.
In several series, the recurrence rate was reported as high as 77% of patients who underwent laser treatment. Most recurrent CNVMs were subfoveal. The incidence of recurrence was higher in angioid streaks than in other conditions, such as ARMD, degenerative myopia, and histoplasmosis.
Treating CNVM associated with angioid streaks is sometimes challenging. Both occult and classic CNV can occur in the same eye and usually are located very close to the foveal avascular zone. RPE reaction is minimal around CNVM. Some of these membranes grow fast once they break through the Bruch membrane. Careful setup of laser power and spot size is important to prevent further damage to the brittle and mineralized Bruch membrane.
Transpupillary thermotherapy
Transpupillary thermotherapy (TTT) has been used in the treatment of macular CNV. The diode laser used in transpupillary thermotherapy results in less absorption of the RPE and allows for deeper penetration into the choriocapillaris. [6] Transpupillary thermotherapy has been reported in the literature as a treatment modality for CNV due to angioid streaks but has been unsuccessful. [6, 19] Ozdek et al reported an initial decrease in the size of the angioid streak, but it began to increase again at 3 months. The patient's visual acuity remained stable; however, the CNV activity was not effectively decreased, leading to more retreatments. [19] Thus, transpupillary thermotherapy is not as effective as other treatment modalities in CNV due to angioid streaks and may lead to more unfavorable outcomes. [6, 19]
Photodynamic therapy
PDT is a modality approved by the FDA for the treatment of CNV secondary to ARMD. It uses a light activated drug (eg, verteporfin [Visudyne]) and applying a nonthermal red light in the range of 689 nanometers. The total energy delivered is 50 J/cm2 over a period of 83 seconds. The power of laser output can be adjusted according to size of CNV and ophthalmic lens magnification.
A study evaluated the short-term safety and visual effects after administering PDT in 13 patients with classic subfoveal CNV secondary to pathological myopia, ocular histoplasmosis syndrome, angioid streaks, and idiopathic causes. Most patients gained at least 1 line of vision. Reduction in the size of leakage area from classic CNV was noted in all patients as early as 1-week posttreatment, with complete absence of leakage in almost one half of the patients. Up to 4 treatments were found to have short-term safety even with re-treatment intervals as short as 4 weeks.
Karacorlu et al evaluated the safety and efficacy of PDT with verteporfin for subfoveal CNV associated with angioid streaks in 8 eyes and showed that PDT generally achieved a short-term cessation of or a decrease of fluorescein leakage from subfoveal CNVM without loss of vision in patients with angioid steaks. [20]
Long-term effects of PDT, especially in patients who may need multiple treatments, are unknown. Patients with angioid streaks are at higher risk of recurrent CNV.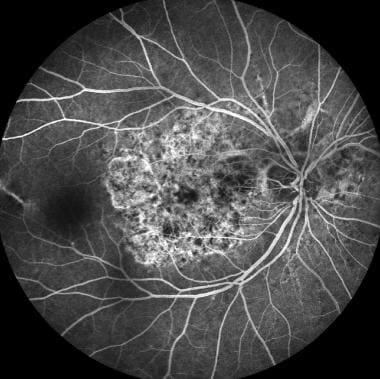 Right eye, midphase arteriovenous, showing choriocapillaris atrophic changes. This 45-year-old patient underwent 3 injections of Avastin and one session of half-time photodynamic therapy.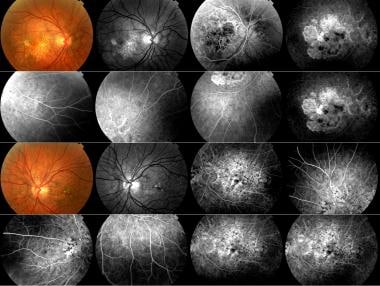 Same patient as in previous image, a few months before the Avastin injection and half-time photodynamic therapy.
Antiangiogenic agents
Recently, with the advent of antivascular endothelial antibodies, namely bevacizumab, ranibizumab, and aflibercept, [21, 22, 6] the treatment of choroidal neovascularization secondary to angioid streak has taken a great positive turn. Many patients are treated with anti–vascular endothelial growth factor (VEGF) therapy worldwide. The visual function showed stabilization over extended periods. Unfortunately, the recurrence rate is high and many patients need repeated injections to control the disease. [23, 24, 25, 26]
Bevacizumab
Teixeira et al, who first described the use of bevacizumab for CNV secondary to angioid streaks, reported an improvement in visual acuity and stabilization of disease. [27] Successful treatment with bevacizumab has been reported by several authors since. [27, 6, 28]
Ranibizumab
Tilleul et al showed visual improvement in 22 of 35 eyes (62.9%) after intravitreal injections of ranibizumab, along with a decrease in macular thickness in 45.7% of patients, and 77.1% showed no leakage at 4-year follow-up. [29, 30, 28] Ebran et al demonstrated improvement of visual acuity in 88.6% of 98 eyes following intravitreal ranibizumab injections. At 2-year follow-up, visual acuity remained stable, with a significant reduction in recurrence. [31] Finger et al showed that patients with early disease showed significant improvement in visual outcome compared to those with advance disease. [32, 28]
Aflibercept
Intravitreal aflibercept has been described in case reports as treatment for refractory CNV secondary to angioid streaks. It has also been reported as the initial treating agent of CVN, with success. [21, 22] Makri et al reported on a 42-year-old white woman who presented with persistent CNVM and subretinal fluid that was treated with ranibizumab with no anatomical or functional improvement. After 3 loading doses of aflibercept, the patient showed increased vision and resolution of subretinal fluid. [33]
Combination low-fluence photodynamic therapy and ranibizumab
Combination low-fluence photodynamic therapy and ranibizumab were used successfully to treat cases of angioid streaks in many centers around the world. [34, 35]
Surgical Care
Submacular surgery
Patients with classic subfoveal CNVM are not candidates for laser photocoagulation therapy. In the past, they were left without treatment. However, advances in instrumentation and vitreoretinal surgical techniques have made it possible to remove CNVM without significant damage to RPE and neurosensory retina.
Eckstein et al reported encouraging short-term visual results in 31 consecutive patients with non–age-related subfoveal CNVM, including angioid streaks. [36] Visual acuity improved or remained the same in 25 of 31 eyes. Moreover, visual acuity improved by more than 2 lines in 5 eyes (16%). Older patients and those with atrophic RPE had the worst outcome. Recurrent CNV occurred in 11 eyes (35%). The presence of subfoveal blood was associated with a higher recurrence rate of membranes. There was no significant association between the final visual acuity and length of symptoms prior to surgery or preoperative vision. [36]
Transplantation of autologous full-thickness RPE and choroidal patch
Parolini et al described a case of a 53 year-old man with subfoveal CNV secondary to angioid streaks who underwent transplantation of an autologous full-thickness RPE and choroidal patch. The patient experienced significant visual improvement, from 20/200 to 20/40 and J2, at nearly 6 months posttreatment. At 2.5 years, there was no recurrence of CVN, and the patient's vision remained stable. [37]
Activity
Patients with angioid streaks have a high risk of choroidal rupture and subretinal hemorrhage secondary to mild blunt trauma. It is recommended that patients wear protective sports glasses whenever applicable.
Long-Term Monitoring
Screening and follow-up examination by means of Amsler grid and ophthalmoscopic examination, including FA, may be necessary to detect CNVM and to treat recurrences.
Patients who undergo laser treatment or surgery need close follow-up care during the first 3 months of treatment. If they stay asymptomatic and no FA leakage occurs, follow-up care every 6 months is recommended.
What would you like to print?