Workup
Laboratory Studies
Only one half of patients with angioid streaks have a systemic association. General workup is important to diagnose and treat other aspects of the disease that may be life threatening, such as GI hemorrhage, heart disease, anemia, and pathological fractures.
Biochemical survey: Serum calcium, phosphorous, and alkaline phosphatase levels may be abnormal in untreated cases of Paget disease. Urinary excretion of pyridinoline crosslinks is a more specific and sensitive marker. In untreated patients, a close correlation between serum activity of alkaline phosphatase and urinary excretion of hydroxyproline exists. However, 10% of patients with Paget disease who are symptomatic have serum levels of alkaline phosphatase within the reference range.
Imaging Studies
Fluorescein angiography
Red-free photographs show radiating irregular curvilinear lines of variable width and configurations.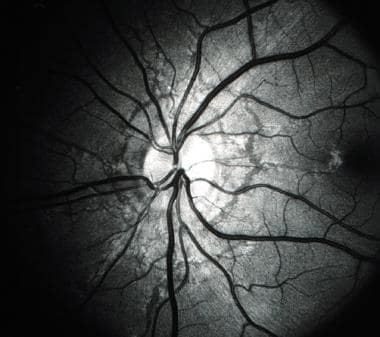 Red-free photograph of the optic nerve and posterior pole showing the cracks in the Bruch membrane. Notice the retinal arteries and veins crossing over the dark red streaks.
Early fluorescein angiography (FA) reveals either hyperfluorescence due to window transmission defects of atrophic RPE or uncommonly hypofluorescence due to atrophy or separation of underlying choriocapillaries, which results in nonfilling window defects.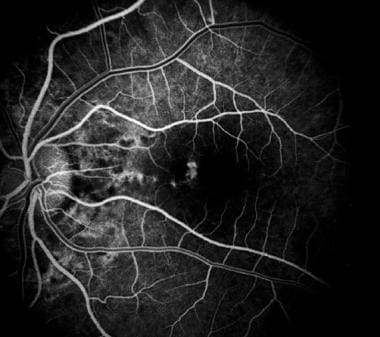 Early fluorescein angiography showing the early hyperfluorescence, window defect, of the angioid streaks.
In late FA, some leakage at the margins of the streaks occurs from adjacent healthy choriocapillaries and from late staining of the sclera and deep choroidal vessels. The classic appearance of CNVM, RPE detachments, and serous or hemorrhagic detachments also may be noted on FA.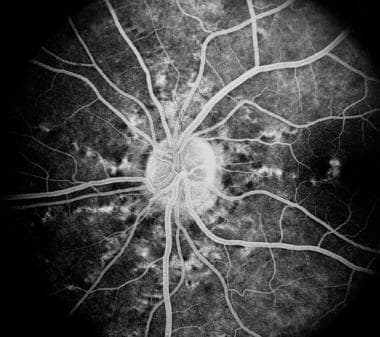 Late fluorescein angiography of the same eye as in Media file 2. Notice the staining of the edges of the streaks. Also, staining in the center of the macula is present due to extension of the Bruch membrane crack. When compared to early fluorescein angiography, no active leakage is present.
Indocyanine green angiography
ICGA is superior to FA in defining occult choroidal neovascularizations. It shows angioid streaks in all eyes studies. Hyperfluorescent lines are visible in most cases. However, some patients exhibit hypofluorescence and tracklike fluorescence.
Peau d'orange appearance of the temporal macula can be seen on ICGA as a speckled pattern in the midperiphery. Hyperfluorescent lines look larger and more numerous than those seen on FA or red-free photographs.
Radiology studies
Radiographs of the head, abdomen, and lower extremities are helpful to show bone involvement in Paget disease of the bone and premature calcification of arteries in PXE.
Optical coherence tomography angiography
Optical coherence tomography angiography (OCTA) is a new noninvasive technique that constructs a three-dimensional image, providing information on both retinal structure and vascular flow. [15] It is superior to FA in terms of visualizing the intraretinal structures and requires no dye injection. A case report by Gal-Or et al used OCTA to identify CNV in a patient with angioid streaks. On OCTA, the CNV followed the path of the angioid streak, demonstrating breaks along the Bruch membrane. [16] This new imaging modality shows promise in monitoring CNV and in serving as a tool for early detection of CVN in patients with angioid streaks. [15, 16]
Other Tests
Retinal function tests
Visual acuity is normal, as long as no damage to the foveal RPE and no leakage from the choroid through the Bruch membrane and RPE occur.
Visual fields are normal unless the central macula is affected by the angioid cracks and RPE detachments.
Color vision is affected only when vision loss occurs and is similar to color vision in acquired macular diseases.
Electroretinography (ERG) findings are normal.
Electro-oculography (EOG) findings are normal in most cases. Findings may be subnormal in advanced cases.
Dark adaptation is normal.
GI studies
GI hemorrhage is common in patients with PXE.
Procedures
Dermatologic: Skin biopsy may provide important diagnostic clues in cases of PXE with angioid streaks.
What would you like to print?