Presentation
History
History includes previous filtration surgery for the management of glaucoma. Presentation varies remarkably depending on the complication being observed.
Physical
Clinical picture varies considerably depending on the complication. These eyes show evidence of filtration surgery in common, with a range of associated glaucomatous damage.
Causes
Causes may include buttonholes and tears, dehiscence, or retraction.
Conjunctival buttonholes and tears, dehiscence of the conjunctival incision, or retraction of the conjunctival edge are usually a result of suboptimal surgical techniques. Examples of these are shown in the images below.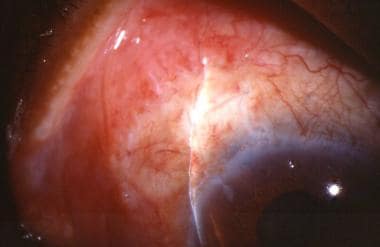 Suboptimal suturing techniques can cause gaping of the conjunctival incision.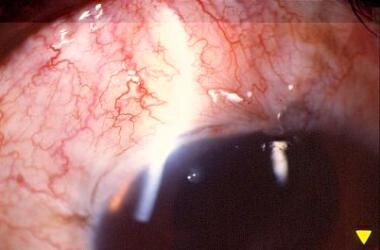 Retraction of a fornix-based conjunctival flap. It can progress to uncover the scleral flap.
Care must be taken in handling the tissues, and meticulous suturing techniques need to be used. Attention to detail is key in the prevention of these problems.
Dehiscence and retraction are almost unavoidable when using absorbable sutures in conjunction with antimetabolites.
Each of the above events can cause an entire spectrum of bleb-associated complications (see Complications).
The most evident risk factor for late bleb leaks, bleb ruptures, and infections is the intraoperative or postoperative use of antimetabolites. After antimetabolites, blebs tend to be more ischemic and thinner, with progressive thinning and possible spontaneous rupture.
What would you like to print?