Workup
Laboratory Studies
For infections, full microbiological workup is necessary.
Imaging Studies
Optical coherence tomography (OCT) is used to assess macular edema in cases of decreased visual acuity associated with hypotony.
Depending on the clinical picture, ultrasound B-scan can be useful to assess the vitreous cavity if endophthalmitis is suspected or present and to establish the retinochoroidal relationships in cases of hypotony.
Other Tests
Perform aqueous and vitreous taps in cases of infection.
Perform a Seidel test to look for leakage (see Surgical Care). Example results are shown below.
Seidel test. While holding the upper lid to avoid blinking during this evaluation, a dry fluorescein strip is moved over the conjunctival bleb, so as to smear it with dry fluorescein, which will appear very dark under blue light. As soon as the aqueous leaks, the color will turn to very bright yellow.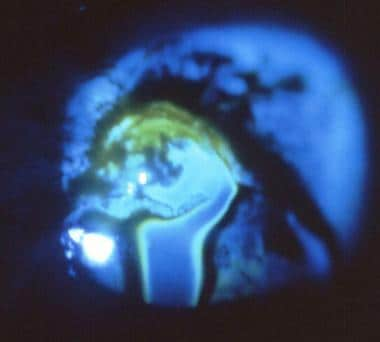 Fluorescein staining of the conjunctiva shows an obvious leakage of aqueous.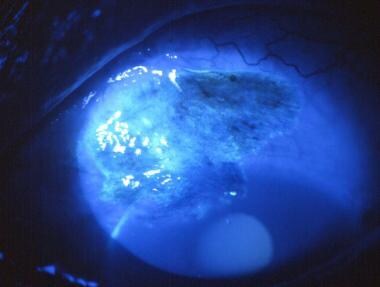 After fluorescein staining, aqueous is percolating slowly, forming tiny droplets on the surface that mimic a sweating bleb.
What would you like to print?