Workup
Imaging Studies
Specular microscopy
Specular microscopy represents a photographic method of assessing the endothelium in vivo. Light is projected onto the cornea, and reflected images from an optical interface (eg, endothelium, aqueous humor) can be visualized.
High magnification photographs are taken of the endothelial layer, allowing quantification of cell density. Normal cell density varies from 3000-3500 cells/mm2 in young adults to 2700-2900 cells/mm2 in older individuals. [47] Endothelial cells are not capable of significant mitotic activity. The normal rate of endothelial loss after age 20 years is approximately 0.5% per year. Surgical trauma, inflammation, and corneal dystrophies can accelerate this normal aging loss. The final common pathway in the development of bullous keratopathy is damage to the corneal endothelium; when the cell density reaches a critically low level of about 300-500 cells/mm2, corneal edema develops. [2]
Instruments digitize and analyze these photographs, assessing such parameters as the coefficient of variation and the percentage of normal hexagonal cells present. Both of these numbers represent a way of measuring polymorphism and polymegethism (ie, variation in cell size and shape) in the endothelial layer. Endothelial cells that show a great variability in size and shape are considered to be under physiologic stress and abnormal.
Besides evaluating the risk for the development of postoperative corneal edema, specular photomicrographs can be useful as a diagnostic aid to assess corneal disease states (eg, Fuchs corneal dystrophy, posterior polymorphous dystrophy). The former is associated with characteristic guttate excrescences, whereas the latter may show patchy areas of normal endothelium adjacent to abnormal endothelium, as well as vesicles and plaques. Fuchs dystrophy characteristically is most severe centrally with decreasing guttata density and gradually improving cell counts peripherally. Serial specular photomicrographs can be used to follow patients at risk for progressive endothelial loss, such as that occurring with vitreous prolapse into the anterior chamber with corneal touch and corneal transplant rejection episodes.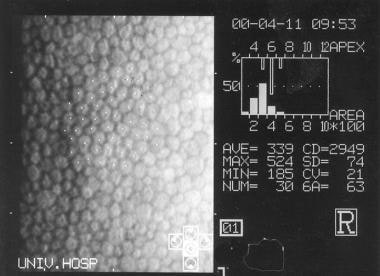 Specular microscopy of a normal cornea. Note the compact, uniform hexagonal appearance of the endothelial cells.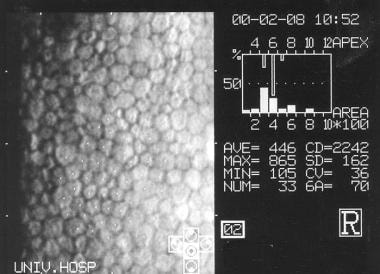 Specular microscopy illustrating moderate polymegathism and polymorphism. This is thought to be evidence of endothelial physiologic stress.
Other Tests
Ultrasound pachymetry and optical pachymetry
Both ultrasound and optical pachymetry are methods of measuring corneal thickness. Normal corneal thickness measures about 0.55 mm centrally, increasing to about 0.8 mm in the corneal periphery. Disease states resulting in corneal edema are associated with central corneal thickening as the cornea begins to swell.
Serial measurements are helpful in gauging the progression of a disease process (eg, Fuchs dystrophy), as well as in assessing a given therapeutic regimen (eg, topical steroid use in corneal graft rejection).
Topography / Tomography
Topography is very useful in evaluating corneal surface changes. Placido disc topography uses rings of alternating dark and light circles, called mires, directing it onto the corneal surface. Its reflection is recorded to qualitatively visualize the surface of the cornea.
Slit-scanning elevation tomography, on the other hand, can image both the anterior and posterior surfaces. A slit beam of light is directed onto the cornea, and the different refractions from the anterior and posterior surface create two reflections. These two reflections can be interpreted using mathematical equations to recreate the surfaces of the cornea. Slit-scanning elevation tomography can help calculate the thickness of the cornea. [48]
Optical Coherence tomography (OCT)
Optical coherence tomography (OCT) is a high resolution cross-sectional imaging modality. It initially was developed for retinal imaging but also can be used to precisely evaluate anterior segment structure. In eyes with extensive edema that precludes thorough clinical examination, AS-OCT can help evaluate for corneal thickness, Descemet's membrane detachment, and corneal scarring. [49]
Histologic Findings
Pathologic findings noted on corneas removed and replaced for PBK include attenuation and absence of normal endothelial cells. [50] Occasionally, evidence of preexisting endothelial dystrophy (eg, Fuchs dystrophy) may be seen. This dystrophy sometimes is missed during the preoperative exam and, as such, is associated with the development of unexpected and uncounseled postoperative corneal edema. The hallmark of this dystrophy is the finding of corneal guttate (Latin for drop) excrescences and a thickened Descemet membrane. Cornea guttate appear as excrescences extending from the Descemet membrane toward the anterior chamber.
What would you like to print?