DDx
Diagnostic Considerations
Corneal abrasion
Corneal epithelial suture lines can occur with healing or partial abrasions and mimic fingerprints.
Elevated intraocular pressure and/or corneal decompensation
Corneal pseudofingerprints or shift lines (a manifestation of corneal epithelial edema; see image below) can be seen with elevated intraocular pressure and/or corneal decompensation, in the following conditions: [16]
Glaucoma

Fuchs corneal endothelial dystrophy

Pseudophakic or aphakic corneal decompensation

Congenital hereditary endothelial dystrophy

Posterior polymorphous dystrophy

Keratouveitis

Corneal trauma with endothelial cell damage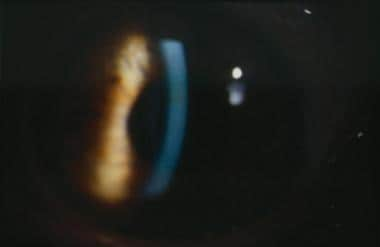 Pseudofingerprints (shift lines) in a patient with Fuchs corneal dystrophy.
Fuchs endothelial dystrophy
Corneal epithelial edema in Fuchs endothelial dystrophy can appear as focal shift lines or blebs.
What would you like to print?