Presentation
History
When evaluating a patient with suspected atopic keratoconjunctivitis (AKC), look for the following in past medical history:
Chronic or chronically relapsing atopic disease, including dermatitis, asthma, and/or rhinitis

Ocular symptoms with little or no seasonal variation (as opposed to vernal conjunctivitis that is seen only in warm weather), including itching, tearing, ropy discharge, burning, photophobia, and/or decreased vision
Physical Examination
On examination, evaluate the following areas of the affected eye(s): the periorbital region, eyelid, conjunctiva, cornea, lens, and fundus.
Periorbital region
Evaluate this area for Dennie-Morgan folds (linear lid folds secondary to chronic eye rubbing) and the Hertoghe sign (absence of lateral eyebrows).
Eyelid(s)
Evaluate the eyelid(s) for thickening and tylosis, crusting, edema, fissures, ptosis, and staphylococcal blepharitis.
Conjunctiva(e)
Evaluate the conjunctiva(e) for small- or medium-sized papillae, hyperemia, edema, excessive mucin, and limbal Trantas dots (clusters of necrotic eosinophils, neutrophils, and epithelial cells) (see the first image below). Keratinization, cicatrization, and symblepharon (adhesion of the palpebral conjunctiva to the bulbar conjunctiva) develop in advanced disease (see the second the image below).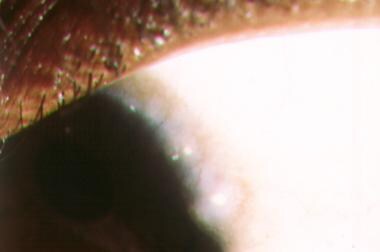 Atopic keratoconjunctivitis. Limbal Trantas dots can be seen in this image.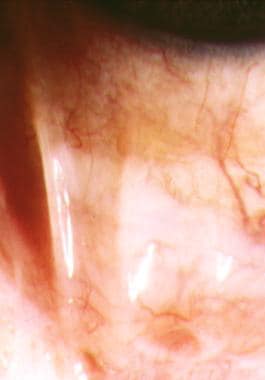 Atopic keratoconjunctivitis. This image depicts a symblepharon.
Cornea(s)
Evaluate the cornea(s) for punctate epitheliopathy and keratitis, persistent epithelial defects, shield-shaped ulcers (as shown in the following image), anterior stromal scarring, and micropannus. Extensive peripheral corneal vascularization occurs in later stages. Note that a higher incidence of keratoconus (16%) and recurrent herpes simplex keratitis is associated with atopic keratoconjunctivitis.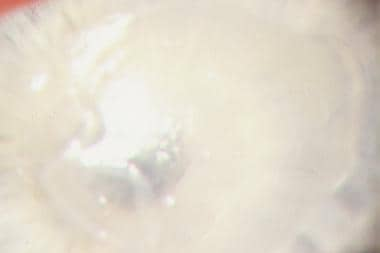 Atopic keratoconjunctivitis. A corneal shield ulcer is illustrated in this image.
Lens(es)
Posterior or anterior subcapsular shield-shaped cataracts are characteristic in atopic keratoconjunctivitis.
Fundus(i)
Evaluate the fundus(i) for degenerative vitreous changes and retinal detachment.
What would you like to print?