Presentation
History and Physical Examination
History
Patients with band keratopathy complain of the following:
Physical examination
Visual acuity will be decreased in proportion to the density of calcium salt deposition in the central cornea. Slit lamp examination often reveals a grayish white, plaquelike deposition that occurs in a band across the cornea. The very periphery of the cornea may be spared because of the buffering effect of limbal blood vessels. Holes in the plaque may be apparent; these represent spaces where the corneal nerves are traversing the Bowman membrane to the epithelial surface. (See the image below.)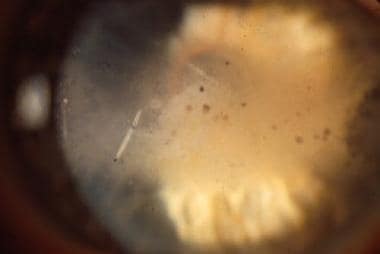 Band keratopathy. Note the bandlike whitish-grey lesion across the central corneal surface, most prominent on the exposure surfaces, sparing the superior and inferior cornea, and gaps representing corneal nerves passing through the Bowman membrane.
The calcium deposition typically begins in the periphery and progresses centrally but, occasionally, may begin centrally. The calcium may be very fine or thick and plaquelike. When it is thick, it may partially flake off, particularly in the plaque periphery, causing epithelial defects and painful symptoms.
What would you like to print?