Workup
Approach Considerations
Laboratory Studies
Patients who present with band keratopathy should have a serum calcium and phosphate level drawn unless the deposition has been documented previously and the underlying cause is known.
Renal function tests, such as blood urea nitrogen (BUN) and creatinine, should be performed as well. Renal failure and the need for dialysis can be associated with an elevation in serum phosphate and calcific band keratopathy. [14, 15]
If sarcoid is suspected, angiotensin-converting enzyme (ACE) testing, chest radiography, or chest spiral CT scanning should be obtained. In otherwise idiopathic cases, parathyroid hormone levels should be checked.
Histologic Findings
Band keratopathy is characterized by calcium deposition involving the Bowman layer and the superficial stroma of the cornea. The earliest changes include basophilic staining of the Bowman layer. Amorphous, eosinophilic connective tissue and a fibrous pannus often are present between the calcium deposition and the overlying epithelium in more advanced cases. (See the image below.)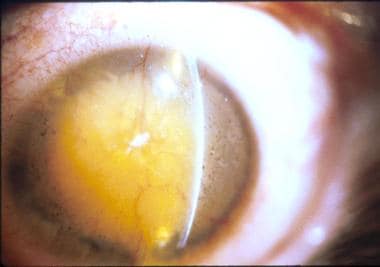 Total calcification of the cornea. Deep and superficial layers of the cornea are involved with this process.
Calcium is deposited intracellularly when hypercalcemia is the cause; extracellular deposits are characteristic of local ocular disease.
What would you like to print?